CLEVELAND — New Bishop of Cleveland Edward C. Malesic has only been in the city for about a week and a half, but he is already loving his new home.
"My impression is that this is a tremendous city," Malesic said in a one-on-one interview with 3News' Russ Mitchell. "I've found already that there are so many people of strong faith here."
Malesic was installed Monday at the Cathedral of St. John the Evangelist and comes to Cleveland after five years as Bishop of Greensburg, Pennsylvania. When asked how he plans to approach his role as Northeast Ohio's top Roman Catholic leader, he noted his desire to remain humble.
"[I'll lead] by being myself, by listening to as many people as possible, by going out and learning what's going on in our parishes, what's going on in our cities," he said. "The vision is really given to me by the gospel. The vision is really given to me by God, and the vision of God is to go out and preach this good news for the purpose of salvation."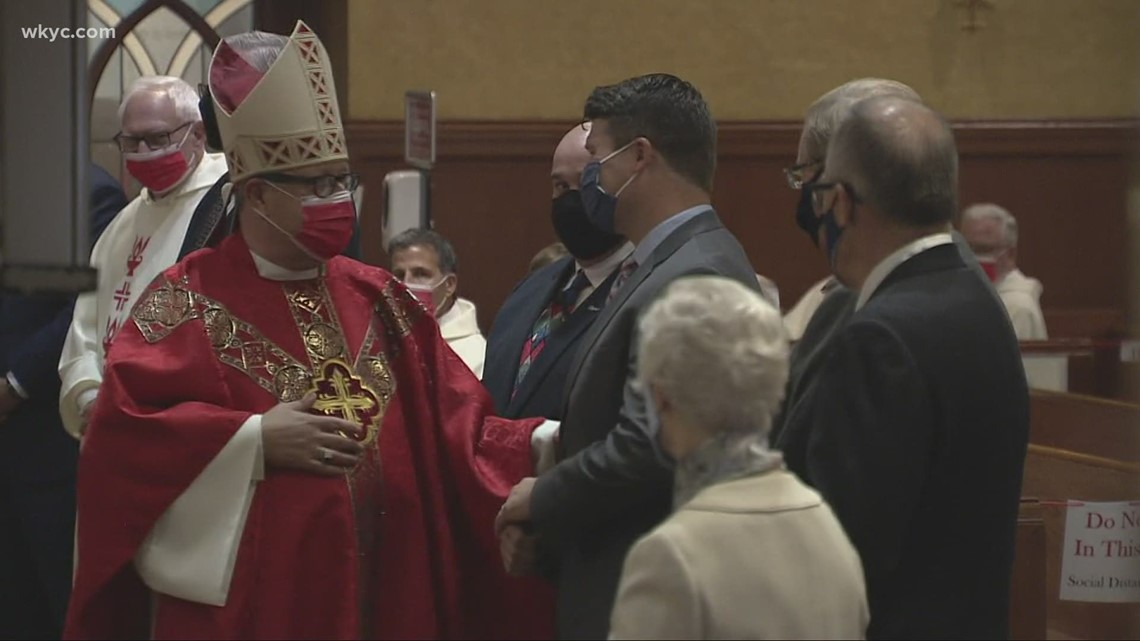 The 60-year-old Malesic replaces Nelson J. Perez, whom Pope Francis appointed Archbishop of Philadelphia earlier this year. Malesic spoke with his predecessor upon learning of his assignment in Northeast Ohio, with Perez's message being "Lucky you."
"He found his two and half years here to be some of the most enjoyable of his priesthood," Malesic said of Perez. "I was a little nervous when I was appointed to [a bigger city like] Cleveland...He really reassured me that I would enjoy it here."
Malesic is aware of the current divisions in the church, often falling along perceived "conservative" or "progressive" lines. However, the only label he prefers to give himself is "faithful."
"Other people can label me how they want, but at the end of the day, the Lord's not going to ask me whether I was conservative or progressive," he said. "He's going to ask me whether I followed him, picked up my cross, and was faithful to the gospel."
Recent years have been difficult for Pennsylvania's Catholics, as a 2018 report by the commonwealth's attorney general made public widespread sexual abuse by clergy against children going back to at least the 1940s. Malesic was left to clean up the messes left by some of his predecessors, and commentators have noted his willingness for increased transparency and reckoning in regards to the crisis.
"The important thing, I think, was to listen to our people," Malesic said, adding that the Church has made several reforms in the wake of the "terrible" scandal. "There was a lot of anger, and obviously rightfully so...The Church failed them in many ways."
Like most institutions, the Catholic Church has been hit hard by the COVID-19 pandemic, with Masses across the globe either canceled or severely limited due to health concerns. Malesic still sees the Church has having a significant role to play in the world, and believes it can be a highly positive force once the world returns to "normal."
"We have Jesus Christ. We offer him and his message," he said. "I think that there are looking for something to fill them...One of those places where they should take a serious look is the Church."
This election year has brought heated rhetoric about what it means to be a Catholic voter or politician, especially when it comes to pro-choice Catholic Democratic nominee Joe Biden. While Malesic acknowledges opposition to abortion as a "preeminent" issue of the Church, he admits Catholics must follow their conscience when casting their ballots, especially given the countless other issues at stake.
"We go beyond [abortion]," he said, adding he was not necessarily making a political endorsement when he talked about being "pro-life" in his first homily. "The right to health care, the right to due process, the right to be safe and secure...My job is to teach the teaching of the Church and to form people's consciences, and hopefully they listen to what the teaching of the Church is and they vote what they believe."
As for his message to the faithful during these difficult times, Malesic is urging people to remain confident, noting there will be a light at the end of the tunnel.
"We're going to pick up this cross, the cross of COVID-19, and we're going to follow with the Lord and we'll find victory," he declared. "We'll get through this, and it's easier to get through it together than alone."
Watch Bishop Malesic's entire installation Mass again in the player below: