PITTSBURGH — It's a rivalry that goes back a long way.
The Cleveland Browns and Pittsburgh Steelers have been feuding on the field for years and are now facing off again, with perhaps even more animosity than ever before.
"You know that person where you meet and they're exactly like you, and you hate them?" Steeler fan Jake Churilla said. "It's like that."
The two cities are only separated by about 140 miles, but by decades of bad blood.
"It's the fight for which rust belt city is the best city kind of thing," Churilla told us.
"It's been a bitter rivalry for a long time, but the Browns are clearly getting a better team," Pittsburgh supporter Fred Zelt said. "They certainly deserve one after all these years. It's going to be a tougher rivalry now."
"I think just because you live so close to each other, you like each other, but they hate each other," Browns fan Juerg Wismer added. "It is beautiful."
So is there anything that that could end this football field rivalry and actually bring these two, blue collared American cities together? Well, it may just be alcohol.
"This collaboration with Great Lakes was basically born out of friendship and rivalry, all at the same time," Pete Finney, senior sales manager at Wigle Whiskey Distillery in Pittsburgh, said. "The collaboration is a barrel swap, so that Wigle could age some whisky in old Christmas Ale barrels and Great Lakes Brewing Company could age some Christmas Ale in Wigle Whiskey barrels.
"It's like kind of barrel inception. You get two products and it's a really fun relationship."
Allison Pryce, general manager of brewpub operations at Great Lakes Brewing Company, says the concoctions were in the barrels for a bout a year, and now they have the opportunity to taste the final product.
The end result is a whiskey with notes of the Christmas Ale's signature holiday spices and honey that Wigle is calling Rudolph. The distillery says it's named after the famous reindeer, not Steelers quarterback Mason Rudolph. The barrel aged, Christmas ale has a little extra something to it, as well.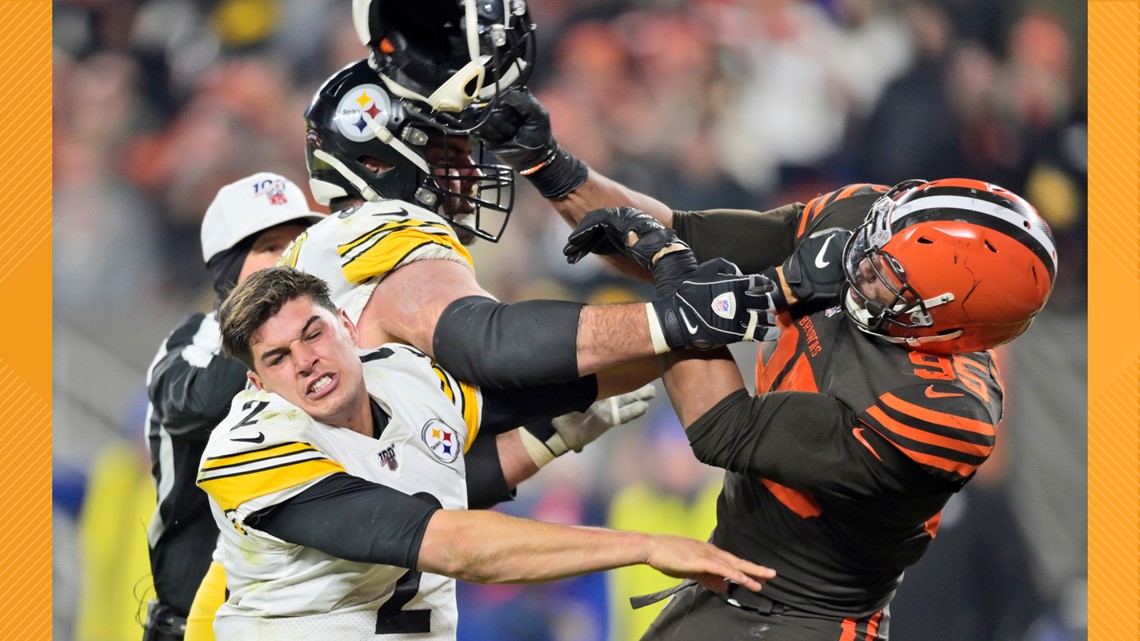 "It's added some vanilla notes, some toasted oak flavors," Pryce explained. "What it's done is taken already really tasty beer and just given it an extra level of tastiness."
So can this partnership between a Pittsburgh distillery and a Cleveland brewery give Browns and Steelers fans an ice breaker?
"Of course! I mean, alcohol is the thing that has always brought people together." Churilla said. "Having Cleveland and Pittsburgh come together shows that we're all just people."
"Everybody drinks beer," Wismer added. "You put a little bit of bourbon or whisky in it, it's perfect."
"I love Wigle and I love Great Lakes too," Zelt told us. "So yeah, I'm looking forward to trying it."
"If there's any way to bury the hatchet, I think it would be done over a glass of whiskey or over a beer," Pryce said. "We'll all have to drink it to find out."
Now that the slate has been wiped clean with a little bit of alcohol, these two companies are planning on moving past the rivalry and keeping the good will going. Finney says they've already agreed to do it again next year.
As far as this year is concerned, Rudolph was released at Wigle Distillery in Pittsburgh on Wednesday, and will also be available at Great Lakes Brewing Company. The Wigle barrel-aged Christmas Ale will be released on Dec. 10, with a very limited supply sold at the brewpub.