CLEVELAND — Summer may be waning, but it's never too late for ice cream. Or custard. Or gelato. Or sorbet. Or …. well, you get the point. Here are 15 local stands and shops to sweeten any late summer day.
Who serves up your favorite ice cream? What shops do you still want to hit before summer ends? Share your picks or submit photos and videos through 'Near Me' on the WKYC app, by texting a picture to (216) 344-3300, using the hashtag #Beon3 on Twitter and Instagram, or posting a photo in the comments on this Facebook post.
East Coast Original Frozen Custard, 6240 Pearl Road, Parma Heights, 440-842-6577, https://eastcoastcustard.com/: Sweeten any day with a scoop at the classic East Coast Custard in Parma Hts., the coolest looking ice cream stand in town, hands down. This week's flavors include Fluffernutter, Whitehouse and Pearl Road Crunch. The sundae of the month is peach cobbler.

Mitchell's, several area locations, see https://mitchellshomemade.com/: Nothing says Cleveland summer, or fall, or winter, or spring, like handcrafted, locally-sourced seasonal Mitchell's ice cream. This summer's flavors include peach, wildberry crumble, coconut and campfire s'mores. Curbside order and pickup only for now.

Cooper's Twist and Shake, 35766 Lakeshore Blvd, Eastlake, 440-946-3376, https://www.facebook.com/Coopers-Twist-Shake-116969905019419/: Who's ready for a pumpkin roll sundae? They have them here, at the most awesome looking ice cream joint on the east side. Or how about a blueberry shake, or maybe an old-fashioned ice cream sandwich? Cooper's has those, too, and so much more.
Mason's Creamery, 4401 Bridge Ave., Cleveland, 216-245-8942, https://www.facebook.com/masonscreamery/: Q: What is ube ice cream? A: A delicious vanilla-marshmallowy treat made with Japanese purple yam. Q: What does black sesame ice cream taste like? A: A creamy, slightly spicy peanut buttery treat. These are just two of the sweet bits of info you might learn at this delightful Ohio City ice cream stand.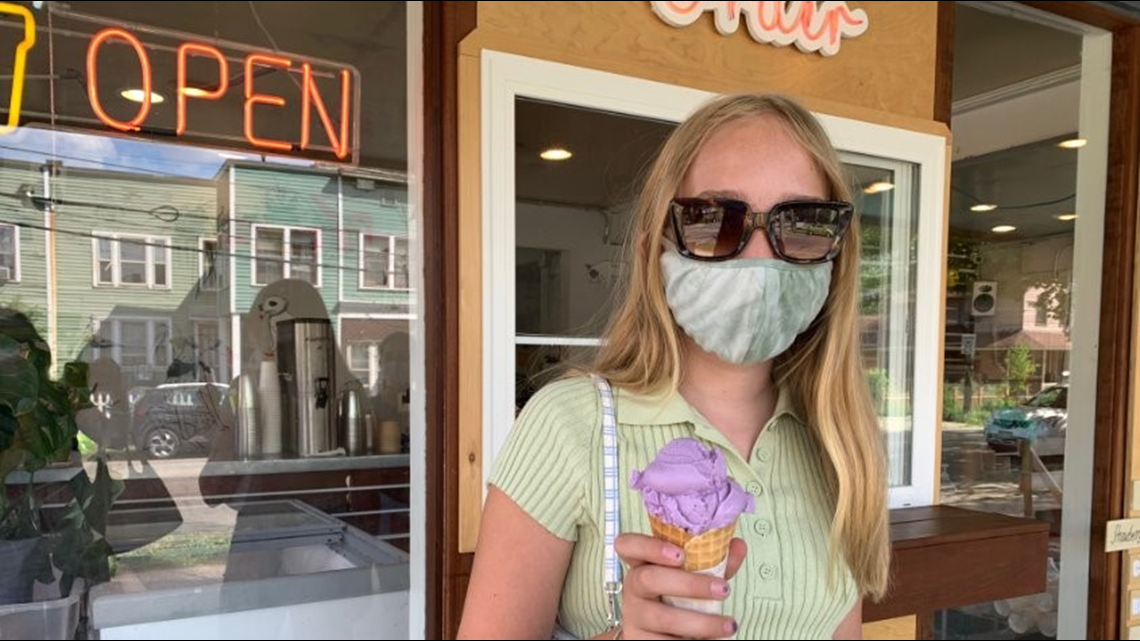 Weber's Premium Custard & Ice Cream, 20230 Lorain Road, Fairview Park, 440-331-0004, https://webersvintageicecream.com/: There are many contenders, but only one ORIGINAL Frosted Malt. And you can only find it at Weber's, maker for nearly a century of the classic that originated at Euclid Beach Park. They also have wide-ranging menu of traditional and creative ice cream flavors.

Rosati's Frozen Custard, 95 East Aurora Rd, Northfield, 330-908-0889, https://rosatisfrozencustard.com/: Who wants a Higbee's Chocolate Malted? The retro treat is on the menu every Wednesday at this throwback stand on Northfield. Personally, I'm going for the blueberry crumble, or maybe the sea salt caramel, or strawberry lemonade …
Sweeties Soda Shop, 6770 Brookpark Road, Cleveland, 216-739-2244, https://www.sweetiescandy.com/soda-shoppe/: Where else can you top off 18 (or 36) holes of mini-golf with a banana split or Cleveland brownie sundae? Or maybe some soft serve or a root beer float? Not too many places. And nowhere else that can boast about also being the world's largest candy store.
Sweet Moses, 6800 Detroit Ave., Cleveland, 216-651-2202: Celebrate summer with a sweet-and-salty Bob Feller sundae (salty caramel ice cream drenched in hot fudge, Spanish peanuts and Sweet Moses' homemade caramel corn, then topped with homemade whipped cream and a cherry) at this 1930's style soda fountain at Gordon Square. A perfect place to share a shake with your sweetie, too.
Rosso Gelato, 12409 Mayfield Road, Cleveland, (216) 862-4122, https://www.facebook.com/therossogelato/: I looked up from my grapefruit gelato to see my 13-year-old daughter texting instead of eating her chocolate hazelnut scoop on our recent visit to the new Rosso Gelato in Little Italy. "Why aren't you eating?" I asked. "I have to text Uncle Louis," she said, referring to her great uncle, aka her gelato eating buddy. "I have finally found gelato as good as in Italy." Enough said.

Honey Hut, several area locations, https://gohoneyhut.com/: Take a break and treat yourself to bowl of seasonal Key lime pie or blueberry crumble at Cleveland's original artisanal ice cream stop. Other handcrafted August flavors include almond joyful and banana peanut butter.
Cibik's Dairy Island, 8295 E. Washington St., Chagrin Falls, 440-543-7382, https://dairyisland.com/: Love this delightful tropical-themed Chagrin Falls stand, where they have been serving up hard and soft serve with a unique twist since 1976. Don't miss the new dark chocolate macaroon ice cream, or the butterscotch shake. Yum!
Zero Zest, 6096 State Road, Parma, 440-886-6473, https://www.facebook.com/pages/category/Restaurant/Zero-Zest-303541939759360/: "Zero Zest is the Best" the jingle used to go. Odd, yes, but pretty accurate. This old school soft serve stand, which has branched out to hard serve and sundaes and even vegan treats, still serves up some of the best soft serve in town, with a rainbow of dip tops and crunch coats, too.

Malley's, several area locations, https://malleys.com/ice-cream-parlor-locations/: Is your little one heading back to school soon (virtual or otherwise)? Cap off their summer with the sweetest little treat in town, a"Puppy Luv," made with two scoops of vanilla, a candy face and pretzel tail. Bow-wow!

Sugar Shack Creamery, 5793 Pearl Road, Parma, http://sugarshackcreamery.com/: This new Parma corner shop brings a new vibe to the ice cream scene, with more than 50 shave ice flavors — and pineapple Dole Whip!
Tremont Scoops, 2362 Professor St., Cleveland, 216-781-0352, https://www.facebook.com/TremontScoops/: Vegan chocolate is now on the menu at this Tremont favorite. As is Cookie Monster and Birthday Cake and Key lime pie and strawberry and …