CLEVELAND — Dan Herbst and his partner Geoff Hardman have enjoyed steady growth in the nearly 10 years since they sold their first homemade bagels at a farmers' market. The team graduated from Herbst's apartment to a spot in the Cleveland Culinary Launch and Kitchen before upgrading to rented space at Ohio City Pasta.
Finally, in 2016, Cleveland Bagel opened a retail and production space in Ohio City. That was followed a couple years later by a similar shop on Cleveland's east side. Next up for the "bagel boys" is a new location in Lakewood, which should be up and running before the end of the year.
WKYC paid a visit to that Midtown shop for a little behind-the-scenes action to watch the process unfold. This is an old-fashioned product made the old-fashioned way, which means that each bagel is made from fresh dough, hand-rolled, boiled and baked.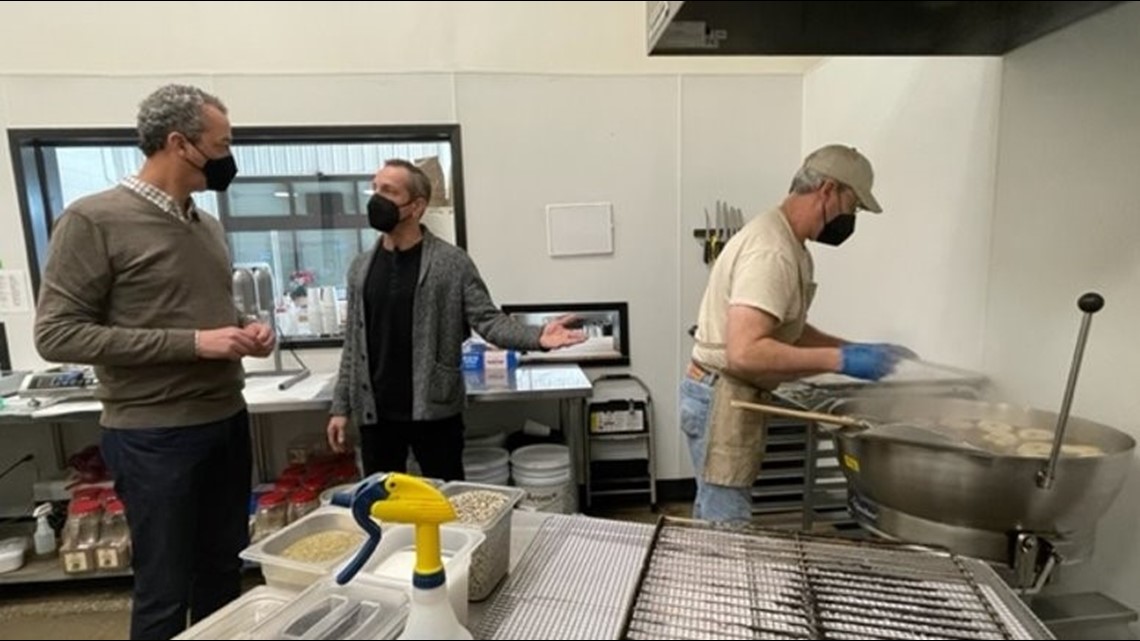 "What Zach is doing now is adding spice to the sponge, and then he's going to put it on the mixer and then add flour, and then that will be the dough," Herbst explains.
From the mixer, the dough makes its way to the shaping table, where each raw bagel is rolled and shaped by hand.
"This is where the crew portions and hand-rolls all the bagels," adds Herbst. "And then they get put on trays and get put in the walk-in."
Once the bagels are shaped and cooled, they spend a little time in a hot bath of boiling water, which gives bagels their characteristic exterior.
"Expert bagel baker Bob is taking bagels that have sat in the walk-in for two days, now they're ready to be boiled and baked," Herbst says. "He's putting them into the boiler, which is water and a malt syrup solution. Basically what the boiling does, it kind of cooks the skin on the outside of the bagel."
Out of the water, the bagels get topped with seasonings and baked.
There really is nothing better than a Cleveland Bagel straight out of the oven.
Check them out for yourself, here.