SHAKER HEIGHTS, Ohio — In the 30 years since Michael Symon burst onto the food scene he has gone from "Cleveland's hottest chef" to full-fledged national celebrity. After taking star turns at legendary restaurants like Piccolo Mondo, Giovanni's and Caxton Café, the brass young chef opened Lola in Tremont. That hip Mediterranean bistro helped ignite not only the Tremont dining scene, but that of Cleveland's as a whole, when Symon was crowned by Food & Wine magazine as one the Best New Chefs in America.
Over the three decades that followed, Symon has capitalized on his winning skill, personality, enthusiasm and stamina to create an impressive body of work. Along the way he has amassed recognition in the form of a James Beard Award for cooking, a Daytime Emmy for his work on "The Chew," and multiple spots on the New York Times Best-Seller list for his cookbooks.
I recently had a chance to catch up with the Iron Chef to discuss his latest cookbook, the closing of Lola and his slow transition into "semi-retirement."
On December 14, Symon's latest cookbook, "Fix It with Food: Every Meal Easy," will officially debut. It is Symon's seventh cookbook (and the sixth on which I've collaborated). It comes on the heels of the first "Fix It with Food" book, which earned a spot on the Times' best-seller list.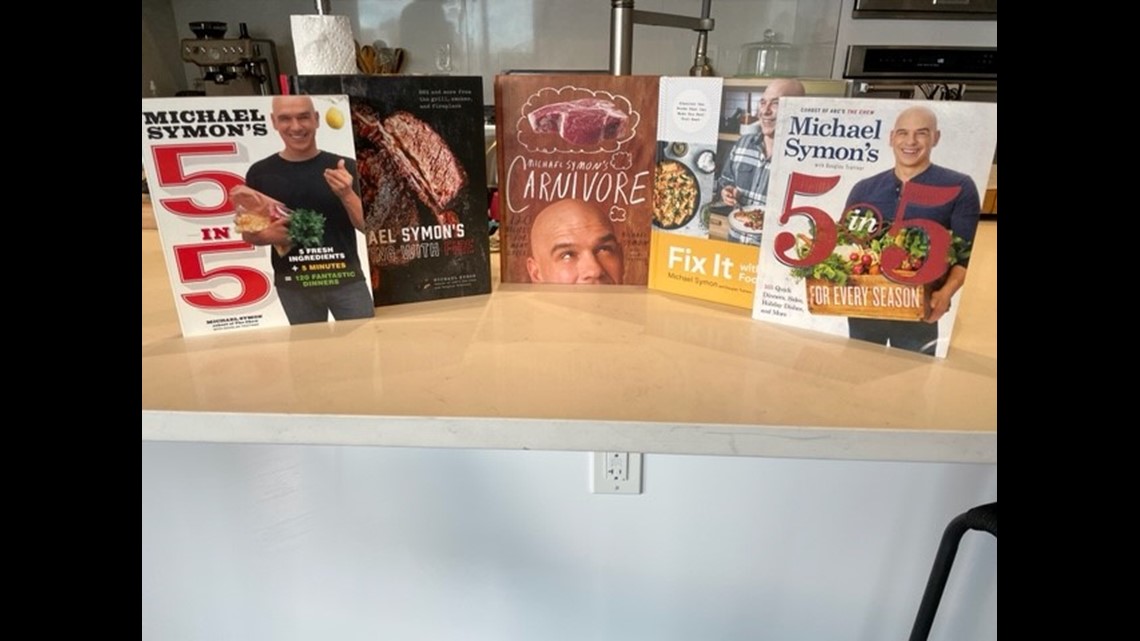 I asked Symon what this latest book offers that the first one did not. He explained that, along with all new recipes and countless other additions, it provides tips and lists for ingredient substitutions and more flexibility with respect to portion sizes.
"I realized how even people that like to cook, and enjoy to cook, there was a fear of substitution," says Symon. "And I wanted to give them the freedom to substitute."
"And then a lot of people are like, 'I really want to do it but all the recipes are for four, six and I can't get the rest of my family to do it – it's just too much food,'" Symon adds. "So we made the reset for one, and then everything else in the cookbook is for two, and then we explain to you how to get it to six, which I think will be a really valuable piece for people."
These days, in addition to running his restaurant empire and starring on multiple cooking shows, Symon is relishing his new role as a grandfather. He and wife Liz just celebrated the birth of their grandson Butch Preston, who joins granddaughter Emmy. Symon says that he is making a conscious effort to slow down and spend more time with his son Kyle, his grandchildren, and the rest of his family.
Michael Symon's grand kids
"I'm in semi-retirement, so now I'm only working 60 hours a week," Symon jokes. "I feel like I have more time to spend with Kyle and the kids."
"The pandemic hit and you had to be six feet apart, and this and that, so you couldn't give the level of service that people are used to at a restaurant like that," he explains. "The experience is being there, with people, being taken care of, and enjoying that. Yes, it's the food, but it's also the service."
Thanks to Lola – and other Symon restaurants – Cleveland still is reaping rewards. The many chefs who worked in the kitchens at Lola and Lolita "back in the day" went on to open places of their own, with the newfound confidence to cook as themselves.
"Your food is never gonna taste better than when it's a reflection of you," Symon says. "If it's not a reflection of you, it's just gonna be, it's not gonna be the same."
"Fix It with Food: Every Meal Easy" is a great gift for the holidays, and can be pre-ordered now. Click here to purchase on Amazon.