RECIPE: How to make healthy last | Doug Trattner reports
Anna in the Raw shares her healthy home recipes.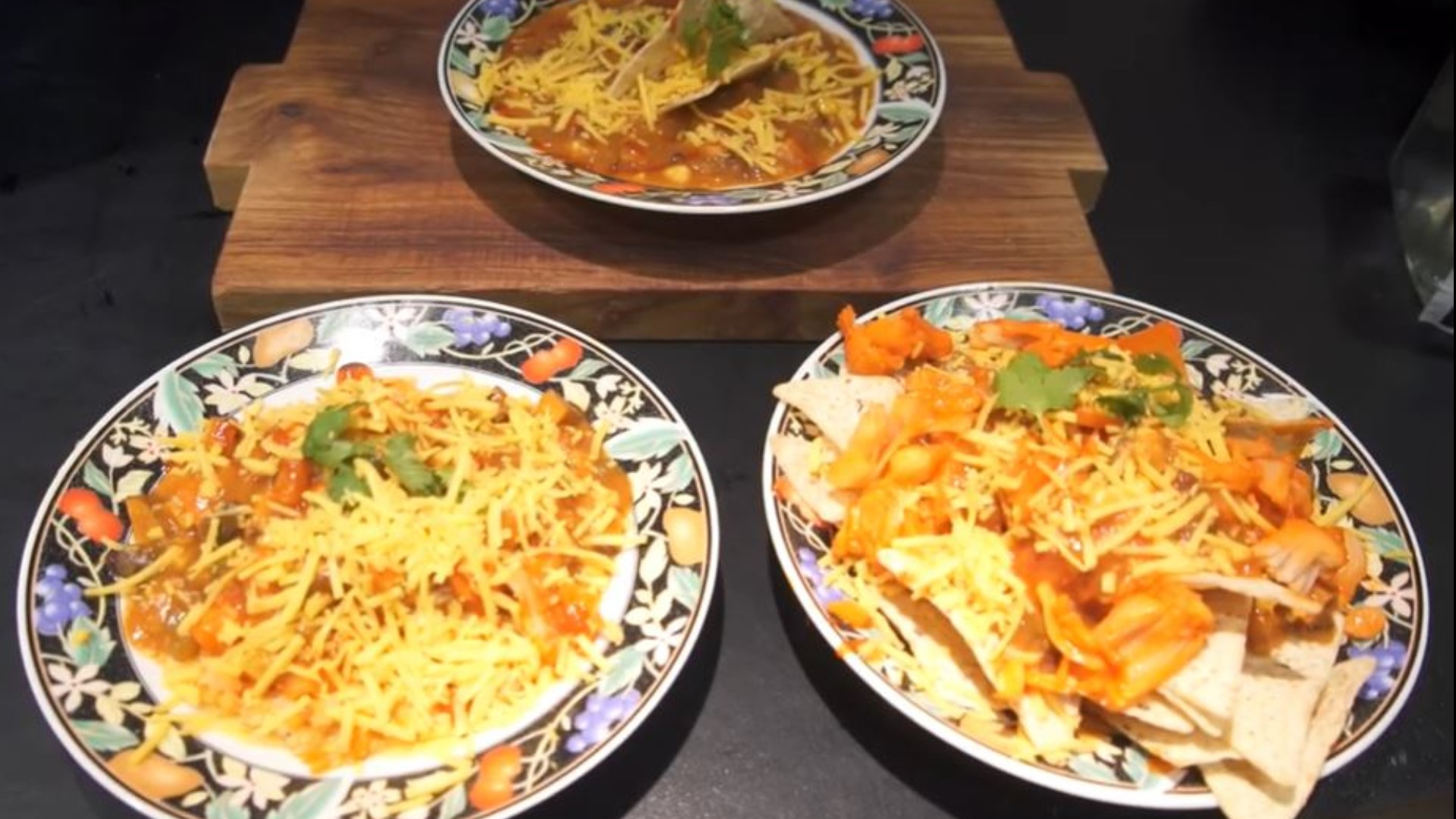 One of the positive side effects of the recent stay-at-home orders and social-distancing directives is that people are cooking more, wasting less, and eating meals together as families. Because grocery store runs are limited – and money is too – many of us are becoming more creative with our daily meal planning, building menus from ingredients currently residing in our fridges and pantries.
We checked in with chef Anna Harouvis, a vegan and raw foods expert who runs Anna in the Raw, for a few tips on preparing a healthy, affordable dish that can be stretched over the course of multiple meals. Harouvis started by making a big pot of vegan chili (recipe below), which was later utilized in wraps, on rice bowls, and atop a big platter of nachos.
As for the main recipe, Harouvis says to use what you have – and don't stress about making a misstep.
"Don't be afraid to substitute one ingredient for another," she says. "There is no science to this."
If you have sweet potatoes, add them. If you have canned or frozen corn, pop it in. If you have canned black beans, kidney beans or white beans, pour those bad boys on in. If you have hot peppers, by all means invite them to the party. If you have ground beef, sauté it with the onions until it's browned and cooked through. If you only have canned (or boxed) beef or chicken stock – no worries whatsoever! Greens like kale, swiss chard and spinach can be added near the end as well.
When it comes to chili toppers, the sky's the limit.
The leftover chili can be refrigerated and utilized for three or four days. Otherwise, it's best to portion it out and freeze it.
"We throw away 70-percent of our groceries!" Harouvis laments.
We love the idea of using the chili in burritos, on top of nachos, and even atop rice (or cauliflower) bowls.
"With the kids being home, you have to try and make it fun food," says Harouvis.
The chef recommends steaming some rice and making your own "Chipotle bowls" with a choice of toppings to let each family member dress his or her own bowl. Again, the sky is the limit. Consider using shredded cheese, sour cream, guacamole, hummus, scallions… whatever you have.
Harouvis, an indefatigable optimist, says that we should cherish every moment that we get to spend with family.
"This is a time to live in hope and faith and not fear," she says. "When you're having a meal with your family, how can you be upset?"
Chapter one
:
VEGAN CHILI RECIPE
-1 jalapeno, seeded and chopped (optional)
-2 cloves garlic, chopped
-2 cups vegetable (or chicken or beef) stock
-1 (28-ounce) can of diced tomatoes with liquid
-2 sweet potatoes, peeled and diced (optional)
-1 can black beans, drained
-1 can corn, drained (or same amount of frozen)
Greens like kale, swiss chard, spinach
Avocado, pitted and sliced
Chapter two
:
VEGAN CHILI RECIPE
In a large saucepan over medium heat, add the oil and the onion (and jalapeno if using) and cook, stirring occasionally, for 4 minutes.
Add the garlic and cook for 1 minute. Add the stock, tomatoes, chili powder (and sweet potatoes if using), bring to a simmer and cook, stirring occasionally, for 10 minutes.
Add black beans, corn and greens, if using, stir and cook for 4 minutes.