CLEVELAND — Thanksgiving ranks right up there as the best food holiday of the year, one filled with delicious family traditions passed down from generation to generation. But this year will be different. In accordance with health and safety guidelines, responsible families will be drastically limiting group sizes, which is bound to complicate the cooking process. How does one scale down Grandma's recipe for cornbread and sausage stuffing? How many potatoes should one buy for the mashed potatoes? Do they even raise small turkeys?
Leave the cooking (and the shopping, and the dishes) to the professionals. While it might not make practical or financial sense to order a fully prepared Thanksgiving feast for 20 or 30 people, it does become realistic to do so for smaller groups. But here's the most important part: you will be supporting a local restaurant when they need that financial support the most.
Recognizing that this Thanksgiving will be different, numerous area chefs, restaurants and caterers are offering fully prepared meals for pick-up and/or delivery. And the variety available is staggering. I've seen meals for one. I've observed dinners that include everything but the bird. Some are offering completely vegan or gluten-free dinners, while others are stepping in to provide just the dessert.
As the person in the family who does much of the cooking (regardless where we end up eating), I have to admit that the concept of "ordering out" feels utterly foreign to me. Then again, given the circumstances that presently surround us, it becomes the most sane and prudent way to go. In addition to supporting local restaurants, this approach keeps us out of grocery stores while eliminating the bulk of the stress typically associated with entertaining.
Unboxing Lockkeeper's to-go meal:
In the spirit of service journalism, I recently ordered, picked up and prepared a 10-person Thanksgiving meal from LockKeepers to see how the process works – and to gauge my reaction to it. To be honest, I expected to feel a wee bit gloomy without my annual turkey wrangling, but the opposite proved true.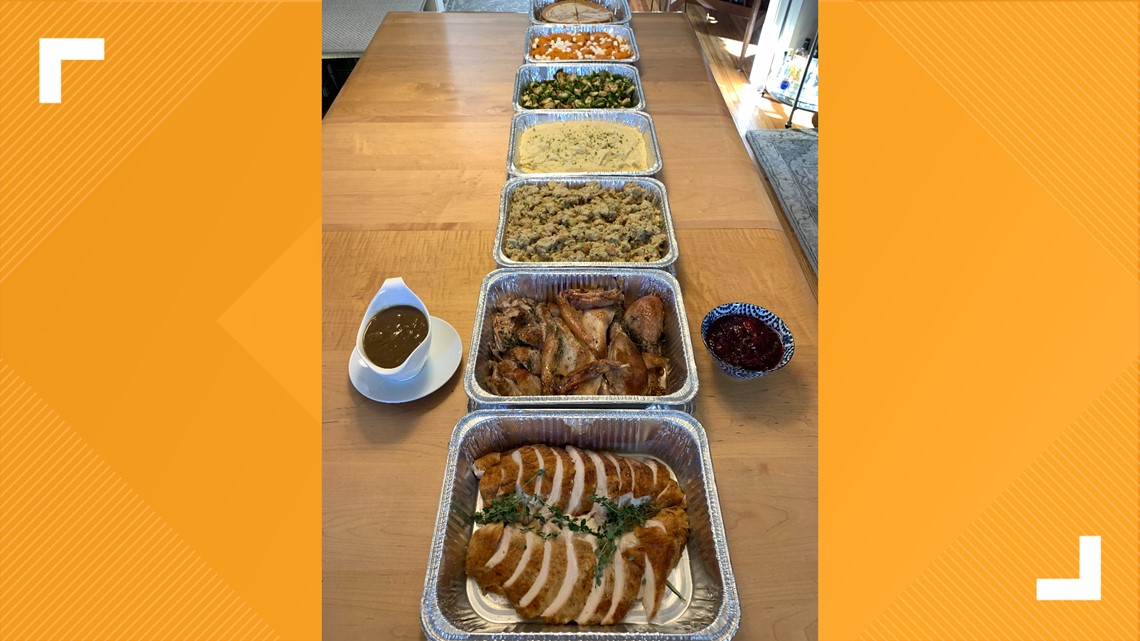 The spread included perfectly roasted turkey, all the "fixins," and even dessert and an appetizer. The carved and separated white and dark meat were cooked perfectly and required just a little time in the oven to reheat. The same can be said for the herbed stuffing, mashed potatoes, roasted Brussels sprouts and marshmallow-topped candied yams. I couldn't make a better turkey gravy if I had tried and the cranberry sauce heaped buckets of shade upon those sad cans. To start, there was soft bread paired with an olive-studded tapenade dip and to finish there was creamy, decadent pumpkin-kissed cheesecake.
A touch that I absolutely loved was the inclusion of homemade chicken stock, which should be added to the pans of turkey and stuffing before reheating (covered) to keep things moist. But a shrewd home cook might also use some of the stock to adjust the consistency of the gravy to one's desired thickness or thinness.
Of course, LockKeepers includes instructions for reheating with all orders.
To-go offerings from Lockkeepers
I've compiled a list of some of the places offering some sort of holiday meal to go, but there are surely many more out there. In fact, simply ring up your favorite place to see what they are offering. Know that many require advance notice that might already have come and gone, while others are announcing that already they have sold out. The moral of the story is to act fast.
Restaurants offering holiday meals to-go:
Lockkeepers (8001 Rockside Rd., Valley View, 216-524-9404)
Blu, the Restaurant (3355 Richmond Rd., Beachwood, 216-831-5599)
Hook & Hoof (4125 Erie St., Willoughby, 440-571-5312)
The Standard (779 E. 185th St, 216-531-9643)
Mabel's BBQ (2050 E. 4th St., 216-417-8823)
Creekside Restaurant (8803 Brecksville Rd., Brecksville, 440-546-0555)
Don's Pomeroy House (13664 Pearl Rd, Strongsville, 440-572-1111)
Edwin's Butcher Shop (13024 Buckeye Road, 216-921-3333)
Great Scott Tavern (21801 Lakeshore Blvd., Euclid, 216-417-3019)
Fat Cats (2061 W. 10th St., 216-579-0200)
Luna Bakery (2482 Fairmount Blvd., Cleveland Hts., 216-231-8585)
Mallorca (1390 W 9th St., 216-687-9494)
Café Avalaun (4640 Richmond Rd., Shaker Hts., 216-245-6666)
Landmark Smokehouse (11637 Clifton Blvd., Lakewood, 216-230-4040)
The South Side (2207 W. 11th St., 216-937-2288)
Mojo (2196 Lee Rd., Cleveland Hts., 216-932-9000)
Mister Brisket (2156 S. Taylor Rd., Cleveland Hts., 216-932-8620)
Cleveland Vegan (17112 Detroit Ave., Lakewood, 216-221-0201)
Felice (12502 Larchmere Blvd., Cleveland Hts., 216-791-0918)
Astoria Cafe & Market (5417 Detroit Ave., 216-266-0834)
Kantina (11303 Euclid Ave., 216-231-1079)
Hungry Bee (8326 E. Washington St., Chagrin Falls, 216-702-6776)
Driftwood Catering (1422 Euclid Ave., 440-567-2386)
Nomad Culinary (216-402-7032)
Daisy's (5614 Fleet Ave., fatcasualbbq@yahoo.com)
Twisted Taino (1400 W. 25th St., 216-310-5880)
Culinary Occasions (4261 Mayfield Rd., S. Euclid, 216-973-6271)
Tree House (36840 Detroit Rd., Avon, 440-934-1636)