CLEVELAND — This week, Hollie is reuniting with her old friend and former colleague, Mark Nolan.
These long-time buddies relish any opportunity to catch up between Hollie's busy schedule at the station and as mom to Jessica and Grady, and Mark's Majic 105.7 radio show and his hobbies restoring homes and racing cars.
Mark knows that Hollie loves to come up with her own recipes and requested she come up with a pasta dish using his favorite pasta. Hollie's answer? "Nolan's Noodles" -- a hearty but healthy take on an Alfredo sauce with chicken and veggies.
See below for Hollie's full recipe, but remember... There's no wrong way to make this dish! Add your own favorite veggies and protein, season with the whatever you deem to be the right amount of Parmesan cheese and enjoy!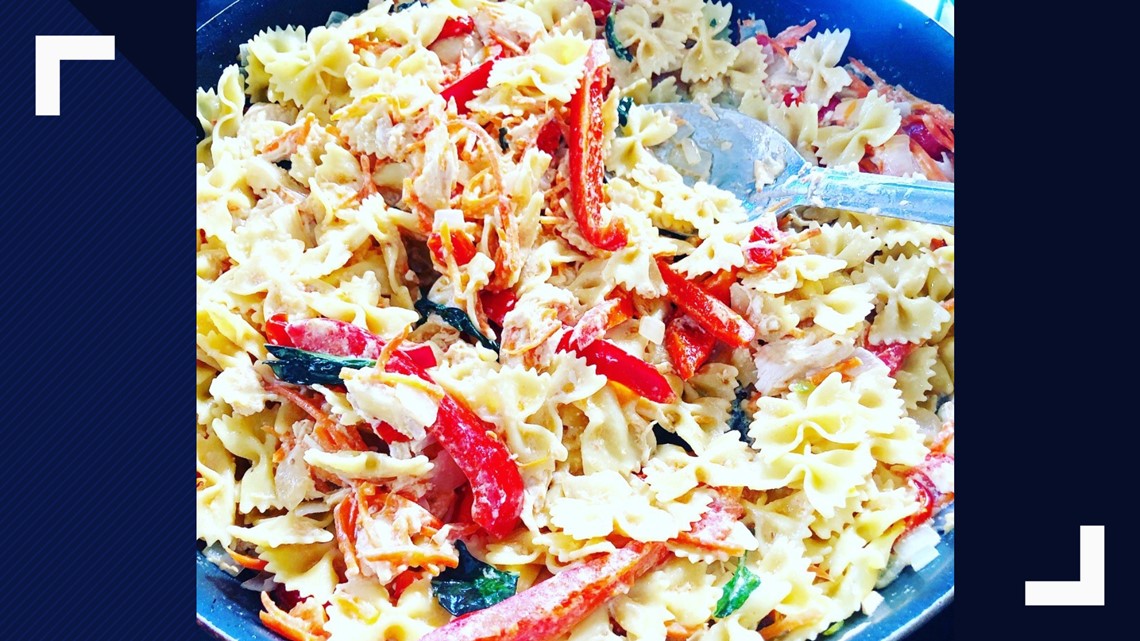 1 pound of bow tie pasta, cooked and drained
2 cups of roasted white meat chicken, cut into bite-size pieces
10 cloves of garlic, minced
2 bunches of green onions, chopped
1 red pepper, thinly sliced
1 large bunch of fresh basil, coarsely chopped
1 cup of cherry tomatoes, cut in half
About a cup of chicken stock
About a half a cup of heavy whipping cream or half and half
Coat the bottom of a large skillet with olive oil. On medium heat, sauté onion until fragrant, add garlic.
Continue stirring until fragrant then add carrots and red pepper. Let cook until tender.
Add tomatoes. Give them a few minutes then add peas and chicken, wine and chicken stock.
Mix in cream cheese until melted, let simmer, add whipping cream. If you want it a little bit thicker, just add more cream cheese. Kind of eyeball it.
Salt and pepper to taste, add basil. Serve over pasta with a ton of Parmesan cheese, at least that's our preference, and additional chopped fresh basil.
ENJOY with your favorite wine, salad and crusty bread!