Craving a Bloomin' Onion but don't want to go the Outback? Okay... so making one yourself won't be easier or faster. But it is impressive.
Plus, it's pretty cool to serve up the iconic snack at your own game day party. And since the Outback Steakhouse originated in Tampa Bay, this is the perfect week to try it out.
We're not going to pretend like cutting and coating the onion is easy. It's not. But it's also easier than we thought it would be.
Just make sure to get a nice, large onion and cut slowly with a good knife.
In this recipe we core the onion first, then cut in half, then in half again the create an "x". Half the new slices again. Continue until you have a total of 16 cuts. The biggest thing to be careful of is only cutting about 3/4 of the way down with each slice so that it doesn't become too fragile. This technique is most similar to what they do at the Outback (except with a fancy cutter of course).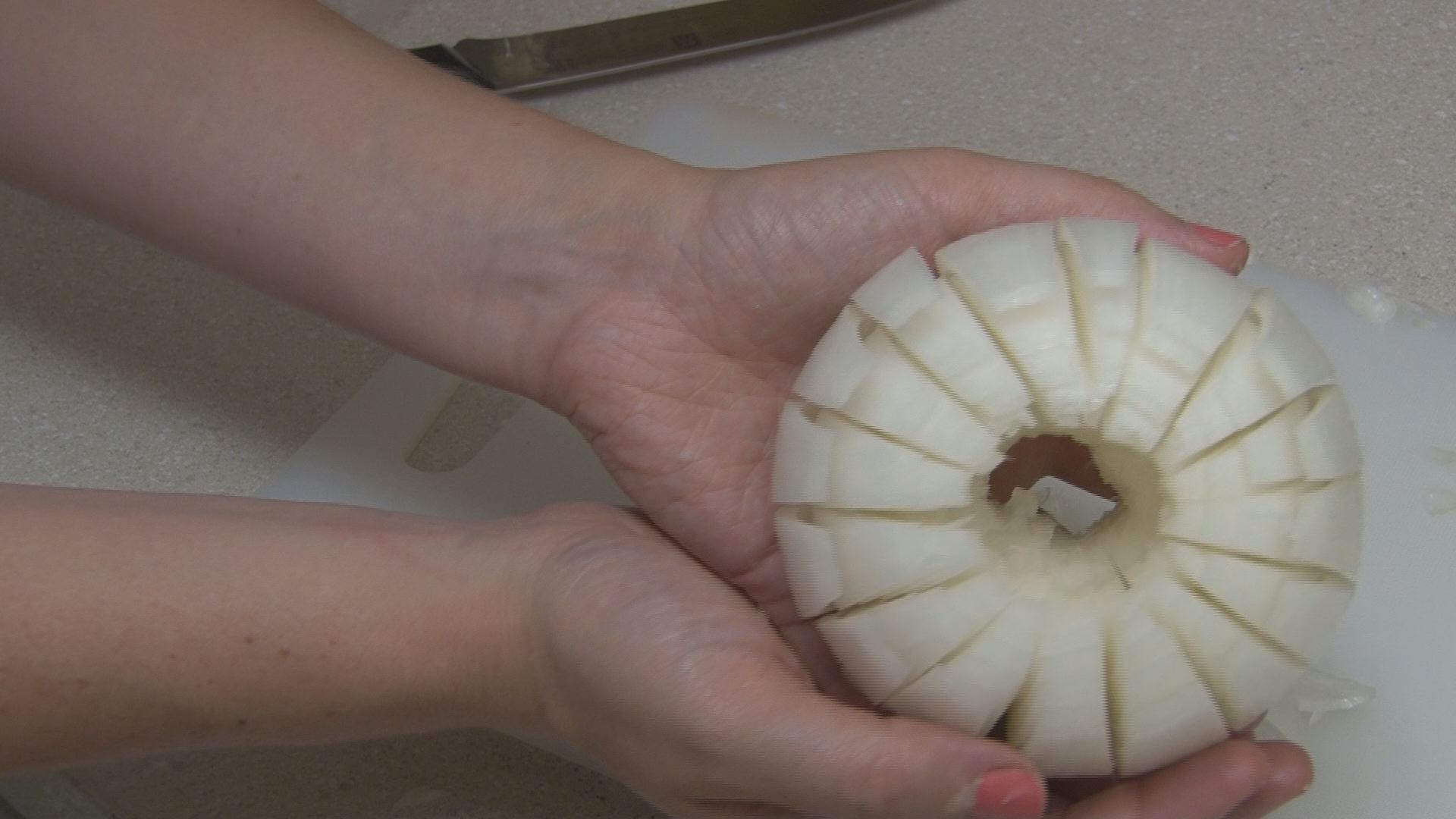 Alternatively, you can leave the root on one side of the onion. If you do it this way, you won't core the onion. Instead cut off one side to create a flat surface, put that down on your cutting board, and then starting at least an inch from the root cut even petals through the onion.
Spread the onion petals apart right after cutting, and don't worry if some of the smaller ones in the middle fall out. You'll have plenty. We also found that shocking the onion in hot water, then soaking in an ice bath after slicing helped to keep the petals apart.
Once you get to the battering phase, don't be afraid to get in there. Separate petals that are stuck together and get both flour and eggs between every layer you can. It's totally fine if you don't get every one coated perfectly evenly, but the more you spread it out, the better it will be.
Finally, if your onion falls apart a little it's okay! Ours split at one cut because we went a little too deep but it still fried beautifully and looked great on the plate. We just put the sauce where the gap was!
Sauce
1/2 cup mayonnaise
1 Tbsp ketchup
2 Tbsp horseradish
1/3 tsp paprika
1/2 tsp salt
1/8 tsp oregano
pinch black pepper
1/3 tsp cayenne
Onion
1 large onion
1 egg
1 cup milk
1 cup flour
1 1/2 tsp salt
1 1/2 tsp cayenne
1 tsp paprika
1/2 tsp black pepper
1/3 tsp oregano
1/8 tsp cumin
oil for frying
Instructions:
Combine all sauce ingredients in small dish. Stir well. Cover and refrigerate until ready to serve.
Slice onion. Cut off both ends and peel. Cut a one inch slice out of the center. Carefully slice onion in half, about 3/4 of the way through. Turn 90 degrees and slice again to form an "x". Slice each of these four segments in half. Repeat with the eight new sections that are formed. Repeat one more time for a total of 16 cuts.
Spread the pedals that are formed apart. Once spread, place the onion in simmering water for about a minute, then soak in an ice bath while you make batter. This helps to keep the petals separated.
In one bowl combine the beaten egg and milk. In another combine flour with the spice.
Dip onion in milk, the flour. Place onion on a plate and be sure to spread flour between each onion later. Then dip in milk and flour again.
Fry in a deep fryer, set at 350 degrees until golden brown. Ours took about 10 minutes.
Place sauce in center to serve.
Thanks to All Recipes user Jackie Smith for this recipe!