CLEVELAND — City Club of Cleveland Executive Chef, Adam Crawford, knows how to feed big crowds. For the past eight years, he's prepared about 500 meals a week for different events and forums.
Then, last spring, as the COVID-19 pandemic took hold, the cooking stopped.
"All of our catering for at least April had canceled. So we were trying to figure out what we had to do with the catering staff. We had to make some hard cuts," Adam said.
While Chef Adam's kitchen staff was dwindling during the pandemic, the need to feed Cleveland's homeless was growing at a fast pace. Adam wanted to help.
"There are more people that were showing up at shelters for whatever reason. So that need was there. And I'm like, 'all right, well, we have the kitchen,'" Adam told us.
The organization also "seeks people who are oppressed, forgotten, and hurting to be empowered, valued, and healed by our unwavering commitment to addressing chronic needs," according to its website.
Adam's call couldn't have come at a better time.
"So March 11th, everything goes sideways. The county shuts down. The operation that we have is our students to do all the prep, all the cutting of the vegetables, all the cutting of the meat, cooking, the meat, doing all this stuff. The moment that they walk out the door on the 11th, I had nothing," Scott Teaman, executive chef of LMM, told us.
Scott said he had been struggling to stay afloat, trying to provide 2,000 meals a day for people in need. So, hearing from Adam? A godsend.
"And then one day, we get a phone call from City Club, and they're saying, 'Hey, we just want to help. We just want to help. And I didn't believe it. I mean, to be truthful, I didn't believe it at all," Scott said.
Each week, thanks to the Greater Cleveland Food Bank who provides the food, Scott delivers 2-3,000 lbs. of meat to the City Club. That means, Adam and his sous chef, Neil Baron, process it all in just a few days before LMM picks it back up. By week's end, 14,000 meals are served to the community.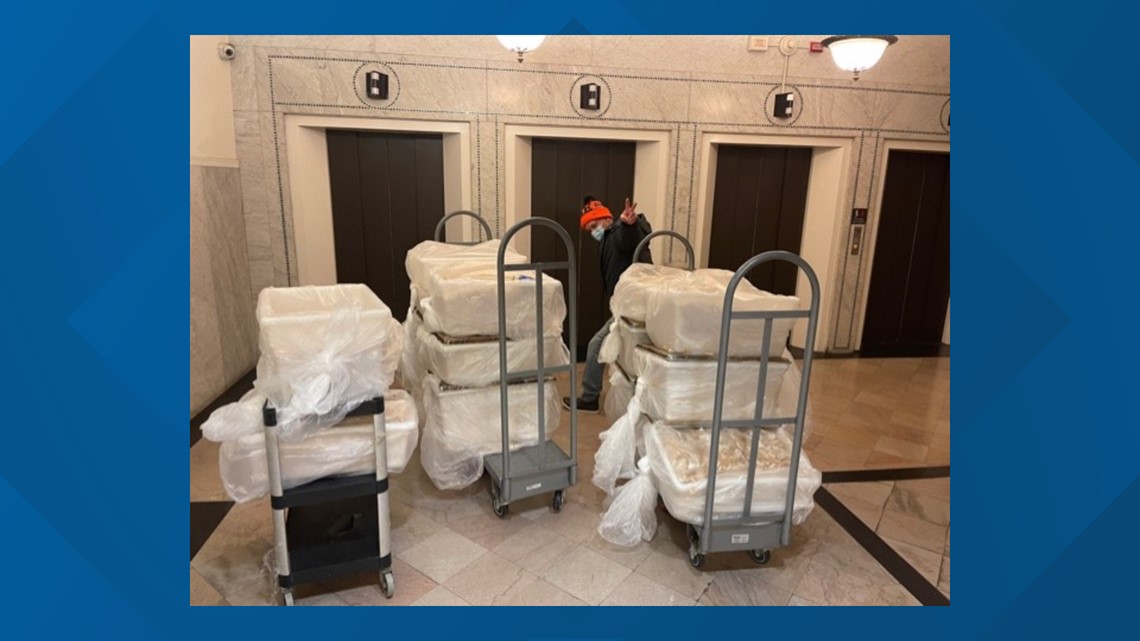 "We try to change lives. And of all the places I've ever been before, this is the only place that it's not about profit, it's about people and making them better," Scott told us. "That's the whole gist...making sure that we have enough food coming in and enough food going out. Like I said, 2,000 meals a day and it doesn't stop. It's 365. So Christmas, we're feeding. New Year's, we're feeding. Christmas Eve, we're feeding...and I couldn't do it without (Adam and Neil)."
For Adam, he says that even when the world reaches some point of normalcy again, he still wants to be there for LMM.
"I'll be in here. Neil will be here. We'll be here...making things happen," Adam said. "It helps people and it just feels natural."
It's a precious partnership Scott can't put into words.
"I don't pay them. They're just doing it- doing it to help me," Scott said.
For information on how to help support LMM, click HERE.
To donate to the Greater Cleveland Food Bank, click HERE.
For more information on City Club of Cleveland, click HERE.