CLEVELAND — Tony Jenkins is like a lot of teens in that he has a fondness for sneakers, in fact, his closet proudly shows off the collection. He also likes to draw. Over the summer he combined the two interests into one and started creating custom-painted kicks after watching a few YouTube videos.
After some good reviews from family and friends, Jenkins had another idea. The Saint Ignatius Senior turned his new-found hobby into a philanthropic endeavor as a fundraising campaign for Welsh Academy.
The Welsh Academy is a Catholic all-boys school for grades 6 through 8. Opened in 2019 by Saint Ignatius, the school is open to boys from families of modest means.
Ignatius seniors serve as Big Brothers to Welsh Academy students and Jenkins was paired with sixth-grader Victor Perez.
"He's a great kid. Very funny, outgoing. He likes to try new things. He is taking cooking classes, martial arts classes. We play soccer at recess a lot, so he's very active and involved. A really great kid overall," Jenkins said.
Jenkins felt drawn to the mission of Welsh Academy, and also what he witnessed from social unrest during the spring, so he created a special custom sneaker, with themes of brotherhood and unity.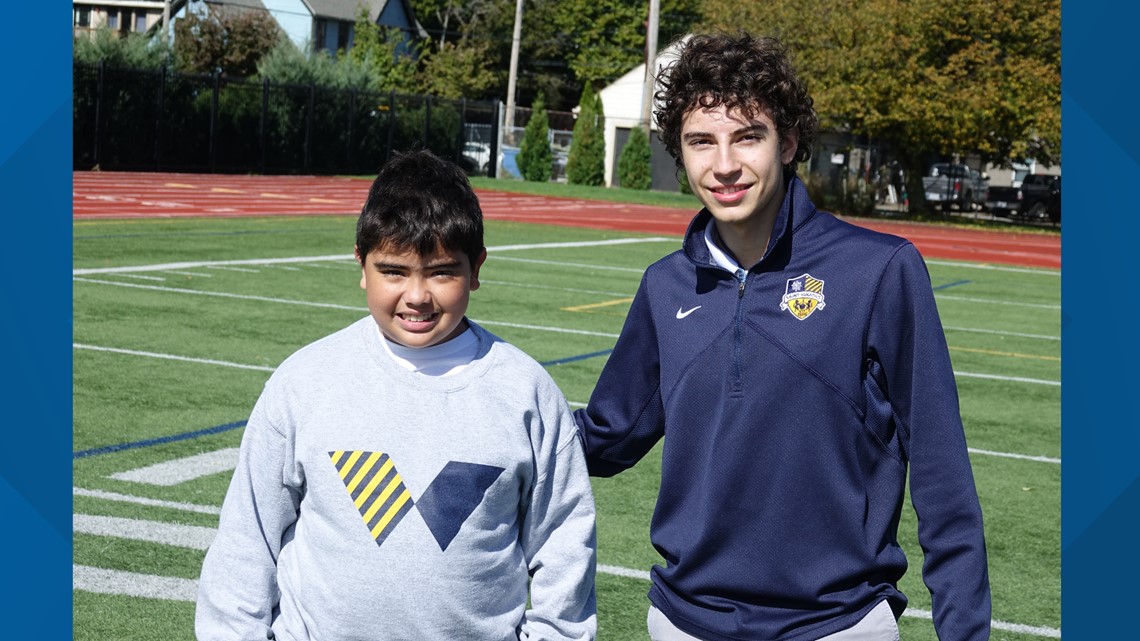 "It was over the summer when all three things happened to combine to create this end result. Finding my new passion for painting sneakers, becoming a mentor for Welsh Academy. And thirdly, it was the social justice issues that started to come up over the summer. I realized how blessed and fortunate I've been. I've had time to reflect on myself and who I am. I learned that these three things, would be perfect to tie all together. So I decided to hold this fundraiser to combine all three of these different aspects," Jenkins explained.
"So the website was up for one day and on the website, we raised a total of $35,800, but we still actually have some money coming in on a few more checks. So we're closer to $40,000," Jenkins said.
The money will got toward supplies and funding programs, such as Welsh Academy's Affinity program, which allows students to try new endeavors and find their passion.
As for Jenkins, he is thankful for the support and the opportunity to his talent, to make a difference.
"I was absolutely blown away by everyone's generosity. Once I saw this number and there's checks and money are still coming in, so it's just absolutely mind blowing and I'm so grateful for everyone's support. Everyone deserves an opportunity to thrive. I think that's kind of the big thing that I took away from this," Jenkins said.
While the raffle is over, you can still donate to Welsh Academy HERE.