NORTH RIDGEVILLE, Ohio — Skip the spooky skeletons! Ditch the ghastly ghosts! One family in North Ridgeville has taken their Halloween display in a unique direction this year.
Instead of your traditional creepy decorations, a home in the 4800 block of Charles Court in North Ridgeville has created a graveyard for former Cleveland Browns quarterbacks.
Each tombstone is marked with a quarterback's name and the years they played for the team written in bright orange colors.
Among the numerous graves include markers for Baker Mayfield, Tim Couch, Johnny Manziel, Jason Campbell, Brian Hoyer, Colt McCoy, Case Keenum, Brandon Weeden and many more.
Photos of the display were sent to us by Jill and Tony Timoteo.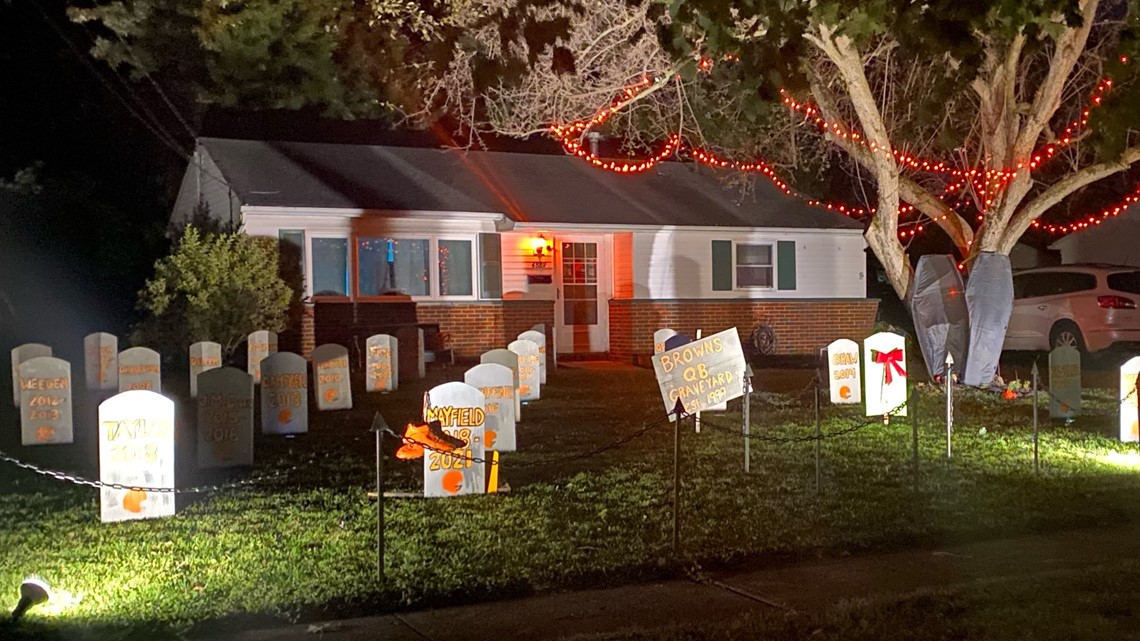 Jill tells 3News they've been doing this display since they moved to the area in 2014.
"It started with extra wood and paint from remodeling our house and has been developed and refined more and more every year," Jill tells 3News in an e-mail.
She said they "closed" in 2019, but are now officially reopened. You can follow their Twitter page @qb_browns for more updates.
We've also included this display in our guide of where to see the best Halloween decorations throughout Northeast Ohio this year. See the list of locations for yourself HERE.
Do you have an epic Halloween display? Send us the info with some pictures to morningshow@wkyc.com. We just might feature your decorations on TV and online.
Editor's note: Video in the player above was originally published in a previous Halloween story on Oct. 5, 2022.