STRONGSVILLE, Ohio — Edit's note: Video at the top of this story was originally published on Dec. 7, 2018.
One home in the neighborhood that draws a lot of attention each holiday season has announced they will not be installing their annual display this year. A sign about their decision has been posted in their front yard. It reads:
To our loyal fans and visitors,
As you all know, COVID-19 has greatly changed the world we live in. With social distancing guidelines and current safety measures, we are unable to operate our display this year. We apologize for the inconvenience as this was [an] extremely difficult decision but we hope to see you all next year.
The Crown Point Parkway Festival of Lights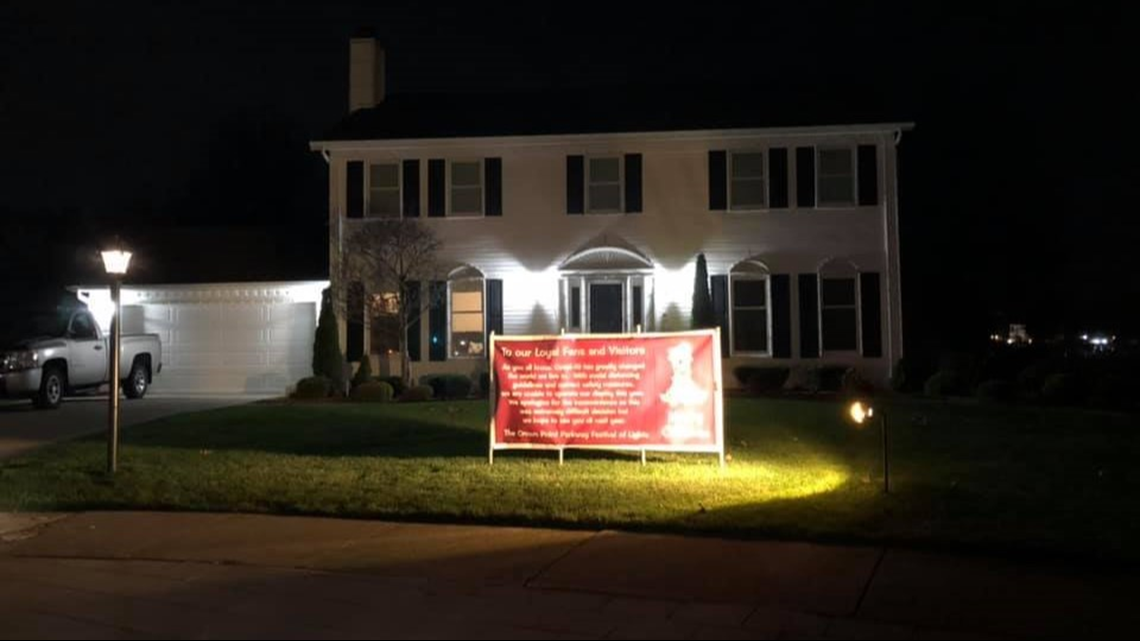 The community, however, has decided on a different way to celebrate this year by hosting a Christmas lights appreciation drive-by. Participants are asked to decorate their vehicle for Christmas.
"Blast some Christmas music and drive by waving at the neighbors who have brought you this display for the past 30 years," one person wrote on Facebook.
The drive-by event is scheduled for 7 p.m. on Black Friday (Nov. 27).
"Dan Hoag, the owner of the center house in the Crown Point Parkway -- Chandler Commons Christmas lights display -- has been battling cancer," according to a flyer for the drive-by event. "Due to his illness and concerns about COVID-19, the cul-de-sac neighbors have decided not to decorate this year. Dan's efforts and those of his neighbors have brought so much Christmas spirit to the lives of people well beyond the Chandler Commons neighborhood for the past 30 years. Please join us for an appreciation drive-by to thank Dan and his family for the decades of joy and memories they have unselfishly given us all!"