CLEVELAND — Chocolates and flowers and jewelry are great, but why not think a little more outside the (candy) box this Valentine's Day? The Cleveland area has a wide array of sweet holiday options. Read on for a dozen ways to say "I Love You," Cleveland-style.
1. Valentines by the Forge: Heat up your holiday with a couples metal forging class — really! Urban Forge and SoulcraftCle are hosting a couples class in which you and your significant other can forge two heart hooks that you can cherish forever, while forging a stronger relationship through co-operation and metal-bending. All materials provided. 6:30 - 8:30 p.m. Friday, Feb. 11 at Soulcraft Woodshop, 5401 Hamilton Avenue. $70 per couple, Click here to reserve in advance.
2. Shop local: Get your Valentine a uniquely local gift when Cleveland Bazaar returns with a Valentine Bazaar from 10 a.m. - 6 p.m. Saturday, February 5 at 78th Street Studios. Dozens of vendors will be selling art, clothing, jewelry, soaps and hair products, hot cocoa bombs, and much more. Get more information by clicking here.
3. Pink the Rink: Who remembers "couples skates"? Relive your youth, or take your youth, to the Rink at Wade Oval for their special Valentine's Day "Pink the Rink" event. In honor of the holiday University Circle is painting the rink at Wade Oval pink Friday through Sunday. House: 3-9 p.m. Friday, noon-7 p.m. Saturday and noon-5 p.m. Sunday. Admission $2, rentals $3. Advance reservations highly recommended. Click here for more. (You can see more about Pink the Rink in the above video)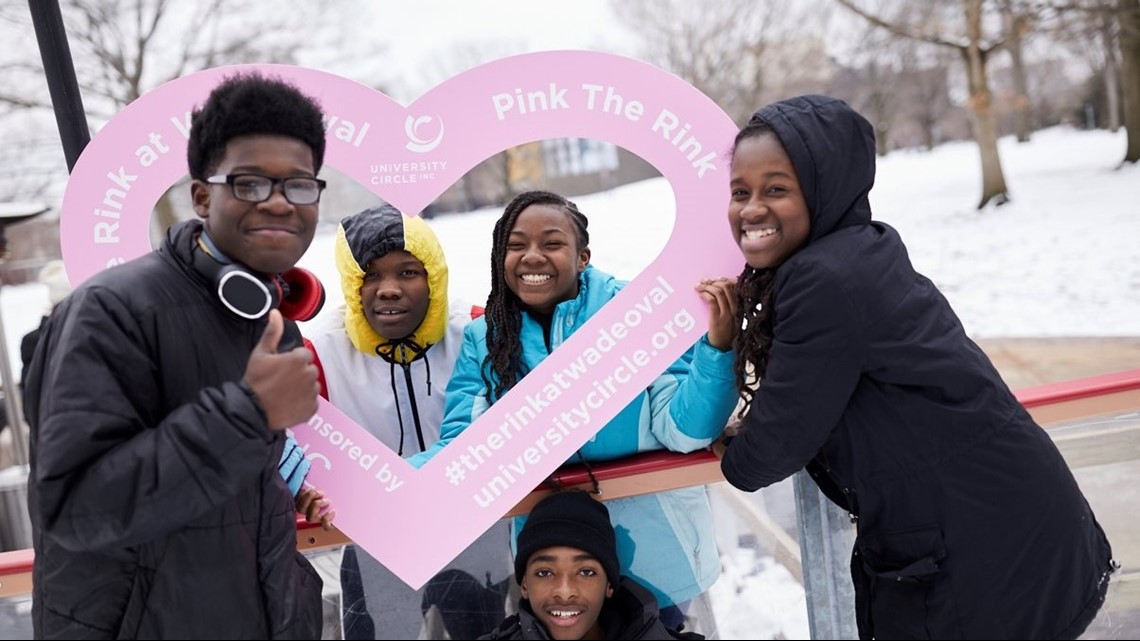 4. S'moregasms: Valentine's Wine & S'mores Party: Indulge with your love at this unique and romantic Valentine's experience. The Little Birdie Wine Nest will be featuring a flight of four "romance themed" wines paired with a S'mores Board (complete with a miniature indoor roaster). 5:30 p.m. and 8 p.m. Friday, February 11, Little Birdie Wine Nest, 6060 Broadview Road, Parma. Tickets, $32.50, reservations required. Click here to reserve your spot.
5. Movie for two: Splurge on a private movie screening for two at an area theater this Valentine's Day. Both Cleveland Cinemas and Cinemark are currently offering private rentals for up to 20 people. Cleveland Cinemas allows you to bring your own DVD of your favorite love story, or choose from current attractions at either Cedar Lee or Chagrin Cinemas. Cinemark has a long list of Now Playing films from which to choose. Prices vary. Advance reservations are a must.
Click here to book a Cinemark screening
Book a Cedar Lee or Chagrin Cinemas screening here.
6. Glamour and Grudges Tea: Get in the holiday mood with tea for two at this wickedly fun sounding event at the Hickories Museum in Elyria. Hedda and Louella are coming to town to spill ALL the tea. The afternoon consists of a program about Hollywood's original gossip girls (Hedda Hopper and Louella Parsons) followed by a three-course tea in the gorgeous rooms of the Hickories Museum. Choose from three seatings over the weekend, or if you would rather dine at home, pick up your meal to go. To-go orders include online access to a recording of the program. Tickets, $35 per person ($30 for LCHS members), available by emailing or calling lchs@lchs.org or 440-322-3341. You can also click here for more. Seatings: 11 a.m. and 2 p.m. February 12; drive-thru pick up 11 a.m. -12:30 p.m. February 13; and final seating 1:30 p.m. February 13. 509 Washington Ave., Elyria.
7. All aboard for family fun!: Grab your little Valentine (or Valentines) and hop aboard the Cuyahoga Valley Scenic Railroad to spend the afternoon decorating cookies with a variety of fun toppings. Supplies are provided, you just need to bring your ideas. Ticket includes 90 minute train ride and supplies and two cookies to take home. Train will depart the Peninsula Depot at 12:30 p.m. Friday, February 13,. and arrive back at the Peninsula Depot at 2:05 p.m. Tickets can be purchased here.
8. Get cozy in an igloo: For the third year in a row, charming Georgetown Vosh restaurant, 18515 Detroit Road, Lakewood, has set up heated igloos on its street-side patio. What better way to cozy up on a cold winter day? Holiday rentals, $100, are available for two hour sessions on Saturday, Feb. 12 and Monday, Feb. 14. ($250 tab minimum per igloo.) Igloos seat two to eight people, and dinner, drinks and appetizers can be ordered. Reserve your igloo by clicking here.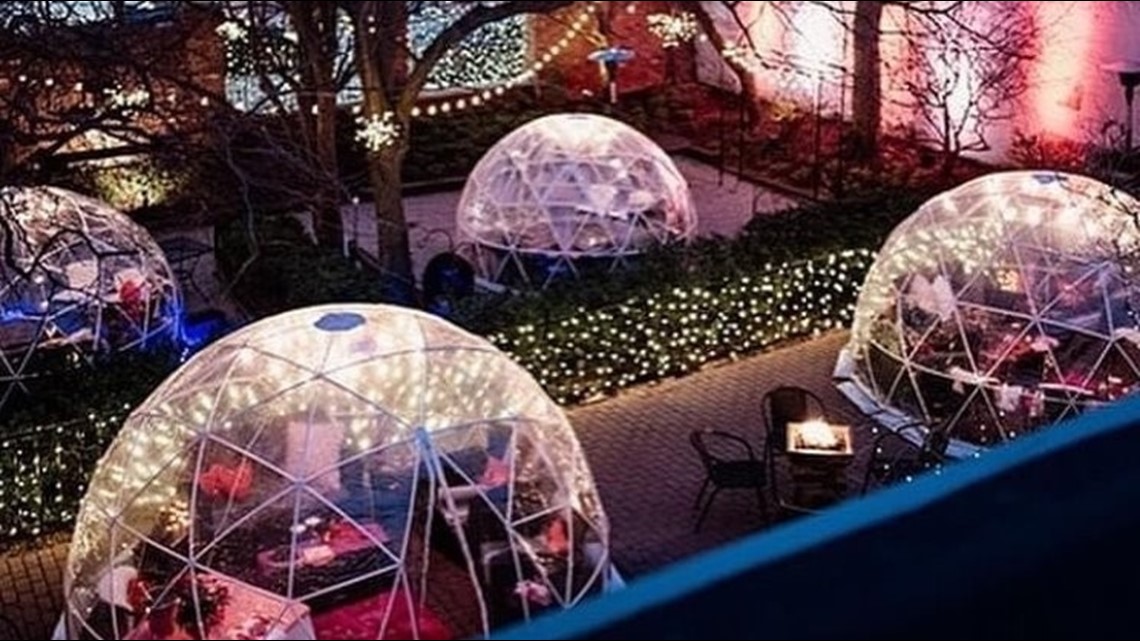 9. Puppy Luv: Sweeten the day for your littlest Valentines with Malley's super-cute Puppy Luv sundae. It's two scoops of vanilla decorated with candy to look like a sweet little pup and is now available at area locations. Bonus: Enjoy your treat on the rotating carousel floor at the North Olmsted location, 23473 Lorain Road, for some extra holiday fun. (Don't forget to pick up some of their famous chocolate-covered strawberries or peanut butter royals, too.)
10. Cleveland Museum of Art: Spend a romantic day exploring the galleries at the Cleveland Museum of Art, where love is all around, but nowhere more spectacularly than in one of the museum's most famous pieces, Jacques-Louis David's "Cupid and Psyche." While you're there, be sure to celebrate maternal love with the moving, thought-provoking "Picturing Motherhood Now" exhibit.
11. Orchids Forever: Beautiful, temperamental, rare, and fragile … orchids could be a metaphor for love. Tended well, they grow and thrive, stunning with their beauty. So, why not take your love to the Cleveland Botanical Garden for their annual orchid show, Orchids Forever, open January 29 - March 13. Advance reservations are recommended. Thousands of exotic blooms will be on display at this year's show, which is themed: "Synergy and Survival" and focuses on "the special relationship between orchids and their pollinators and why this relationship is vital for survival." 11030 East Blvd. Tickets, $12 - $16. Reserve your tickets here.
12. Dinner and a movie: The old date standby gets a modern twist at Silverspot at Pinecrest, where a full dinner and drink menu is available FROM your seat. And, we're not talking popcorn and soda. Choose from Angus beef sliders, flatbreads, strip steak, salmon, five-layer chocolate cake, cappuccino, cocktails, a children's menu and much more. It's highly recommended to reserve movie tickets in advance, click here for more information. Opening February 11 is a great date night flick: Kenneth Branagh's new Agatha Christie update, "Death on the Nile."