CLEVELAND — You might not understand what Nyiramutuzo Makurata is saying as she stocks shelves at La Borincana Foods in Cleveland's Tremont neighborhood, but you don't need to.
A smile that spreads ear to ear and bubbly laughter that fills the compact corner store will tell you how much she loves her job.
Working isn't so much a part of her life as it is her whole life. Nyiramutuzo Makurata, or Makurata as she's called, is from Congo, Africa and speaks Swahili.
When her family finally made it to America, finding a job was her main goal.
"Even in Africa, if you're not working, the life is no good. It's everyday hard. But when you're working, everything seems better," she says.
Makurata grew up in North Kivu, a province of Congo in the capital of Goma. She lived there until she was 12 years old. That's when her family moved into a refugee camp. She stayed there for 20 years.
A refugee camp is a temporary place, usually built like a small city, meant to receive refugees and people who have fled their home country. There are at least 10 major camps in Africa right now.
Mukurata's family, and many refugee families who live in the Cleveland area, are from Western Africa, where war and fear of death lurk outside their doorstep everyday. That's why Makurata left Congo, and why many flee to refugee camps.
Though they're intended to be temporary homes and a safer community, the camps are flooded with human trafficking, gang-like armys, and death. Those with jobs or an education in the camps are a sometimes target for the gangs.
"The camp is not good, at all," she says. "So many people die, and so many people got sick."
She says it was hard to leave and scary to come to America. Makurata has six children, a few who were born in the camps. They don't have a real "hometown" and their American birthdays are traditionally January 1st, the day immigration stamps on their passport. Makurata made the move to America to give them a good education and find better jobs for her and her husband. It was a lot to take in for someone who did not speak any English.
"She came to America, she could not understand anything or speak anything in English," Makurata's translator and fellow co-worker Lydia Mugoli says. "Now her life is very good, because she's working."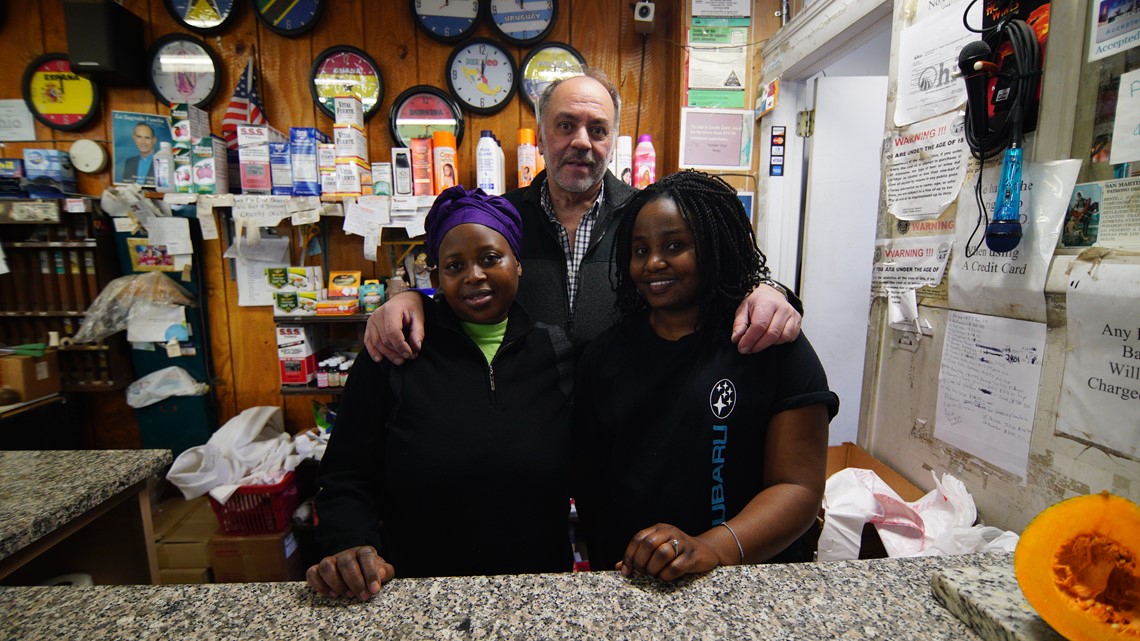 Makurata has been working at La Borincana for 10 months and living in Cleveland just two years. She helps clean the store, translates for customers and employees, stocks shelves, prices items, and takes inventory. Not only has her job taught her life skills and the value of American money, her English has improved.
So much so, she has a nickname around the store. Her boss Ricky Muniz calls her "The Teacher."
"Yeah, that's her name," Lydia and Makurata giggle. "She works with someone who doesn't speak English at all. So because she's here and understands English a little bit, she translates for him. That's why they call her that."
La Borincana is rich in cultural diversity. Clocks on the walls show the time of day in different countries and cities worldwide. Food from all around the world is for sale at low prices. The narrow store shelves are labeled by the country the food in that aisle is from. Many refugees and migrants in Cleveland travel miles to the store, just to find food that reminds them of home.
Makurata is their translator and helper to find what they need.
"Some people, they come here, and they'll be surprised how she speaks English, especially because they come from the same camp in Africa," Lydia explains. "They be like, 'oh you too, you speak English!' and when she speaks to a customer in English they be surprised and laughing."
Makurata travels from her home on Denison Avenue to the store on Fulton Road in Tremont. It's a half-hour bus ride, an hour walk, but only a six-minute drive by personal car. Makurata's family only has one car, and her husband takes it to his job. She gets to work almost everyday when her boss, Ricky, drives her.
"He's a very good boss, because even if you don't have transportation, he'll drop you off. And it's not only her, he does that for anyone who doesn't have transportation," Lydia translates. Ricky adds an estimated half-hour time to his drive into work picking up his employees.
Makurata is now worlds away from struggling in refugee camps. Though Cleveland, and most of America, is still very foreign to her, work is her safe haven. It's her second home, and her second family.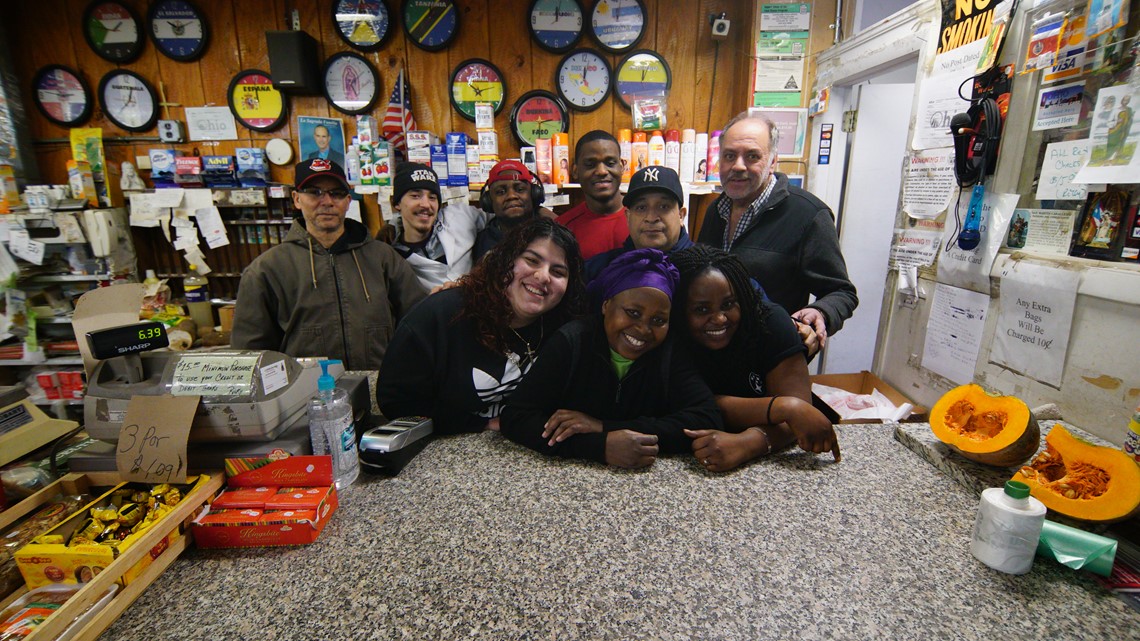 "She feels family because everywhere you work, you have to treat them like a brother or a sister. You have to like everywhere you work. At work, there are so many people you know," Makurata says.
"All of us, we are created by God, so everywhere there's different people. So you have to work, and be happy where you work. I'm proud to do it, to provide for my family," Makurata says with a smile.