CLEVELAND — The city of Cleveland recently announced that, next year, they will be producing an incredible celestial event they believe will be a boon for local tourism.
A rare, total solar eclipse has been scheduled for April 8, 2024, for Greater Clevelanders and guests. Star-gazing lookie-loos from all over the country will descend upon our fair city to bask in a couple moments of all enveloping darkness as the moon rudely blocks our life-giving sun temporarily, just to be a jerk.
Emily Lauer from Destination Cleveland, and Emmalee Schechter of the Great Lakes Science Center were kind enough to share some of the ways Cleveland will be celebrating this momentous occasion. After all, eclipses have figured prominently throughout human history. Visually striking and — until the last few centuries — scientifically confounding to most, eclipses were often viewed as supernatural occurrences.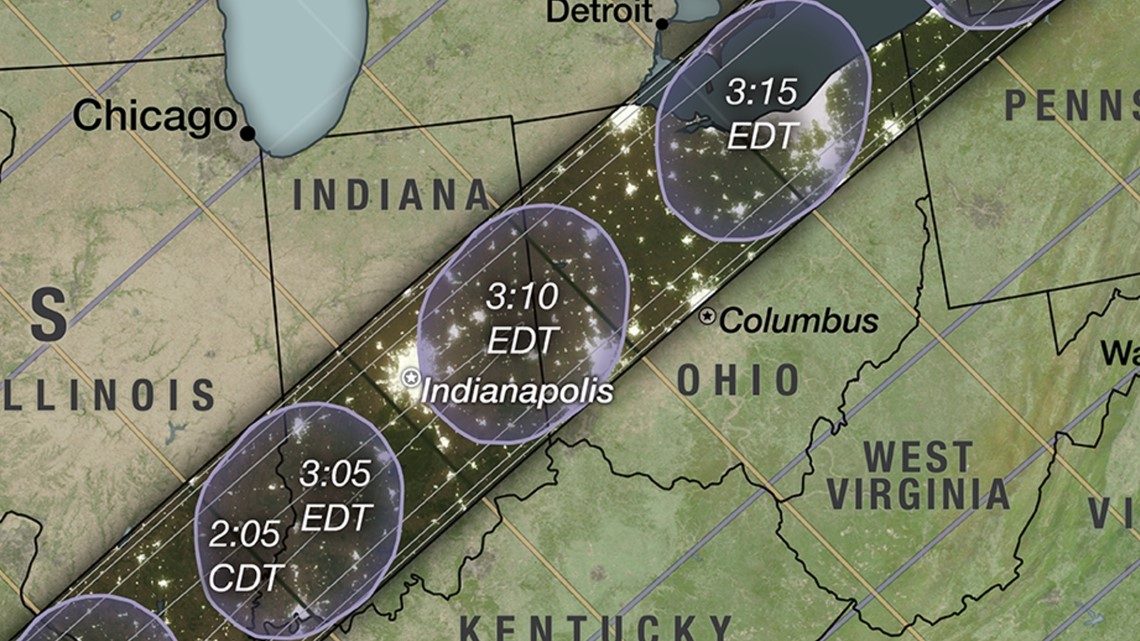 One of the earliest solar eclipse records appears in an ancient Chinese book of documents called the Shu Ching. The people of that time believed that the eclipse that took place on Oct. 22, 2134 B.C was caused by a large dragon eating the Sun. This would later prove to be scientifically inaccurate.
The Cleveland eclipse offers a great way to show off our city to visitors while also hiding our worst flaws in temporary darkness. Organizers say they anticipate tens of thousands of guests will arrive in droves to witness what is essentially the opposite of a fireworks display, and they say they'll be ready for the party.
But of course, I can only assume that the primary concern that most people will have is determining what songs they should include on the eclipse-themed playlists that they will be preparing for that day, and that's why I'm here to help.
First things first: You'll obviously be tempted to include the celebrated '80s gem "Total Eclipse Of The Heart" by Bonnie Tyler. It's totally understandable, but definitely not the move. It's too on the nose and it will be on EVERYONE'S eclipse party playlist, so don't be basic.
Don't get me wrong — if we can convince Ms. Tyler to visit us that day and perform it live, (ideally from the Terminal Tower observation deck), I am totally on board. But if we can't have the genuine article here in person, then let's just give it a pass entirely.
With that established, here is a definitive list of acceptable music to enjoy during The Great Cleveland Eclipse of 2024:
"Bad Moon Rising": Credence Clearwater Revival
"Ain't No Sunshine": Bill Withers
"Paint It Black": Rolling Stones
"Dancing in the Dark": Bruce Springsteen
"Blue Moon": Billie Holiday
"Don't Let The Sun Go Down On Me": Elton John (live version duet with George Michael)
"Space Oddity": David Bowie
"Dancing In The Moonlight": King Harvest
"Rainbow in the Dark": Dio
"On The Dark Side": John Cafferty and the Beaver Brown Band
"The Dark End of the Street": James Carr
"Moondance": Van Morrison
"Moonlight Serenade": The Glenn Miller Orchestra
"Steal My Sunshine": Len
"House of the Rising Sun": The Animals
"Sunny Afternoon": The Kinks
"Let The Sunshine In": The 5th Dimension
There you have it. Also, remember not to look right at the eclipse when it happens unless you view it safely through special glasses you will probably be able to get at Discount Drug Mart or through a cardboard shoebox with a hole in it that a grade school kid made. Otherwise. you'll probably have vision issues for the rest of our life. Good luck out there!
Great Lakes Science Center is ready to begin the countdown to next year's total eclipse of the sun with a one-year-out kickoff event on Friday, April 7 and Saturday, April 8, 2023. You can find more information here.