CLEVELAND — Editor's Note: The above video aired on February 6, 2020
Just over a year after announcing its intention to construct a new global headquarters in Cleveland and a new research and development center in Brecksville, Sherwin-Williams has released preliminary site plans for both buildings.
The company says the proposed plans 'provide a high-level footprint of buildings, parking and green spaces for each site.' In the coming months, the plans for the two centers will be refined and reviewed by the City of Cleveland and the City of Brecksville as required by their respective planning and design organizations.
Based upon the work that has been completed to date, Sherwin-Williams says it expects to submit design plans to each city during the second half of 2021.
Sherwin-Williams expects to break ground at both sites no later than the fourth quarter of this year. Overall, the transition to the new facilities is expected to occur by the end of 2024.
Below is a rendering of the proposed site plan for the Sherwin-Williams global headquarters in downtown Cleveland: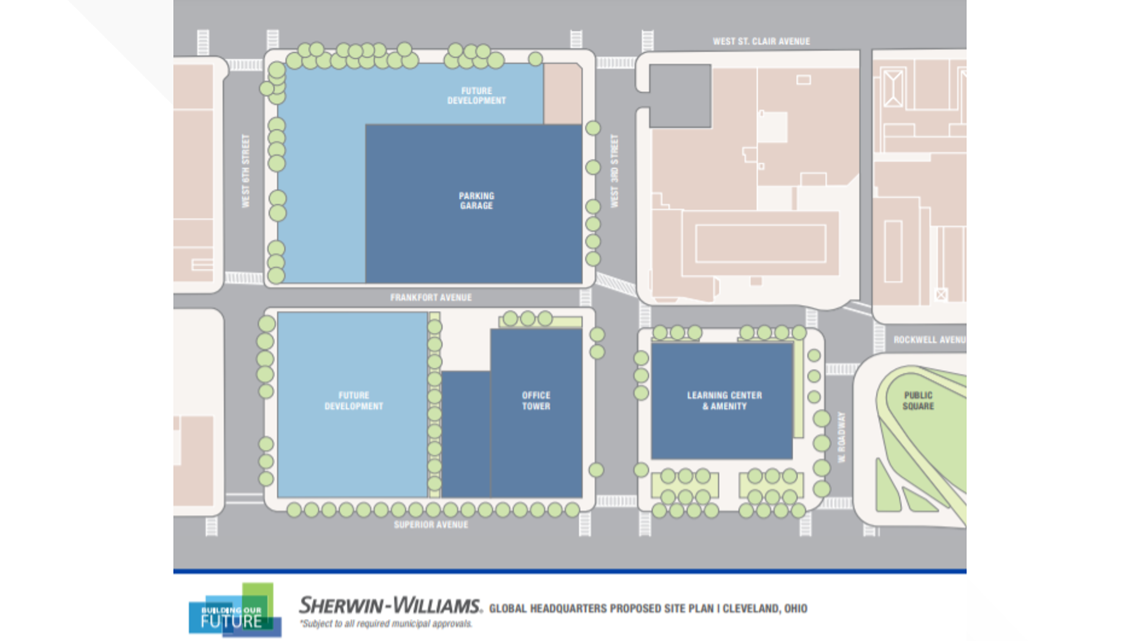 The plan to build the new headquarters in Cleveland was announced back in February of 2020. The company's new global headquarters will be located just west of Public Square between Saint Clair Avenue and Superior Avenue. Company officials say it will be approximately one million square feet. The new Brecksville R&D center will be constructed off I-77 at Miller and Brecksville Roads. It will be 500,000 square feet.
Below is a rendering of the proposed site plan for the Sherwin-Williams R&D center in Brecksville: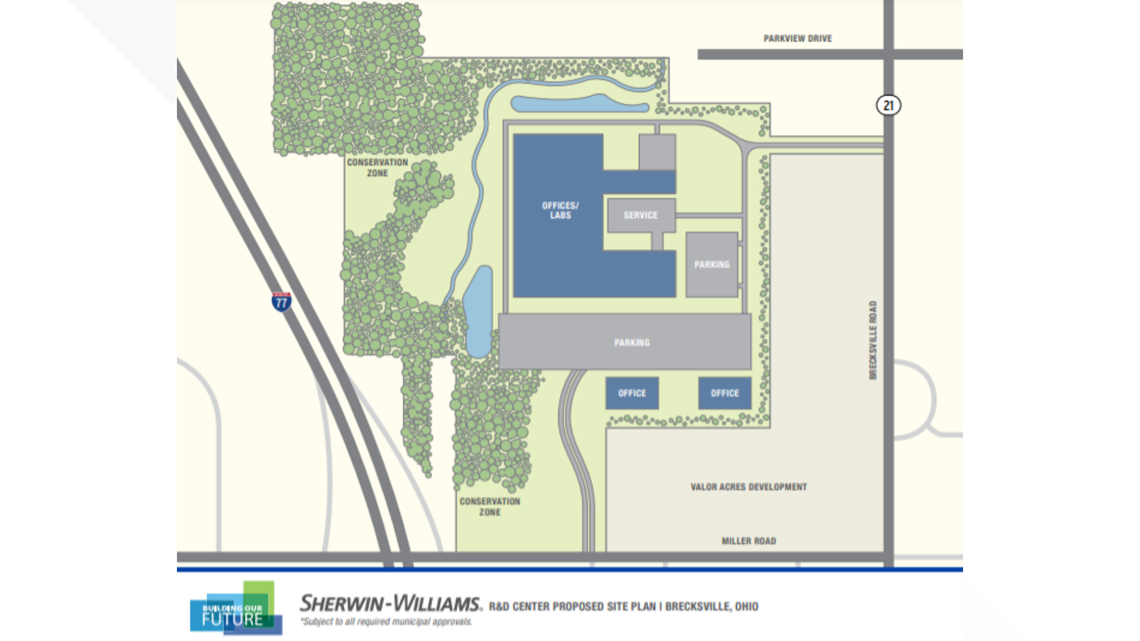 As a result of the state of Ohio's Controlling Board approving loans totaling $70 million, Sherwin-Williams has committed to creating 400 new full-time jobs and retaining 3,524 existing full-time jobs at the project sites, as well as 4,000 construction jobs. The loans will have a term of 25 years with an interest rate of zero percent.
In addition, Cleveland City Council voted in March of 2020 to approve a proposal that would allow the city to provide an incentive package for the new Sherwin-Williams headquarters that includes tax breaks and construction grants. According to Cleveland Mayor Frank Jackson, the incentive package offered to Sherwin-Williams is possibly the biggest in the city's history.
You can see Sherwin-Williams' video announcing its Northeast Ohio projects below: