CLEVELAND — It's no surprise that pizza is one of the go-to snacks for the Super Bowl.
So we're taking our Mission Possible series into the Nestlé test kitchen to uncover the next frozen pizza creation.
As the world's largest food and beverage company, Nestlé makes several frozen pizza brands: Stouffer's, Jack's, Tombstone, DiGiorno and others are in their pizza portfolio.
They're not just relying on plain pepperoni, though. They're creating innovations to get a bigger slice of the $7 billion frozen pizza market.
Adam Graves, President of Nestlé Pizza and Snacking Division, says they are always innovating.
"My favorite innovation that we've launched is our croissant pizza," Graves said. "Which is a layered, crispy crust. So, our DiGiorno croissant pizza actually was an innovation that came out of our R&D center here in Solon, Ohio."
Chef Robert Fedorko is the Nestlé Director of Culinary Innovation and knows what will be hitting grocery store shelves in the future.
"We have an incredible launch from Stouffer's that's coming out in the spring," said Fedorko. "We have the new pizzas from CPK [California Pizza Kitchen] and the new launches from DiGiorno coming out. One is a play on our DiGioro croissant crust. We're going into the breakfast side on this one, sausage and gravy, a little bit of cheddar melted on top, a little bit of mozzarella on a thick, fluffy croissant crust. The croissant obviously a classic and breakfast in general. But bringing that to life and a pizza, which is a labor of love."
Other food mashups are in the works. But how about some hot honey on your pizza?
"Something new that's coming to the market in April: The California Pizza Kitchen croissant, thin crust. This is an incredible crust. Probably my favorite in the portfolio now. It's got uncured pepperoni and Mike's Hot Honey on the top as a glaze to really deliver it on the flavor," Fedorko said.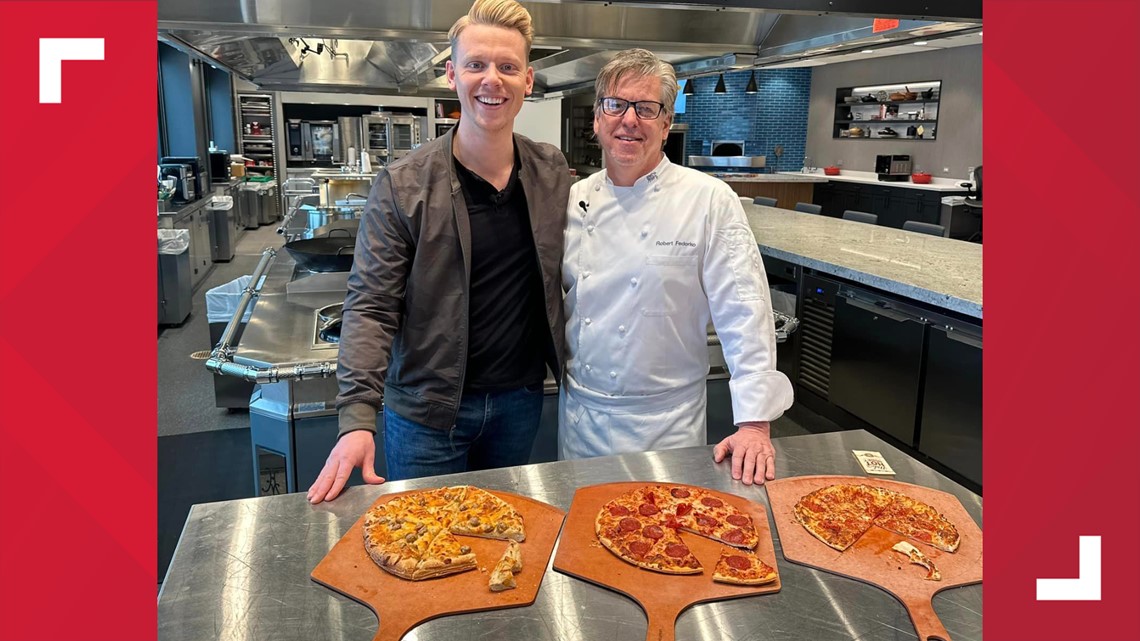 So where do the chefs in the test kitchen get their inspiration?
"From a chef's perspective, we stay connected to the culinary world of pizza all across the country on a regular basis. And so, we're always looking for innovative ideas," said Fedorko. "We believe that croissant crust with the Mike's Hot Honey and the pepperoni is going to be one of our best innovations yet."
Graves said he's very proud to be on the forefront of pizza innovation right here in Cleveland.
"We're building a new kitchen to expand our distribution on gluten-free pizza," Graves continued. "So, if you've got a dietary restriction or a sensitivity, you're able to enjoy a no compromised, thicker crust expression within gluten free. So, we're excited for consumers to enjoy that under DiGiorno."
And if you needed another reason to watch the big game, you could win free pizza if a kick hits the upright or crossbar causing a doink. Fans can enter for a chance to win a coupon for a free DiGiorno pizza.
Editor's note: Video in the player above was originally published in a previous Mission Possible story on Feb. 5, 2023.