CLEVELAND — The PNC Financial Services Group, Inc. has unveiled a Community Benefits Plan to provide $88 billion in support of underserved individuals with low- and moderate-income levels (LMI).
PNC will offer loans, investments, and other financial support to bolster economic opportunity for these individuals, people and communities of color, and other overlooked individuals and communities over a four-year period, beginning January 1, 2022.
"As a Main Street bank, we believe that our success will be proportional to the prosperity we help create for our stakeholders," said PNC Chairman, President and CEO William S. Demchak.
The loans to be included will encompass residential mortgage and home equity, loans to small businesses, and community development. PNC also plans to increase its charitable giving.
Specifically, over the Plan period, PNC expects to:
Originate at least $47 billion in residential mortgage and home equity loans to LMI and minority borrowers and in LMI and majority-minority census tracts.
Originate at least $26.5 billion in loans to small businesses in LMI communities, majority-minority census tracts, businesses with less than $1 million in revenue and small farms.
Provide at least $14.5 billion in community development loans and investments across all markets, including at least $400 million for Community Development Financial Institutions (CDFIs) that help meet the banking and financial service needs of traditionally underserved communities.
Increase to at least $500 million PNC's charitable giving, including sponsorships and philanthropic grants. This includes the continuation of BBVA USA's existing multi-year grant and charitable sponsorship commitments with nonprofit organizations, and a commitment to maintain or increase the current levels of philanthropic support provided to community groups in Birmingham in recognition of the history of the city as the headquarters city of BBVA USA and its predecessor bank.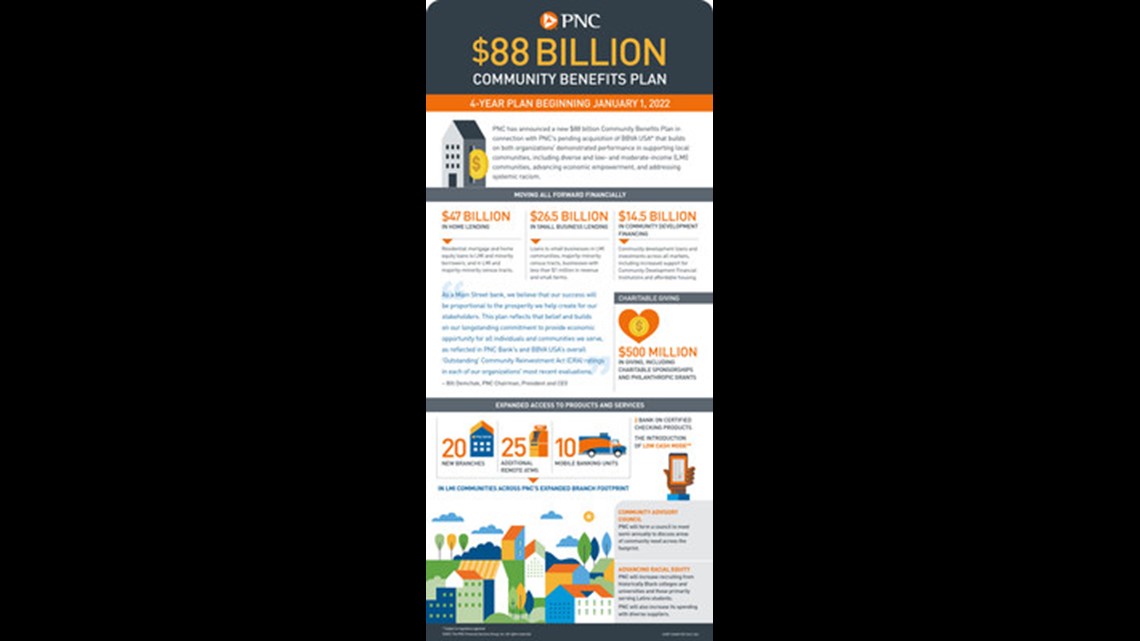 'The Plan,' as PNC refers to it, was developed in connection with the anticipated regulatory approval and closing of PNC's pending acquisition of BBVA USA Bancshares, Inc., including its U.S. banking subsidiary, BBVA USA, which is one of the countries 25 largest commercial banks, according to ConsumerAffairs.com.
'The Plan incorporates, builds on and expands the pledges and plans previously announced by PNC and BBVA USA to help meet community needs, advance economic empowerment and address systemic racism,' representatives for PNC said, in a press release.
Nate Coffman, Executive Director of the Columbus-based Ohio Community Development Corporations (CDC) Association, applauded PNC's plan.
"The $88 billion plan holds tremendous promise to fuel opportunity in communities that need it the most," Coffman said. "The precedent-setting community benefits plan with NCRC is recognition of the critical importance that financial institutions can and must act to combat entrenched income and racial inequalities across our country."
Nathan Minerd, Executive Director of the NeighborWorks Collaborative of Ohio, shared a similar sentiment.
"With this plan, PNC has proven they are focused on the needs of the communities they are a part of," Minerd said. "We applaud PNC's commitment to work together to make our communities stronger."