Have you ever come up with that one in a million idea, that invention of all inventions, but then hit the roadblock: how do I sell it to the world?
A Kent State student found a way to market her idea, and a major company and Hollywood actress are buying in.
Inspired by her mom, 19-year-old Anne Skoch went to fashion school. She started sewing at 13, mostly just items for herself.
"I would make dresses, clothes for my dolls."
That turned into gifts for family and friends and eventually the thought of starting her own business. She came up with her own design based on her love for the Cleveland skyline, which led to other designs for New York and Chicago. The designs would be on anything from pillow cases to purses.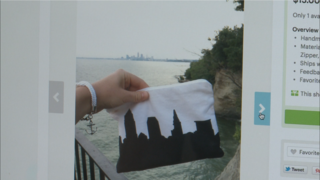 "It's a simple, elegant, classy product...it caters to people who travel and want to take home with them."
To market her idea, Anne built her own ETSY online page under the name Anne Cate to showcase her work, hoping it would land her a buyer. Then American Greetings came calling, or emailing in this case.
"It was huge, I freaked out."
Actress Monica Potter's home store wanted in and started selling Anne's designs.
Anne has added 25 city skylines and talks about going global, with a request from Cape Town, South Africa. She has more than 100 current customers and may even have to hire employees to keep up with the demand.
"If your heart is in it...who will come your way."