AKRON, Ohio — The city of Akron on Wednesday issued an apology after receiving backlash on its handling of last weekend's snow storm.
The storm subsided by Monday morning, yet many Akron streets remained buried beneath snow and ice on Wednesday, igniting frustration among residents.
The city issued the following statement Wednesday afternoon:
"First, an apology. We have failed to provide a timely level of service to all City streets in response to this storm, and we are sorry.
We apologize to the Akron community for the inconvenience and frustration our response has caused. The level of service we provided has fallen short of what our residents rightly expect. While we have devoted 100% of our available City resources 24/7 to plow and salt all primary, secondary and residential streets following Winter Storm Harper, the results of these efforts have been unacceptable. We appreciate the patience the Akron community has extended this week. We have heard your concerns and we will do better in the future.
Mayor Horrigan has directed the City to immediately reassess every policy, procedure, agreement and route and to make necessary changes to our approach to ensure that future snow events are addressed effectively and efficiently from day one."
The city on Tuesday said all primary routes had been plowed and that 30 percent of residential streets were plowed at that time.
But at least 12 Akron City School buses became stuck in snow and ice Wednesday morning. One bus was reportedly stuck for two hours with students on board.
Akron school bus stuck on icy, snow-covered street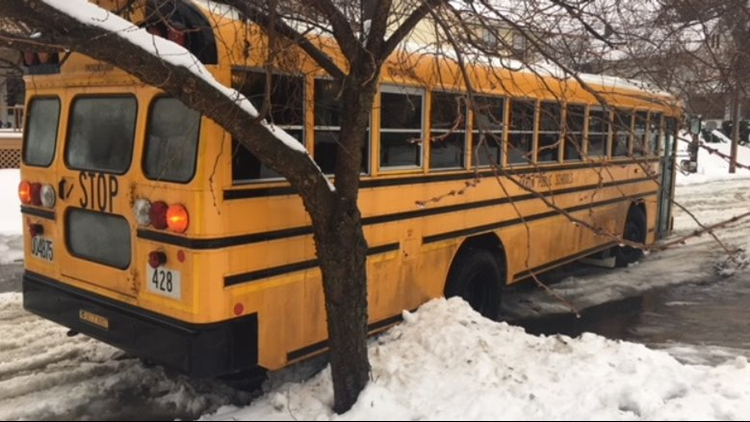 Now, the city says every single one of its vehicles capable of removing snow and ice has been dispatched to clear streets. In its statement, the city also says it has hired seven private contractors to help, meaning more than 100 vehicles have been deployed.
With temperatures expected to dip, the city warns residents to expect icy streets. A parking ban on primary streets will remain in effect until further notice.