Cleveland kidnapping survivora Gina DeJesus and Amanda Berry were among hundreds of people taking a stand against human trafficking Saturday when they walked the streets of the city in silence to raise awareness.
Journey Church hosted the global nonprofit A21 to lead the Cleveland Walk for Freedom. It's the second year for the silent, one-mile walk, which this year kicked off from Lincoln Park. The DeJesus family, along with several local organizations including the Hue Jackson Foundation, was there.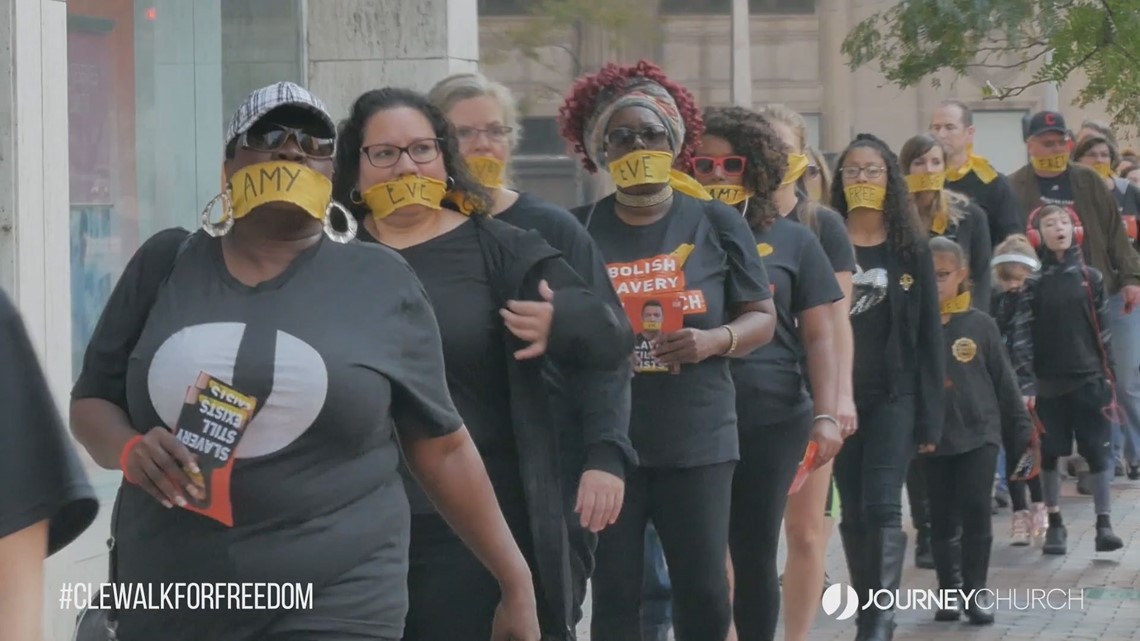 Gina is passionate about making the kinds of changes that could keep other young people out of the harm she experienced.
"I think that if neighbors could take care of each other better, and be aware of what's happening in their community, and if they see something, say something, it's always better to say something and know you're wrong, then say nothing, and know you were right," her cousin, Sylvia Colon, said.
Organizers say its crucial to keep talking about human trafficking, as Ohio ranks fourth in the nation for the number of reported cases, behind only California, Texas and Florida. It's estimated 1,000 children are trafficked each year, and some 3,000 could be at risk.
"Missing children have a lot to do with human trafficking, because the traffickers know exactly how to exploit something that's missing in a missing children or runaway youth's life," activist Megan Gallagher said. "We've statistically seen that within 48 hours of running away, they will be approached by a trafficker. They know exactly what to look for, they know exactly what to say to [the children], it's just a matter of if they go."
"I think it's very hard to be in touch with the tragedy of this, and how it affects our lives, but when you can put a face to the story, and we have faces of people who have been rescued," Pastor Jennifer Wilkes, who's organized a team, told us. "When you can look into their eyes, even if its through a photograph...you can see the pain that they've walked through and hear their story."
The walk allows others to experience the life of these victims in some way.
"To have Gina be a part of this walk, and have her family come and support this, is so significant, in our city especially," said Wilkes. "What she experienced, and the tragedy of her life, she's turned it around for good. She hasn't hidden herself or hidden her life, but she recognizes the pain she went through can be someone else's freedom."
You can find out more about the Walk for Freedom by clicking here.