CLEVELAND — At the heart of the Bedford community is Paul Ward Jr. A street sign forever honors him as the beloved principal at Carylwood Intermediate School.
"He was very supportive, like, of his staff and of his teachers, and of the kids," Nicole Ward says of her late husband.
As a father to Nordonia grad and current star Browns cornerback Denzel Ward and his brother P.J., he was the perfect mix of tough and tender.
"It wasn't just like this tough love," Nicole recalled. "It was like, 'Yeah, it's tough love, but I love you.'"
Yet, this tough guy showed made sure to spread love to everyone. Paul never let a single person down.
"He just had the biggest and yet the softest heart, and he met no strangers," Nicole said. "I think everyone felt like, 'This is my best friend.' Paul is the type of person. He had their back; he had everyone's back."
He even had his own back, dedicated to health and fitness his whole life. In fact, he worked out every day until the age of 46, until a shocking event at the local gym on May 2, 2016.
"Paul had called after work, like he typically does," Nicole remembered, "and he was like, 'You know, I'm getting ready to get off. Are you going meet me, you know, at the spin class today?' And so I had told him, 'No, I'm not going to join you today.' I'm like, 'I'm tired from stepping, you know? Denzel's home.' I said, 'I'm just going to stay back and cook dinner and, you know, I'll have dinner ready for you when you get home.' And he said, 'OK, I'll call you when I'm done.'
"So I knew the class started at 6 and lasted an hour, and it probably wasn't even halfway, you know, through the class — maybe like 6:20, or something. But I received a call from his phone, which kind of surprised me because I knew the class ended at 7 o'clock."
The woman on the other end delivered the news.
"She was just screaming hysterically," Nicole told us. "Like, 'Your husband's falling off the bike! Your husband's falling off the bike!'"
It wasn't just a fall. Paul had suffered a major cardiac arrest. Nicole summoned Denzel — who was home from Ohio State — and a number of family members to come to the hospital.
"They were trying to save his life," Nicole says. "Like, twice, they said they had got a heartbeat, and then I remember it was 8:14 and I heard someone in there say, 'He's pronounced dead.'"
The grief and "what ifs" can be overwhelming.
"f I would've known that was the last moment, I would've talked to him longer, or, you know, I would've said things." Nicole said, fighting back tears. "I would've done things differently."
She sometimes wishes she had gone to the class with Paul that day, but then again, she knows there is a greater reason why she didn't.
"It wasn't meant for me to be there that day," she explained. "You know, I have a strong faith and belief, you know, in God, and like I said, every other class, I was there. But this particular day, for some reason, He didn't want me there."
There's this, too: Living a life full of regrets isn't what Paul would have wanted. It's not the "Ward Way."
"[Paul's] life could have potentially been saved if someone would've used ... CPR or if they would've activated an AED," Nicole said.
In fact, an AED was just 32 steps away from Paul. Still, Nicole isn't angry. She just wants to help people learn.
"You don't know what people's reasons are as to why they don't step up," she said. You know, it could be fear. They think they might, you know, make the situation worse. "Just instill that confidence in people to respond and know that doing something is always better than doing nothing at all."
That's exactly what the foundation is doing. Volunteers are donating and delivering AEDs to local businesses and public facilities, and they're teaching CPR, too. Recently, Nicole, Denzel and P.J. participated in the Go Red for Women luncheon for the American Heart Association.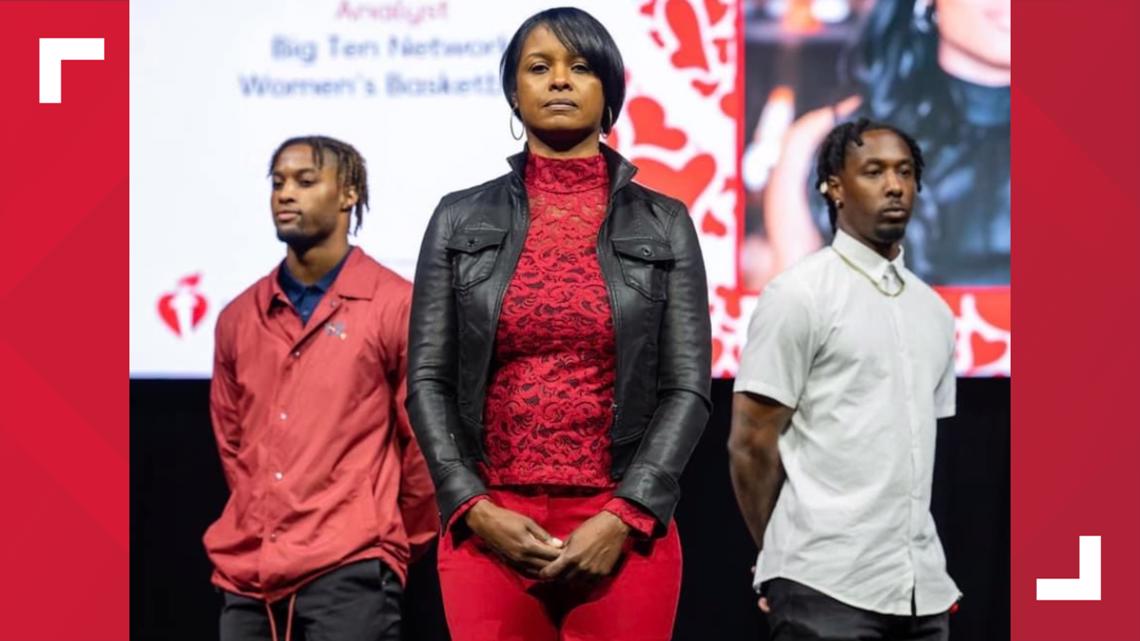 Denzel and P.J. show a lot to support mom and honor dad, though it's still raw sometimes.
"They were happy to be there and they knew it was for a great cause," Nicole said, "but it was, it's still very sensitive and a very, very emotional time for them."
Here's the thing, though: It's worth it to them. With each event, they're saving lives and making a difference in the community, the example of Paul Ward, Jr.
"Paul is proud of me because I didn't give up," Nicole declared, "and I'm continuing to teach the boys what I believe he started to teach them before he passed."
On March 11, MTKYN is hosting its annual Cleveland All-Star Fitness Expo and Comedy Bash.
"We did it for the first time last year during [NBA] All-Star Weekend," Nicole said of the event. "It was a huge success. We invite the community to come out, and again, the focus is fitness and just that wellness, health and wellness perspective."
There will be a variety of trainers on hand offering classes. Anyone — no matter their skill or exercise level — can participate, and you may see a celebrity or two supporting the cause. Vendors and health and wellness information booths will be there, as well.
"If you do not know how to do CPR or how to use an AED, we will have our trained professionals there," Nicole added. "We'll have the mannequins, we'll have the AEDs, and you can actually come and practice the skills and learn CPR and how to use an AED. And we're actually gonna be giving away a prize to five people.
"So, we want to give away $500, and the way we're going do that is we're goiny to select five people. If you come over and you learn the CPR techniques, we'll give you a ticket into the raffle."
This year, they'll also feature a comedy festival, because laughter is good for the heart. To sign up for the Cleveland All-Star Fitness Expo and Comedy Bash, click here.
Editor's Note: The following video is from a previous, unrelated report.