Last week, she returned to meet with the nurse and rehab therapists who helped her get her life back.
"She kept me company," Sandy said of Katie Gregory, RN. "She's just easy to talk to. Like, I don't really know how well to say this, but it is like having a friend while here."
Katie was just the friend Sandy needed, because Sandy was just 16 when she was admitted to the hospital with COVID-19 last March.
"I didn't have a very big appetite," Sandy explained. "I was very tired."
"It was a combination of multiple things that really made her case as bad as it got," Sandy's dad Terry added.
Watch below: We surprised Gregory with a special gift on Friday morning in honor of National Nurses Week...
The case became dangerous because Sandy—unknowingly—had Type 1 diabetes, a disease in the high-risk category for COVID. Then, she developed MIS-C, a multisystem inflammatory syndrome in children.
After a week in the hospital in Akron, Sandy's condition worsened, and she was transferred to Cleveland Clinic's main campus. Reality set in for Sandy's parents when she went on a ventilator.
"That was when it got as bad as it ever got," Terry said, through tears.
"I cry every day, and I call, 'Sandra, come back to mommy and daddy, you have to stay with mommy and daddy,'" mom Antkana Rose remembered. "'Don't leave Mommy and Daddy. ... Just stay, come back.'"
"I do remember biting on the ventilator a lot," Sandy said, "but besides that, I don't really remember much."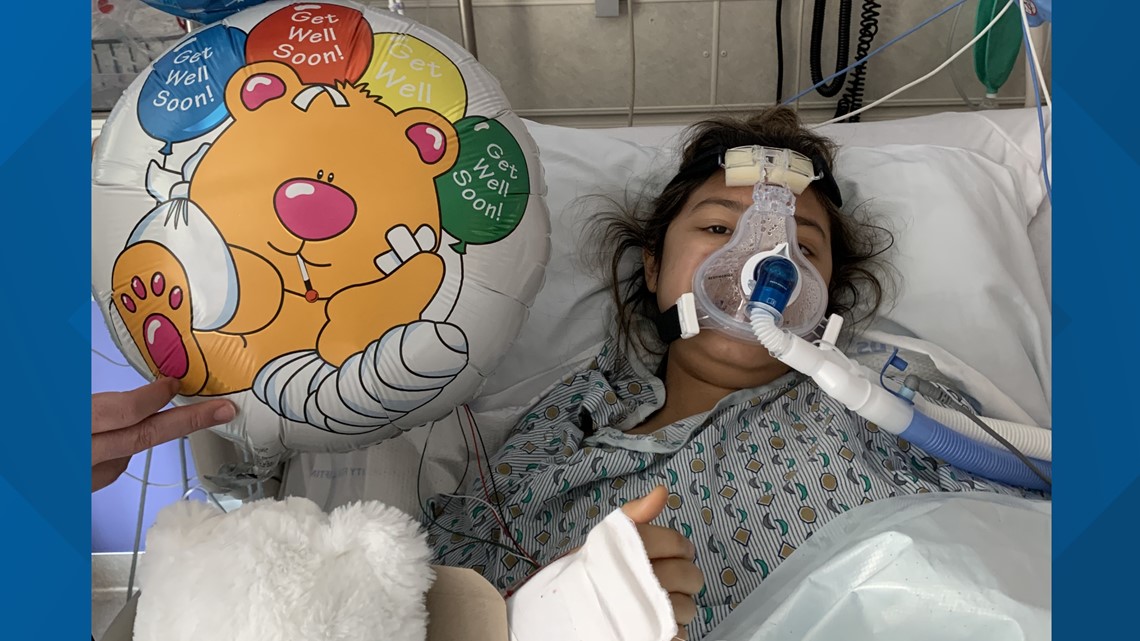 The high school cheerleader and active youth group member was a fighter, something she'd prove in rehab after a nearly two-month stay in the hospital.
"When she first came to us, she wasn't really moving a whole lot," Gregory told us. "She wasn't getting out of bed a whole lot. And then, by the time she left, she was doing everything that almost a typical teenager would be doing."
The work was made better having kind and caring health care heroes behind it.
"They did fun exercises, like 'Just Dance,'" Sandy said of Katie, and rehab therapists Merissa Poreda and Ashley Everett. "It didn't feel like work to me, really, and I just had a lot of fun with them."
"Sandy was such a hard worker," Poreda gushed. "She had just such a good mindset and was just always so eager to do whatever I wanted her to do in therapy."
"We got in the pool probably like three times a week," Everett explained. "Everything from lap swimming, ring diving, you know, fun games. ... Anything to kind of break up her day."
It takes a special kind of person to be that dedicated to helping kids, a job Katie will never take for granted.
"What Sandy's gone through and just being a part of their progress and seeing them get better—and knowing that I took part in that—is just so rewarding," Gregory said. "It makes me proud of myself."
For Sandy, she will never forget the kindness and care shown by Katie.
"She was probably one of the nurses that made one of the biggest impacts in my life," Sandy said, "because she's one of the nurses that I miss the most."
For mom and dad, it's every single nurse, doctor, and health care hero who fought to keep their Sandy right where she belongs.
"I mean, they were all fabulous," Terry stated, "but there was at least one or two in each one of them that really stood out one above and beyond."
Today, Sandy is doing remarkably well, almost fully recovered. She just attended her senior prom and has plans to attend the University of Akron in the fall. She tells us she'll major in pre-med and wants to become a physician's assistant.