CLEVELAND — "I have to tell you, I never expected in the year 2022 that we'd be talking about growing antisemitism," Gregg Levine said," but here we are."
Levine leads community relations at the Jewish Federation of Cleveland. He grew up Jewish and grew up here, but this is work that's never felt more important to him.
"Antisemitism, in simple words, is Jew hatred. People who hate Jews," he told us. "It's something that has been a hatred for the millennials, and unfortunately, it's growing."
The Anti-Defamation League released data just this week showing 2021 was the highest year on record for antisemitic incidents in the nation — and Ohio mirrored national trends.
"Over the last five years, we've seen almost a hundred percent increase in these incidents in the state of Ohio alone," James Pasch, regional Director of the Anti-Defamation League, said.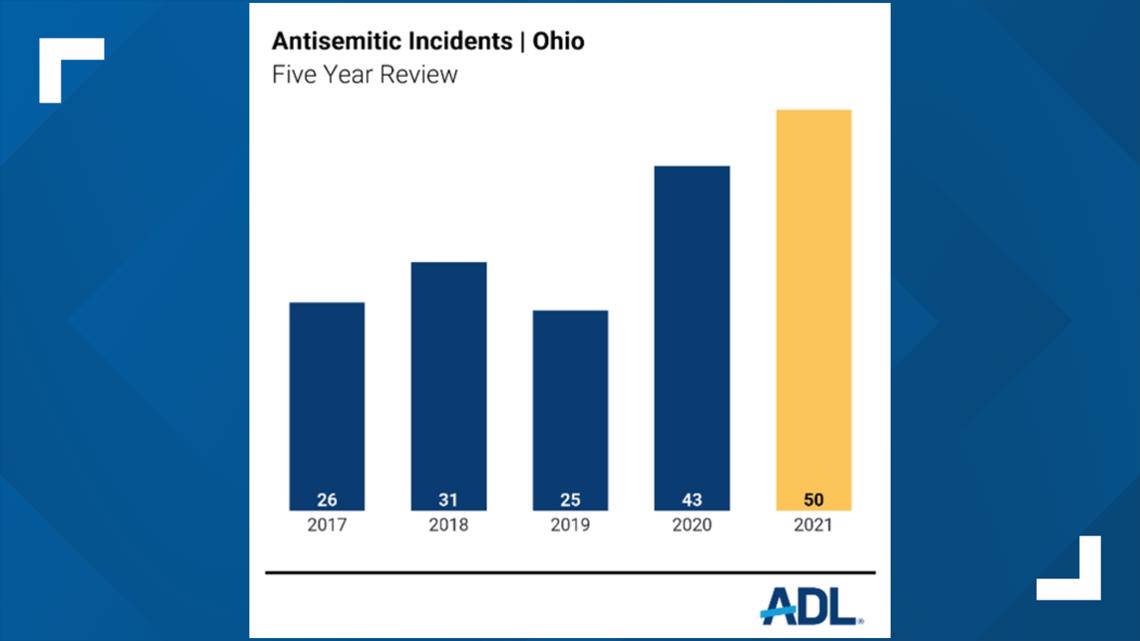 "It's a great question," Pasch told 3News, "and I don't think that there's one specific reason. Where there's a rise of antisemitism, there's a rise of all forms of hate, and it's incumbent upon all of us to respond together."
These are stories in our backyard, like that of a local school board president threatened by phone that Jews should be harmed and killed. The caller said, "Hitler should have finished the job."
"Many of us are afraid in the Jewish community," Levine said.
The FBI says increasing hate crimes are a top national threat. Beyond crimes, divisive rhetoric and antisemitic sentiment is now prominent in online communities.
"People can hide behind their screen," Levine explained. "People don't have to really let other folks know [the] hatred that they have. I think that it multiplies itself in a very scary, awful way on social media."
Conspiracy theories and dangerous ancient tropes spread even amongst public figures. This month, the ADL launched its Center for Antisemitism Research to closely monitor trends behind those numbers, which are growing across the political spectrum.
"The forms of antisemitism have been different over the last couple years," Pasch said. "On the right, significant violence, right-wing extremism. But on the left, it's also pervasive in areas of society. We've seen a growth antisemitism on college campuses, and it needs to be addressed on both sides. We can't just address one thing."
That includes Ohio State's campus – where the Student Senate's resolution this month calling to divest from two companies that do business with Israel-- left Jewish students feeling at risk. Ultimately the outgoing USG took no action on the resolution and the university will not move forward with any action.
"It's concerning that young Jewish students at these colleges can't be themselves," Levine told us. "Certainly being anti-government policies of Israel is fair game, but being totally against the Jewish state homeland for the Jewish people is an antisemitic thing to do."
The time to address the growing hate is now. The Federation, ADL, and various other partners are involved in educational anti-bias efforts at every level of community. The ADL's No Place for Hate program has launched curriculum in nearly 50 area schools.
"The spread of hate and the spread of antisemitism is concerning," Pasch said, "because if left unchecked, it will grow into violence."
Antisemitism must be called out – by all of us – and reported.
"It's not just one individual," Pasch said. "We need leaders in every sector of our community, so we need government leaders and civic leaders to use their pulpit, to speak out against antisemitism and hate. We need educators and school board members and superintendents to, to value and push for anti-bias education, bully prevention, education, Holocaust education. We need parents to force that issue with school. We need everyday individuals to talk to their neighbors and their family members and to call things out, and have those uncomfortable conversations when necessary at the dinner table.
"We all need to do our own part to stop the spread of hate."