WESTLAKE, Ohio — According to Axios Cleveland, in the past year since Russia invaded Ukraine, more than 4,000 people in the Cleveland area have volunteered to host a family from the Ukraine.
The statistics make Cleveland one of the top metropolitan areas for Ukrainian refugees, according to Homeland Security data.
One of those volunteers is Cathy Tasse, of Westlake. As an empty nester with two grown children, she lives alone. Her beloved husband Jeff passed away from cancer back in October, but before he moved on, the couple had a dream.
"During that time, we were volunteers helping refugees learn English and citizenship. [Jeff was] half Ukrainian, but he didn't really know that much about Ukraine in his whole life," Cathy said. "I said, 'The Ukrainian refugees are going to be coming to Cleveland, and wouldn't it be cool to host them, host a family?' And he said, 'That would be great.'"
The dream was on pause after Jeff passed.
"We've known for 15 years that this was coming," Cathy said of his death. "We never really talked about anything coming to an end, because that's not the way we lived."
Then, Cathy saw something on Facebook about sponsoring a family. She wanted to honor what she and Jeff had planned.
She contacted Roman Skalsky, deacon of the Slavic Full Gospel Church in Broadview Heights. Roman and the church regularly sponsor families from the Ukraine.
"This house is so big that it doesn't make sense for one person to live in it, but I don't want to sell it yet," Tasse said of opening up her home. "And I thought it would be the perfect window of time, the perfect opportunity, to share the space with someone who needs it."
Across the world, the family she was destined to take in was in Kharkiv, Ukraine, a Northeastern town less than 30 miles from the Russian border. The Malieiev family was praying for a lifeline, a safe haven, a place to call home.
"I think they came from one of the worst areas in Ukraine," Skalsky explained. "First thing they told me, 'This is ground zero right now. We are starting everything new because they lost everything.' Like, money, everything was left behind."
Roman knows their pain as a refugee himself, and he knew Cathy would be the perfect fit for this family.
"When we started talking with Cathy, I said, 'Listen, I think I have a family that really needs to come here,'" he recalled.
Cathy has everything the family of four needs: Volovdymyr and Olksandra will have their own bedroom. Their children — Emma (14) and Platon (9) — will, too.
Friends and family have been supporting Cathy's journey for weeks, donating money, goods, food, clothing, bicycles, and more. She says she's eternally grateful for their love and support.
"Oh, it's everything," she gushed. "It makes doing this so easy, and it just brings tears to my eyes when somebody does something especially generous. So many friends and family and even strangers are helping in ways that are just so touching."
The Malieiev family arrived in the United States with one suitcase each.
"They don't have their cars, their jobs, their things set up," Tasse noted. "They're coming with nothing, and I, honestly, I don't know how they do it without someone opening their home. I hope that more people do it."
About nine days after our interview, at the end of February, the family finally made their way to Northeast Ohio. They had been sheltering in Germany for weeks before traveling to New York City, where Roman met them to drive them to their new home at Cathy's.
"I'm so excited," Cathy said. "I can't wait to see them."
Neighbors' mailboxes decorated with Ukrainian flags, and luminaries lined Tasse's driveway. The signs of love guided them home.
Roman's van pulled into the driveway, and finally, Cathy got to embrace each member of the family she has been eager to meet.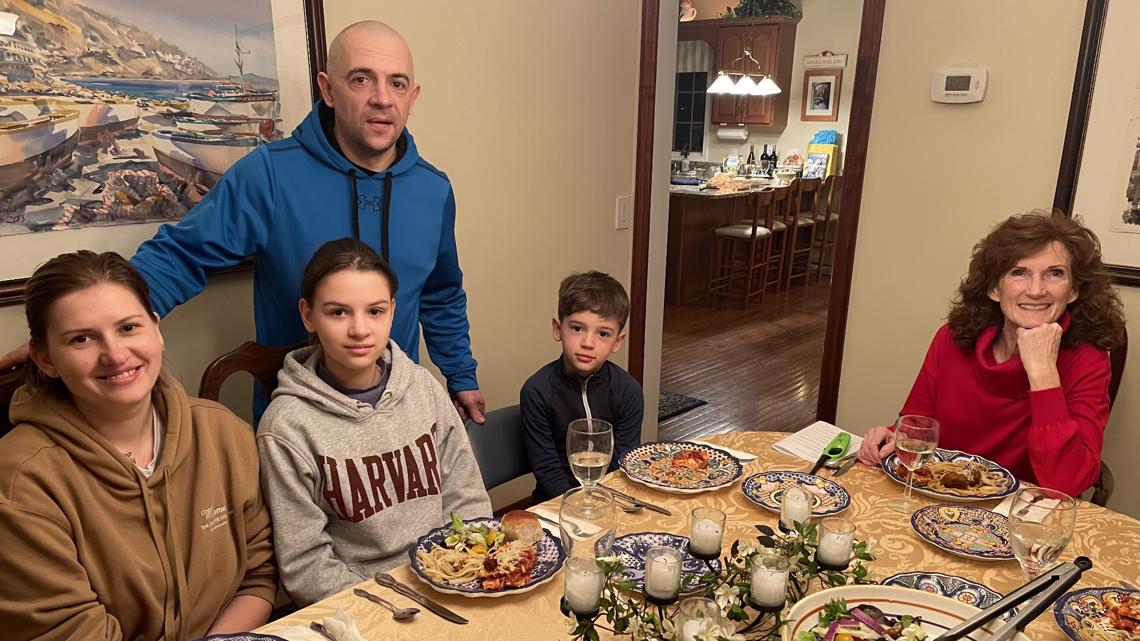 "Emma? I'm happy to see you!" Cathy told the young girl.
A few weeks later, the family has settled in. Emma and Platon have been going to school, and they're trying to adjust from being in a war zone to sharing laughs at the bus stop.
Volovdymyr, who has now adopted the American name of "Bob," is helping to keep things light for his children. The first few days of school, he's greeted them in costume at the bus stop. He's just a dad trying to make his kids smile.
Still, the memories have been tough to put away.
"I remember in slow motion, and I felt this huge force on me from that explosion," Bob said. "Everybody was so scared, and I understood that I had to do something about it."
Bombs destroyed his father's house and his children's school, and it's taking time to realize they're out of harm's way. Little by little, though, the kids are finding peace.
"[Emma] likes to draw a lot, and she used to draw before war, and then when war started, she stopped doing it," Olksandra, who adopted the American name "Sasha," told us. "But first day we came to this house, the next day, she did a painting. She started drawing again."
The Malieievs are working hard to learn English — in fact, Bob and Sasha study with Cathy each night. The goal is to find jobs, and they're here for the long haul.
"It's easy for me," Cathy said. "I'm just sharing some space. It's not a big deal, but they're doing all the hard work."
"We are so glad for Cathy," Sasha remarked. "Her help is just hard to comprehend. It's like a dream. It's hard to put into words."
The pain of all they left behind, and the promise of a new life, is happening all at once.
"They're brave," Cathy declared. "They're all brave."
Tasse's family and friends have set up at GoFundMe to help the Malieiev family get settled in the United States. If you'd like to help, click here.