According to the Lake County Sheriff's Office, the driver of a silver Subaru shot a pickup truck multiple times after road rage and a heated argument.
The 911 call was made by a woman inside the Nissan pickup truck. It was made just moments after the family pulled off the highway. According to the call, the woman said she and her fiancée were in the front seat, while their newborn and one-year-old were in the back.
"I have my two babies in the car," the woman told the 911 dispatcher. She confirmed that the truck had a bullet hole in it, then described the suspect vehicle as a silver Subaru. "As soon as they hit the car, they (the suspect) like slammed on their brakes and slowed way down," the woman added.
"I'm from Michigan. I'm just trying to get home," the caller continued. She then said that the suspect was a White male, "an older man in a red shirt."
The incident happened on Monday evening in the 5 p.m. hour on I-90 near State Route (SR) 44 in Painesville. The Lake County Sheriff's Office says the Nissan pickup was traveling in the left lane when they rapidly caught up behind a silver Subaru, who was travelling slowly. The pickup passed the Subaru using the right lane. The Subaru had apparently slammed on its brakes "several times."
Once the pickup had passed the Subaru and resumed driving in the left lane, the Subaru entered the right lane and caught up to the pickup truck. According to the driver of the pickup, words and gestures were exchanged between the front seat passenger of the pickup and the driver of the Subaru. The Subaru driver then fired shots at the pickup truck, connecting with the right front fender above the wheel well.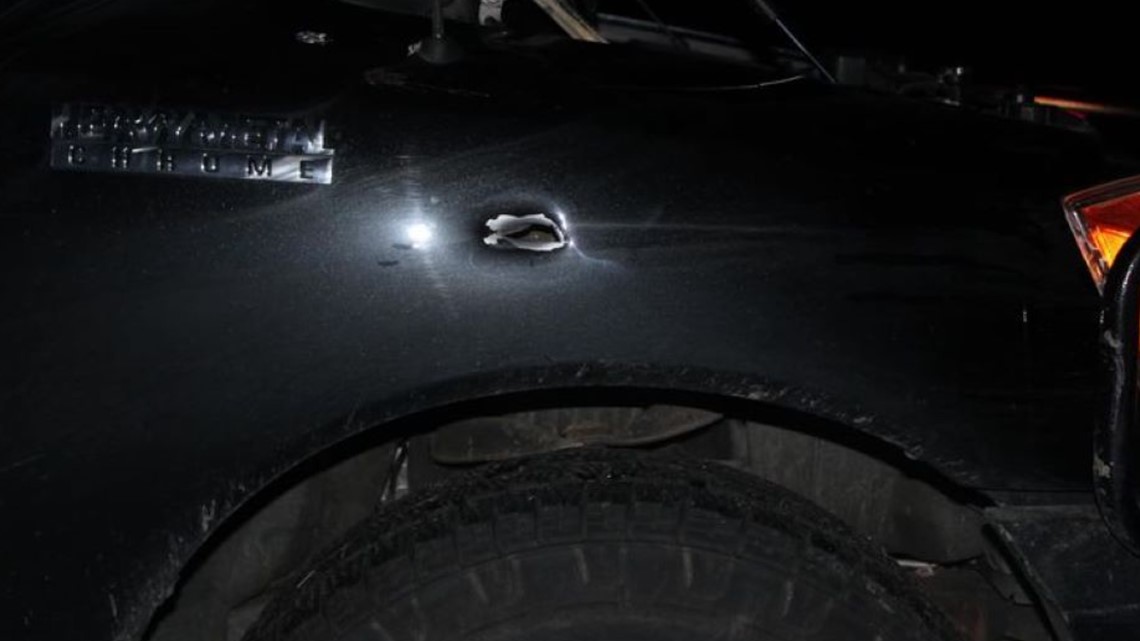 None of the four passengers in the pickup truck were harmed in the incident.
The driver of the Subaru has yet to be identified or apprehended. Anyone with information is asked to contact the Lake County Sheriff's Office at 440-350-5620.
The investigation is ongoing.