AKRON, Ohio — On Oct. 28, 2020, Scott and Sandi Churby's lives were changed forever when their son, 27-year-old Clintin, was hit and killed by a wrong-way drunk driver.
Now, the family is sharing their story of loss to emphasize the dangers of drunk driving ahead of the St. Patrick's Day holiday.
Sandi described Clintin as a protector of his siblings, an avid fisherman, and a hard worker. In fact, he was such a hard worker that he got a new job opportunity in Texas, where he was set to live with his best friend. He never got to make that move.
"My son, Clintin Matthew Churby, was killed by a wrong way drunk driver on 76," Sandi said. "He was killed by a man that thought it was okay for him to drive after he was drinking."
Sandi and her family were waiting at home for Clintin, who was supposed to come by to pick up his brother. Together, they would drive to Texas. Eventually, there was a knock on their door.
"My daughter came running down the stairs, said, 'There's a policeman at the door,'" Sandi remembered. "And I'm like, 'No way. I'm not answering it.' My husband went and got it, and that was it."
The same day Clintin was supposed to start a new chapter in Texas, his life was taken from him.
"Just a dumb decision caused the whole incident," Scott Churby said. "I just don't want to see that happen to somebody else."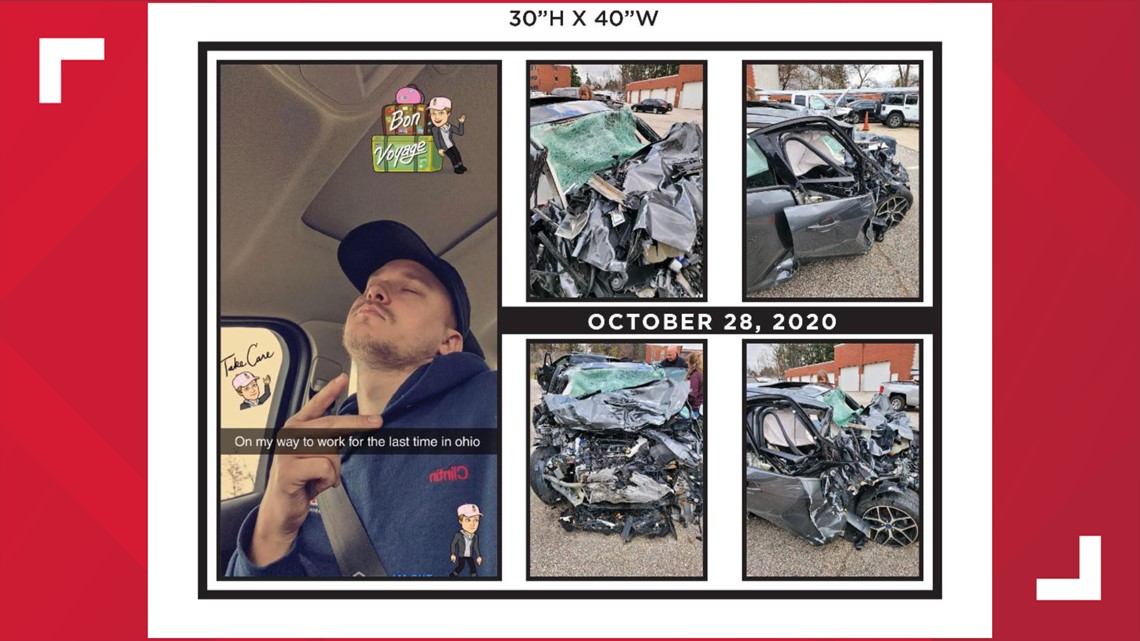 "Not a day or even an hour goes by that I don't think of my son and his tragic loss," Sandi added. "I think of what he could have become, the family of his own that he never got to have, and I think of his friends that are also grieving."
Sandi said not a second goes by that she doesn't think about her children, but especially after what happened to Clintin. Her level of concern is now even further escalated.
:I worry about them all the time, but now, it's like a panic attack worry," she told 3News. "It's like PTSD or something, like [I] can't breathe. If they're not answering my texts or my phone calls, it's just a whole different world."
Now, the Churbys, from Wayne County, are helping the Summit County Sheriff's and Prosecutor's Offices raise awareness of the dangers of drunk driving.
"Please remember: Do not drink and drive, arrive alive," Summit County Sheriff Kandy Fatheree said.
The respective departments are teaming up to prevent drunk driving over the St. Patrick's Day holiday with their "Arrive Alive" safety initiative. From 6 a.m. Thursday to 6 a.m. Saturday, riders can use the code SUMMITGREEN22 on Lyft to get up to $20 off their ride home in the county. There are 400 one-time use codes.
"We just want to make sure that people get home safely and don't hurt someone," Summit County Prosecutor Sherri Bevan Walsh said.
Arrive Alive was first introduced in Summit County in the summer of 2018. Since then, Bevan Walsh says the program has provided free and reduced rides to nearly 3,000 people.
In addition to the Arrive Alive program, Fatheree says there will be two OVI checkpoints scheduled in the county for the holiday.
"Don"t wake up in my Summit County Jail on the 18th," the sheriff warned. "And better yet, don't make somebody's life, some family's life, have the worst day of their life."