LORAIN COUNTY, Ohio — An officer with the Bluffton Police Department was killed during a pursuit early Thursday morning that started in Northwest Ohio before coming to an end in Lorain County.
Three suspects have been arrested. Their names have not yet been provided.
The Hancock County Sheriff's Department said Officer Dominic Francis was fatally struck along I-75 near exit 142 by the suspect's vehicle while attempting to deploy stop sticks.
The situation initially started in Hancock County before the pursuit concluded in Elyria on Route 57 near Chestnut Ridge Road.
TIMELINE OF WHAT HAPPENED
Around 2 a.m. Troopers with the Marion post observed a black Infinity traveling at a high rate of speed -- in excess of 100 mph -- on U.S. Route 23, but were unable to make contact with the vehicle.
Around 2:20 a.m. A Findlay trooper identified the vehicle and began the pursuit in Hancock County on Route 15. It then traveled to I-75 South.
Approximately at 2:30 a.m. The officer was struck by the vehicle along I-75. Three suspects exited the vehicle and fled eastbound on foot.
Around 3 a.m. A Toyota Prius was allegedly stolen from a residence on County Road 29. Authorities began searching for the vehicle. One of the suspects was later located in the area.
Unknown time later: A trooper with the Medina post spotted the vehicle on I-71 near milepost 208. A pursuit ensued and the vehicle / suspect were ultimately stopped at Route 57 and Chestnut Ridge Road in Elyria. 3News had a crew at the scene where the chase ended around 9 a.m. This is also where the second suspect was arrested. Dashcam video shows moments of the pursuit.
Here's a photo of where the chase ended: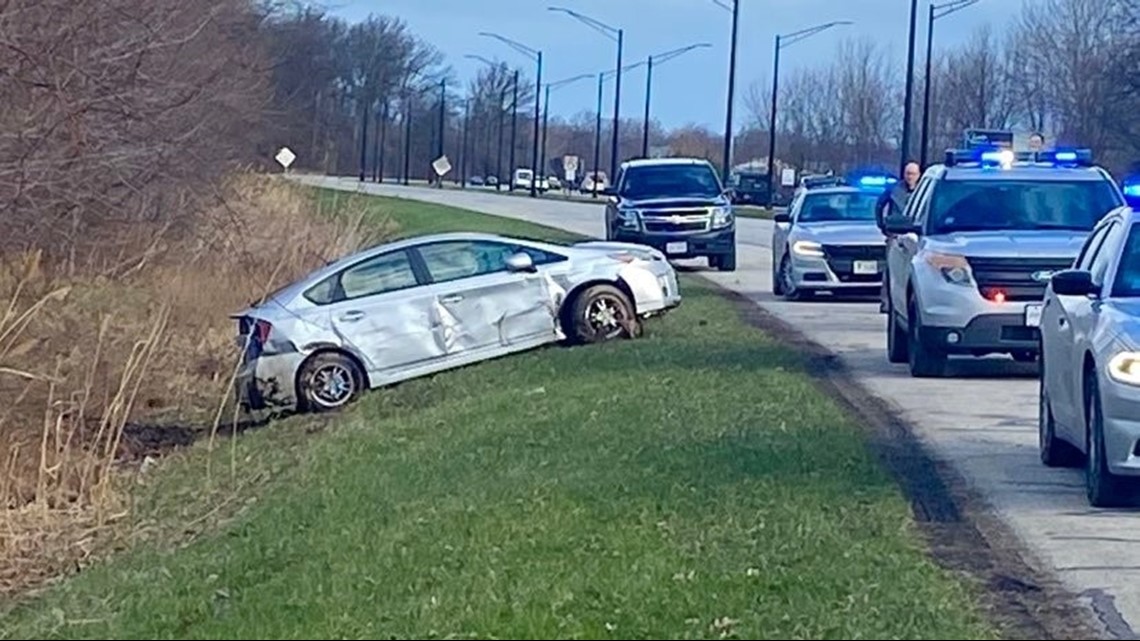 3News' Mark Naymik traces the path of the suspects in Northeast Ohio
12:49 p.m. The third suspect was arrested, according to the Ohio State Highway Patrol.
We streamed the entire press conference from Hancock County, which you can watch in full below:
STATEMENTS FROM BLUFFTON LEADERS
Bluffton Police Chief Ryan Burkholder: "It's a sad day. This community lost a hero. He is an outstanding police officer. His heart was big. Not only was he a police officer, he was a school teacher. He was a bus driver. He was a coach to the youth in this community. He had a heart of gold. He will be sorrowly missed."
Mayor Rich Johnson of Bluffton: "This is a very sad day for not only the residents of Bluffton and his family, but the brotherhood of law enforcement. We'd like to thank the family, let them know that the village will do everything we can to help the family out. We send our condolences out to all those involved."
Our news partners at WTOL reported that Bluffton Schools and some local businesses were closed in response to the search early Thursday morning. Bluffton University was also placed on lockdown. I-75 was also closed in both directions from state Route 103 to Route 235, WTOL reported.
STATEMENTS FROM OHIO LEADERS
Governor Mike DeWine: "Fran and I are sad to learn of the death of Bluffton Police Officer Dominic Francis, who tragically died today after being hit by a fleeing driver. We are grateful to him for his selfless service to Ohio, and our hearts go out to his family and his colleagues at the Bluffton PD. In honor of Officer Francis' life and legacy, I have ordered that flags be flown at half-staff on all public buildings and grounds in Allen and Hancock counties, as well as in Columbus at the Statehouse, Riffe Center, and Rhodes Tower."
Ohio Attorney General Dave Yost: "A hero has died and a community is shaken. The bravery of the men and women that wear the badge is astounding. Officer Francis' valor will live on and never be forgotten. My deepest condolences are with Officer Francis' loved ones and the residents of Bluffton."
This is a developing story. Stay with 3News as we will update this article once more information is released.
Editor's note: Video in the player above was originally published in an unrelated traffic article on Feb. 23, 2022.