AKRON, Ohio — Things are about to get very real for Northeast Ohio native Michael Allio on The Bachelorette, as he accepted the final group date rose on Monday night's episode, and with it the opportunity to introduce Katie Thurston to his family.
"Now that I'm here, I'm nervous for the first time," Michael shared, ahead of being offered a rose from Katie, and later telling her on their group date: "I assure you that no one can love you like I can."
The stakes are high at this point because after this week, viewers will see the men remaining in the competition for Katie's love introduce the Bachelorette to their respective families to share a glimpse into their everyday lives, and what it could be like if they end up engaged at the end of the season. (Due to COVID-19 concerns, the introductions will happen at the The Hyatt Regency Tamaya Resort & Spa in Santa Ana Pueblo, New Mexico, where they've been filming, rather than the cast and crew taking the trip to Michael's home in Akron.)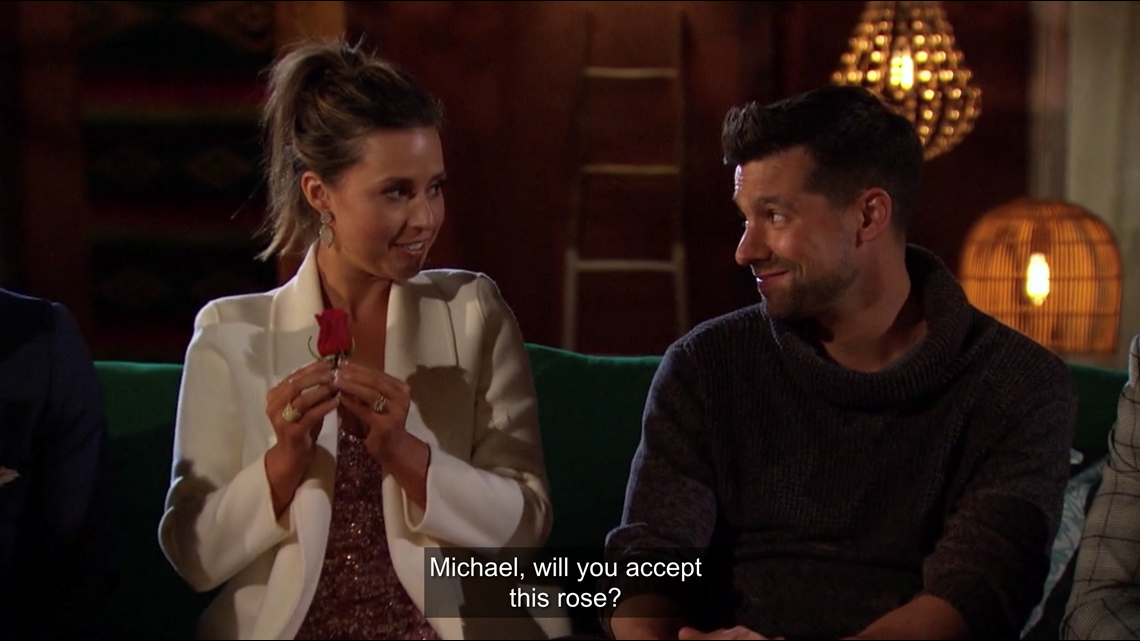 "There's just so many unique questions that I have to ask," the 37-year-old entrepreneur told producers on camera, before joining three other men for the last group date of the season.
"I have a son. I'm a single father. I take care of my in-laws. How does it work for Katie to move into this life? I can't go in to Hometowns with all these questions floating in the air."
Michael went on to share his questions: "How would you be as a mother? How could I see you interact with James? You know, to see whether or not she could really picture herself in my life."
But any concerns Michael had going in to the group date were quickly alleviated by Katie, who reminded Michael:
"Given your entire situation with James and Laura, and those are things I respect and understand, I would never want to force us into something we weren't ready for. If it's us in the end, that's all that matters and we'll figure it out as we go."
Michael responded telling Katie, "You are wonderful."
And she didn't stop there. "I think about it, and I'll get the juice boxes and the condiments and fill up your fridge," Katie told Michael. "The life that I picture with us and with James is such a dream."
Katie added: "Know that every time I give you a rose, I'm also giving it to James. Know that I don't forget that he's part of the picture. He's the full picture.
"What I'm looking for ultimately is to be in love and that's the bigger picture. Everything else will fall into place when it's meant to fall into place."
That was exactly what Michael needed to hear, telling producers after their time together at the cocktail party following their group date: "I had so many questions and she answered them right off the bat with a simple answer. 'We will figure it out, love is the only thing that matters,' and that is 100% true."
Now, the next step is for Katie to meet the families of her remaining suitors, which now include Michael, Blake Moynes, Greg Grippo and Justin Glaze.
What we know from previews shown of next week's episode is Michael tells producers, "I feel conflicted, I'm just at war with myself." This is shown with footage we've already seen from an earlier post-episode preview montage where Michael is struggling with his son telling him he thinks his Daddy doesn't want to see him.
We also see Katie saying through tears, "All I'm looking for is to be in love and find my person. And it's very possible that my person just left."
Could Michael go home, by being eliminated by her or possibly sending himself home, because the stress of missing his son has become too much?
Only time will tell, but according to Michael's latest post on his Instagram account, he has recently been in Pacific Beach, California. That suggests it's possible he's on the west coast because he'll be on stage for the 'Men Tell All' episode next week, which would mean he's no longer in the running to win Katie's hand in marriage.
Catch the recap of where things go next in Michael and Katie's romantic journey right here, next Tuesday.
Editor's note: This article has been updated from a previous version that incorrectly reported Michael Allio's hometown date would happen in Akron, rather than at the resort where filming has been taking place.