COLUMBUS, Ohio — The Coronavirus pandemic is exposing a shortcoming in Ohio law.
Price gouging on food and other essentials is illegal in most states but not in Ohio.
3News Investigator Rachel Polansky talked exclusively with Attorney General Dave Yost who said he's trying to change that.
From hand sanitizer and toilet paper, to anti-bacterial wipes and masks, our 3News viewers say they've seen a lot of price gouging over the last few weeks.
"They are price gouging and charging $18.99 for sanitizing wipes, and $9.99 for hand sanitizers," said Roberta Horner, of Mansfield.
"My daughter wears 3M 9211 face masks at her work and I normally buy a box of 10 for around $20.00. When I went online to buy them, they were marked $274.00 for a box of ten," said Linda Vasiloff, of Avon.
34 states and D.C. have laws against price gouging according to the website FindLaw. But these 16 states – including Ohio have no statute specifically outlawing price gouging.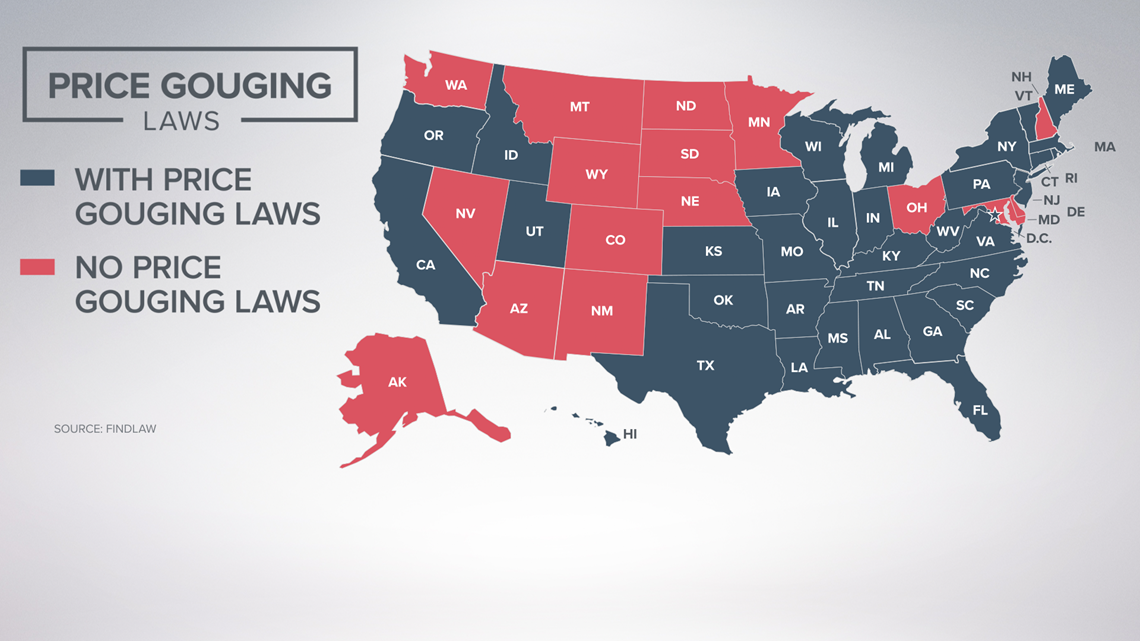 3News investigator Rachel Polansky talked exclusively with Attorney General Dave Yost, Thursday morning.
"Well, I'm outraged that anybody would be trying to profiteer on a crisis particularly on items that are necessary for life and health," said Attorney General Dave Yost.
The Ohio Attorney General Office has already received 150 complaints of price gouging amid the Coronavirus pandemic.
Polansky asked Yost why Ohio doesn't have a law specific to price gouging.
"We don't have a price gouging law in Ohio because we believe in free markets," Yost said, "but free markets don't include the idea of holding toilet paper and surgical masks hostage."
Right now, the state law bans "unconscionable sales practices" but Yost said enforcing that law is challenging.
That's why he's working on legislation to prohibit price gouging.
"We're working on a law right now. When you called, I was working on the text of it to send to the legislature next week," said Yost. "It will be a first of its kind in the nation, I think on price gouging law and price controls."
Yost said his office is currently reviewing all 150 complaints.
If you've seen price gouging in Northeast Ohio, we want to know about it.
Email Rachel at RPolansky@WKYC.com