CLEVELAND — As hospitals across the country brace for an influx of COVID-19 patients, 3News is taking inventory of Northeast Ohio's medical supply.
In a worst-case scenario lies fears that hospitals could run out of ventilators, masks and even beds.
As cases continue to rise, there are worries that the state's health care system won't be able to keep up.
We asked The Center for Health Affairs -- an agency whose been working with hospitals in Cuyahoga, Lorain, Lake, Geauga and Ashtabula counties – if they're concerned supply won't be able to meet demand.
"That's what we're trying to avoid," said Lisa Anderson, Center for Health Affairs. "Because of the disruption of manufacturing in China, hospitals have been on an allocation method for the last six weeks or so."
3News also asked Cleveland Clinic's chief of medical operations what that allocation method looks like, and he says they've been conserving supplies since the outbreak began.
"When we first started listening and learning about infection in china, we started looking at expired supplies. And expiration dates are usually very conservative so we started holding on to masks that we could use if the pandemic came about so we do have adequate supplies," said Robert Wyllie, MD, Chief of Medical Operations at Cleveland Clinic.
But what is an "adequate supply."
Cleveland Clinic tells 3News it has 550 respiratory ventilators, and a capacity for 3200 beds, if elective surgeries are stopped.
MetroHealth has 78 ventilators and a capacity for 930 hundred beds.
University Hospitals did not give us specific data but said, "At present we have more than adequate supplies of ventilators in our UH system to provide care to our current patients and patients that may need ventilator support in the near future"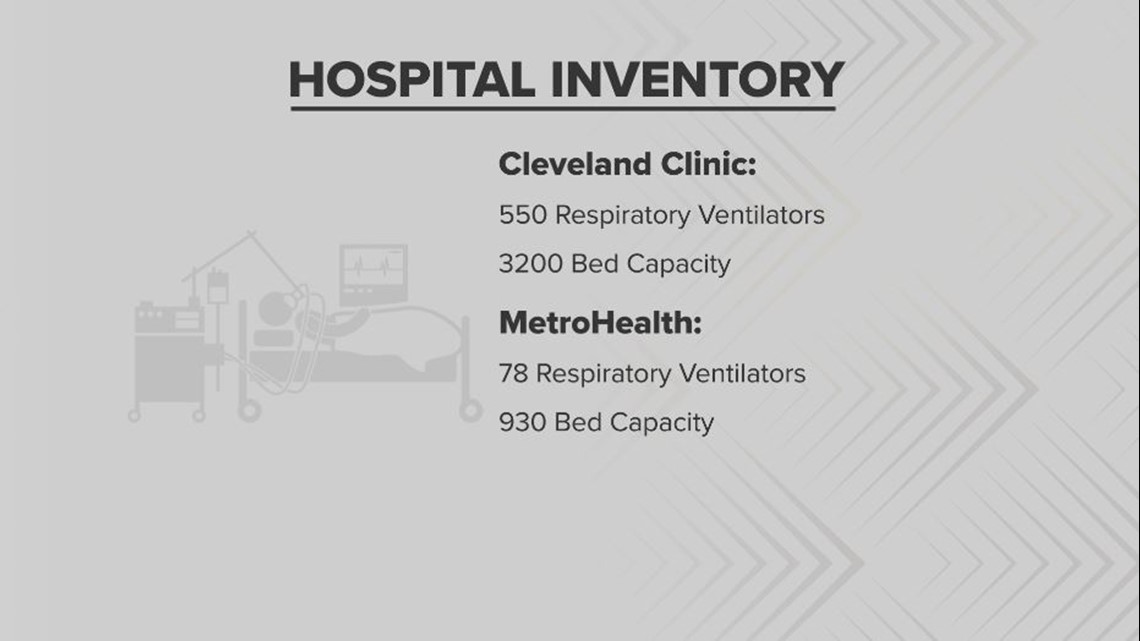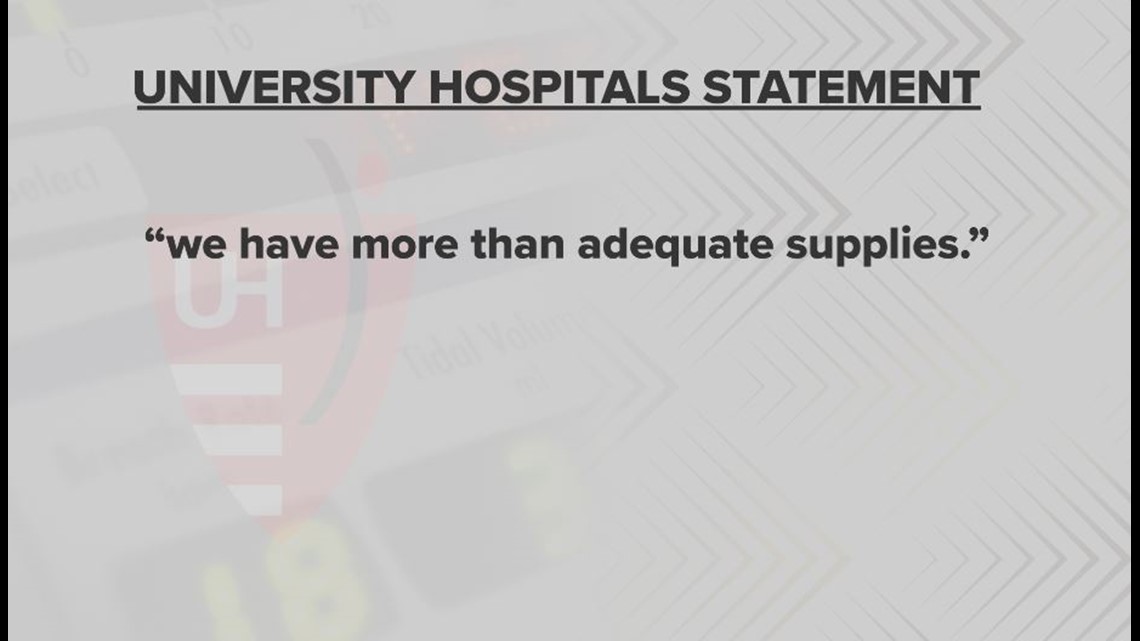 The goal, Anderson said, is they won't need to use all of their inventory.
"We know that people are gonna have Coronavirus but what we need to do is follow the techniques like hand washing and social distancing, and really try to stop that community spread," said Anderson.
3News also reached out to 3 Ohio medical supply companies - Medline, Bound Tree, and Penn Care Medical – who according to their websites say "Demand is exceeding supply" and "Delays in delivery are unavoidable."
Governor DeWine said the state has already asked to access the federal stockpile of protective equipment for our health care workers.
Click here to see our special coronavirus section.