CLEVELAND — Cleveland business and civic leader Bernie Moreno ignited an online firestorm after posting on Twitter a call to reopen the economy, now largely shuttered by stay-at-home measures in Ohio and elsewhere put in place to control the spread of the coronavirus.
On his way to Florida to visit his mother, he included a photo of an empty Spirit Airlines plane with his post that read: "Me and 13 others heading to Fort Lauderdale today... planes/cars crash every year and kill people; are we banning planes/cars next or do we keep working to make them safer? #ReopenAmerica "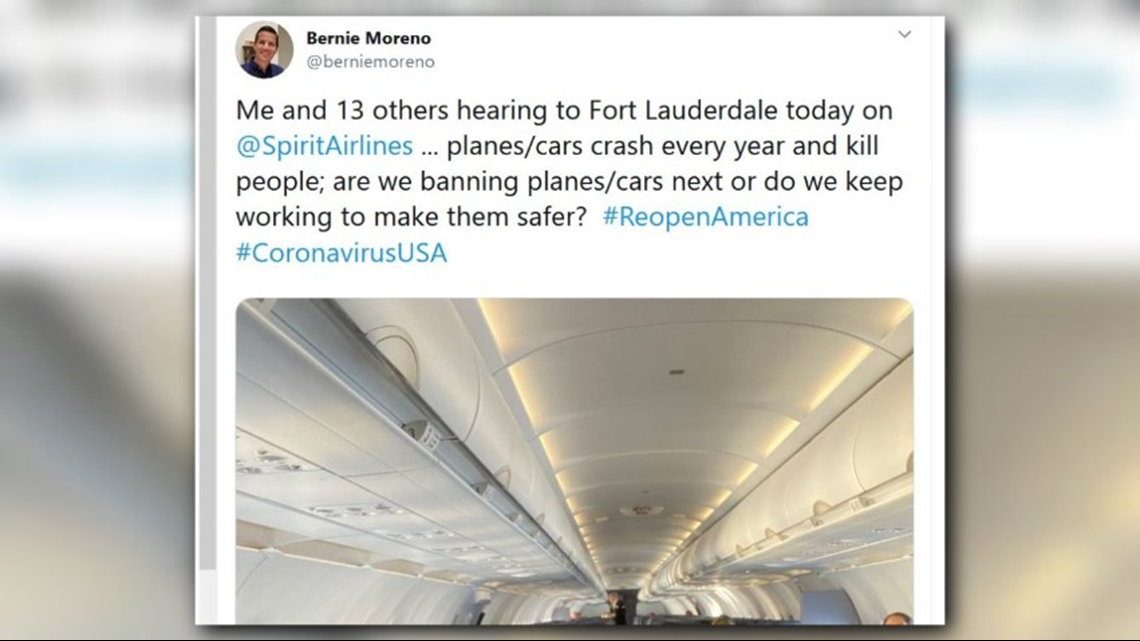 Reaction was swift and harsh.
"Gee, I thought you were a smart man," Clevelander John Farina responded on Twitter. "Your analogies make no sense. How irresponsible of you, an allegedly respected leader in the Cleveland community, to make such a nonsense statement."
Angela Shuckahossee, a longtime Cleveland activists for seniors and the poor, chided him and called on him resign from MetroHealth Systems, where he serves as a board member.
"I hope all of Cleveland's business community sees this and realizes what a dope you are," she said.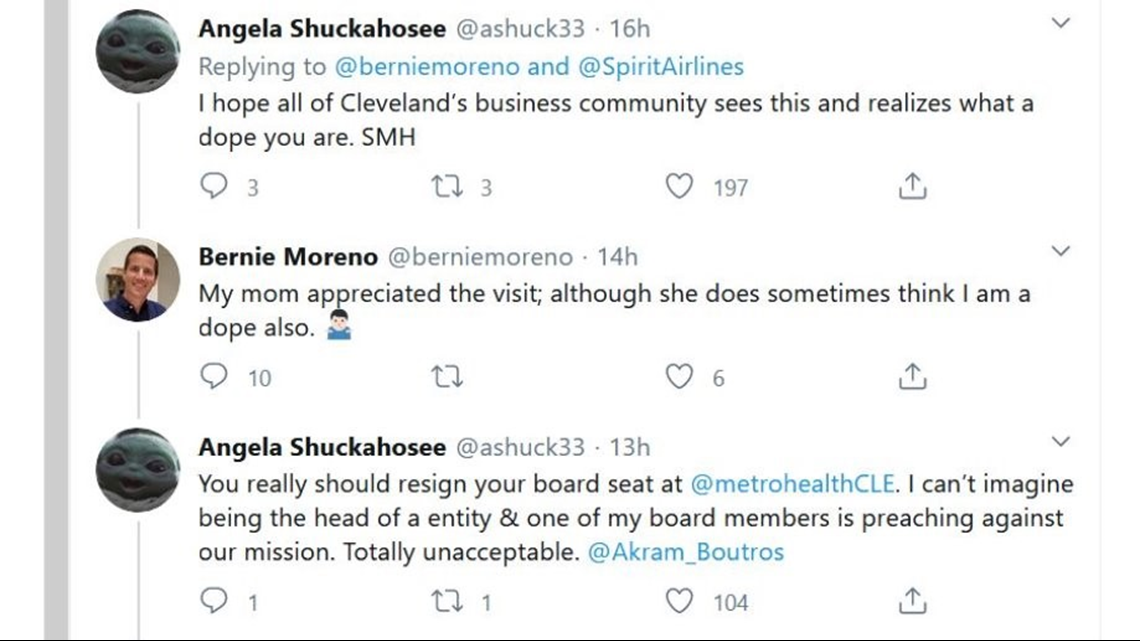 Moreno spoke to Channel 3 Tuesday from Florida and said he regrets his comments failed to reflect his point. He said that political and business leaders should be figuring out ways to change business practices to keep the virus – and future viruses – in check without such a dramatic hit to economy, perhaps through new regulations and changes to how businesses hold meetings and operate.
He said social spacing rules at future business meetings might be needed. He said handwashing stations, like water fountains, might need to be installed in more public spaces.
Describing himself as politically conservative, he said he favors new regulations that would give employees paid sick time.
"No one should be called a champ for going to work sick," he said.
He acknowledged that his company employees get two paid sick days.
"This will not be the last virus or pandemic that we see in my opinion, so how do we prepare for the next one and how do we put these social norms in place so when the next pandemic comes, we don't have to this type of draconian action," he said. "That's really what I was trying to get across [on Twitter] and mission not accomplished."
He said that just as automobiles were made safer through regulations, the economy can be better managed for a virus outbreak through smart changes.
Moreno, who built a successful chain of car dealerships that he's largely sold off, praised Gov. Mike DeWine and Dr. Amy Acton, Ohio's health director, and the action they have taken. He said he supports the current order that requires residents to stay home through April 6.
But he said he would like to hear more conversations from public officials about when people could look forward to "restarting the economy."
President Trump said yesterday that he wants the public to return to normal activities soon because the country can't sustain the economic hit. A growing number of public officials have made similar statements. But health officials continue to warn that staying home is the only way to contain the coronavirus.
Moreno also said he favors building more hospital capacity to be better prepared for future pandemics.
"We have to address the hospital capacity issue for the long run," he said. "We can't do this every single time and we can't spend two or three trillion dollars every time and shut down the economy, we have to build up hospital systems."
As for MetroHealth, he said he supports all their work to contain the coronavirus.
"I take my responsibility at MetroHealth very, very seriously, and they were doing amazing work before this crisis," he said. He compared their current efforts to that of soldiers in war time.
MetroHealth offered a statement in response to the criticisms of Moreno's comments on social media. It did not directly address Moreno's comments.
"We are aware of discussions on social media about the economic impact of business closures during the COVID-19 outbreak," the statement reads. "We respect the rights of citizens to debate the actions and decisions of their public officials – and even their friends. Views expressed by companies and individuals affiliated with MetroHealth are their own, and do not represent the views of MetroHealth."
The rest of the statement reads:
"To be clear, from the beginning of this crisis, The MetroHealth System has prioritized the health and wellness of our patients, employees and community. We have taken aggressive steps to prevent and stop the spread of COVID-19. We immediately established a free hotline to provide care to everyone, regardless of their insurance status, ability to pay, or even if they were a MetroHealth patient. We canceled elective surgeries before the State of Ohio ordered such a move. We converted in-person appointments to telehealth visits. We have worked to strategically test high-risk patients and employees and have shared our two-hour testing capability with area departments of health and other healthcare systems who are in need of testing capabilities.
We consistently have counseled people to wash their hands, monitor their health and to stay home as much as possible. Through our COVID-19 hotline MetroHealth physicians have advised more than 1,700 people to quarantine at home, thereby further reducing the spread of the coronavirus in our community. For more than 183 years, MetroHealth has never wavered in our commitment to keeping our community healthy. And we never will."