AKRON, Ohio — As COVID cases continue to rise across Northeast Ohio, multiple counties have recently been elevated to the "high" and "medium" levels on the county-by-county map from the Centers for Disease Control and Prevention.
But what does this actually mean for you? Where does your county stand? Here are the Northeast Ohio counties currently listed at medium or high levels of concern (CDC releases new data at 8 p.m. each day):
HIGH LEVEL (orange)
MEDIUM LEVEL (yellow)
Erie
Geauga
Huron
Lake
Mahoning
Medina
Portage
Summit
Trumbull
LOW LEVEL (green)
For all other counties in the low level, here's the recommended guidance from the CDC:
HOW EACH LEVEL IS DETERMINED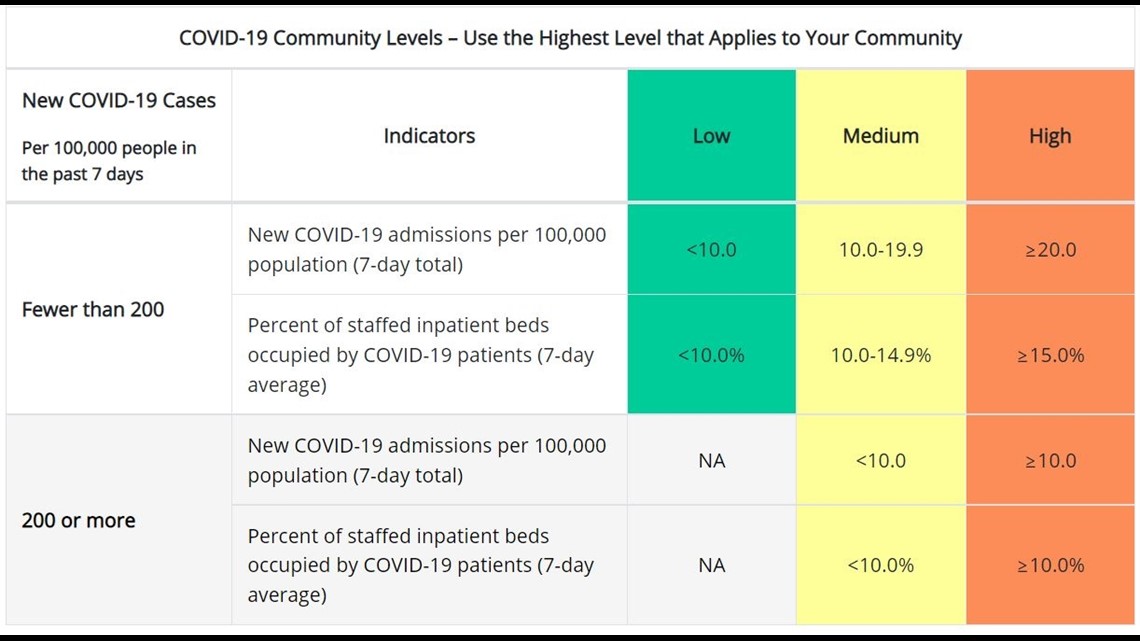 NEW DETAILS FROM SUMMIT COUNTY
As a result of the updated COVID status, Summit County Public Health released the following guidelines Wednesday morning to help explain how it impacts you:
Stay up to date with your COVID-19 vaccinations.
Test if you have COVID-19 symptoms.
Wear a mask if you have symptoms or exposure to someone with COVID-19.
Stay home if you are sick.
Wear a mask on public transportation.
Consider wearing a mask in indoor settings where social distancing is not possible.
You may choose to wear a mask at any time as an additional precaution to protect yourself and others.
You should wear a mask indoors and in public if you are at high risk for severe illness.
"Summit County's weekly metrics used to determine the designation of medium COVID-19 community level include a case rate per 100,000 population of 228.65, new COVID-19 admissions per 100,000 population of 7.6 and the percentage of staffed inpatient beds in use by patients with confirmed COVID-19 is at 4 percent," Summit County Public Health said in a statement.
Editor's note: Video in the player above was originally published in a previous COVID story on May 18, 2022.