LODI, Ohio — Editor's note: The video in the player above is from a previously published story.
According to court documents filed in the U.S. District Court of Northern Ohio, the lawsuit was filed on September 7 in Medina County by a parent with two students who attend Cloverleaf Local Schools.
Magistrate Judge Carmen E. Henderson has been assigned to the case which seeks to eliminate the district's current mask mandate.
The parent filed the lawsuit asking for "a temporary order restoring the status quo, meaning the mask mandate is vacated," and claims that mask-wearing is harmful to her children's health.
The lawsuit specifically points to a study claiming that oxygen and carbon dioxide are limited by face coverings. The parent cites one research paper, compiled of "mostly experimental studies," and claims that "extended mask-wearing by the general population could lead to relevant effects and consequences in many medical fields."
On September 2, Superintendent Daryl Kubilus Jr. announced the new mask mandate as a way to stop the spread of COVID-19 in schools, as well as to avoid online remote learning.
"Our collective optimism for the beginning of this school year has been dimmed by the sheer number of student COVID cases and quarantines. As of yesterday, 11 days into the school year, we had 320 student quarantines, which is 93% of our total from all of last year. Our 50 student COVID cases represent 109% of the total cases we had all last year." Kublius Jr. wrote earlier this month. "As you know, our high number of quarantines were leading us down a path toward full remote instruction -- and that's not where any of us want our students to be. Our goal is to keep Cloverleaf students learning in their classrooms with Cloverleaf teachers."
As of September 16, Cloverleaf Local Schools reports that a total of 477 students and seven staff members have been quarantined so far this school year. Additionally, more than 115 students and staff members have tested positive for COVID-19 since heading back into the classroom in August.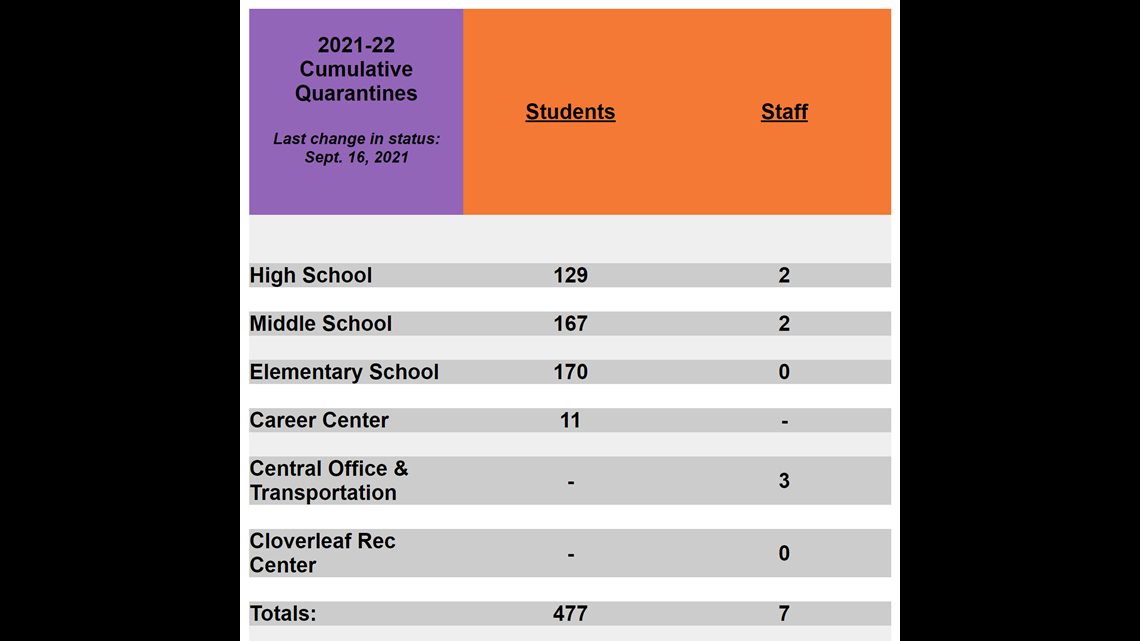 Just two weeks later, the superintendent said in a statement to parents and staff that "quarantine numbers have started to decline."
Earlier this week, Ohio Gov. Mike DeWine and state health officials held a press conference discussing the importance of masks and vaccines in the classroom as cases once again rise in Ohio. On Friday, the Buckeye State reported 8,447 new cases.
"The best way to keep schools open & kids out of quarantine is for those 12+ to get vaccinated. But because those under 12 are too young to be vaccinated, we need all students who come to school to wear a mask until we get through this," DeWine added.
Today, Governor DeWine's office says that state-wide, 58 percent of students are going to school wearing masks.
"I am pleased to see more school superintendents and school boards make the right decision and require masks to protect students and teachers from COVID-19 spread," DeWine in a statement on Friday
The Cloverleaf Local Schools Board of Education is scheduled to hold its next meeting on Wednesday, October 6.
3News reached out to officials with Cloverleaf Local Schools but did not receive a response by the time of publication.
This is a developing story. Check back with 3News for updates.