CLEVELAND — Marissa Durand received a volleyball scholarship to Cleveland State University, but soon after she arrived, the pandemic hit, and it hit Marissa especially hard.
In the summer of 2020, she tested positive for COVID-19. It felt like a wicked cold, and she took it seriously.
"There [were] times where I would completely collapse to the floor," Durand described. "The most common for me now is my vision will go out, and I'll just kind of hold onto something."
The athlete could barely walk a flight of stairs, and running was out of the question. It's now been nearly two years since her COVID infection, and the symptoms — while somewhat improved — still exist.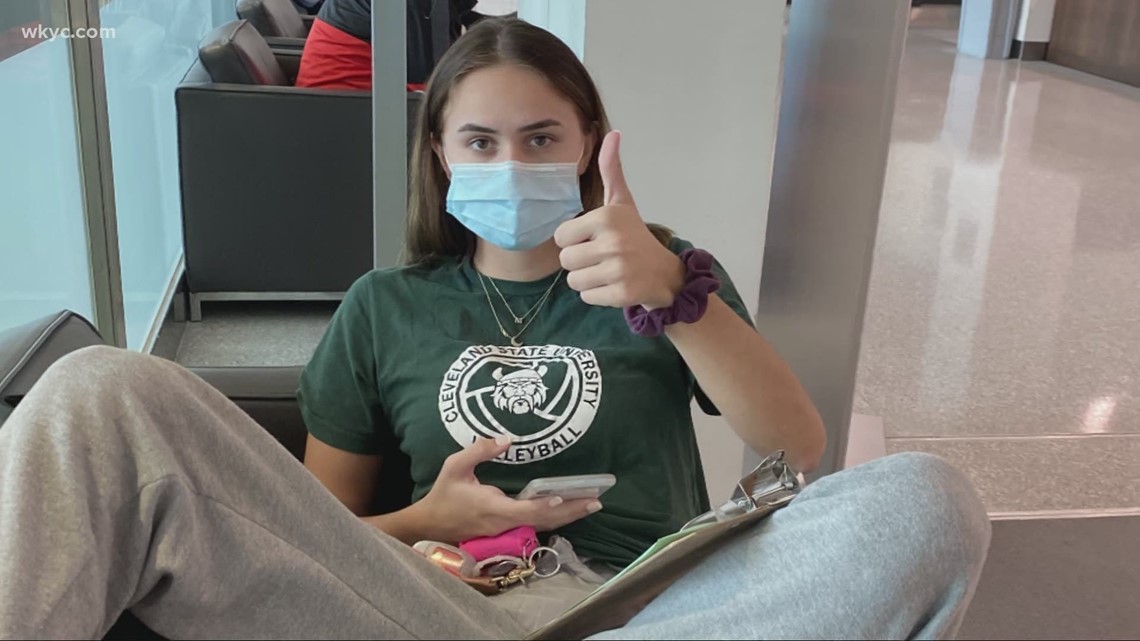 Cleveland Clinic cardiologist Dr. Tamanna Singh diagnosed Marissa with Postural Orthostatic Tachycardia Syndrome, or POTS. She's not alone.
POTS cases have doubled, if not tripled, when connected to COVID. Clinic Neurologist Dr. Robert Wilson says there's now even a POTS center at the hospital because of the high number of patients.
"They had mild COVID, and then they recovered," Wilson explained. "Then a few weeks later, they developed these symptoms — the lightheadedness, fatigue, racing heart rate, brain fog. Most of them are women."
Other POTS symptoms include blurry vision, headaches, and nausea. These ailments are linked to either low or high blood pressure, but the exact cause hasn't been pinpointed.

POTS affects the autonomic nervous system which controls basic functions such as heart rate, breathing, and digestion. Singh prescribed Beta Blocker medication for Marissa, and she's still taking it, but has been able to reduce her dosage.
"I was on 20 milligrams three times a day since January of 2021, and I will say it helped me a lot," Durand said. "It was the only medication that was able to bring my heart rate down and not give me a whole bunch of extra negative side effects, but right now I'm down to 10 milligrams three times a day."
Wilson and his team have a data bank filled with Long COVID POTS cases they're studying. He's sharing his findings at a medical conference to raise awareness among physicians.
"We sort of thumb-print and identify patterns in these patients to really create this awareness," he told 3News, adding symptoms of POTS can also be confused for anxiety disorder. "They had mild COVID, they weren't necessarily debilitated, more of women than men."
With sports out of the picture, Marissa is moving forward and focusing on her Health Sciences major. Her current biology assignment is a paper on her own condition to help others understand POTS and the impact on her life.
"I think most people would look at me and say, 'Oh, she's totally back to normal,' and to an extent, I do agree with that," she said. "But it's not the normal that I used to be."