FAIRLAWN, Ohio — Hobby Lobby stores throughout the state of Ohio will now shut down indefinitely Wednesday night, reversing a decision by the chain to reopen several locations despite Gov. Mike DeWine's stay-at-home order. have reopened, joining their competitor at JoAnn Fabrics in the wake of government shutdowns of non-essential retail stores.
While JoAnn Fabric stores (Hobby Lobby's main competitor) never closed at the onset of the coronavirus outbreak, Hobby Lobby stores did shutter. That changed this week in parts of Ohio, Indiana and Wisconsin, according to Business Insider.
The move by the company to reopen did not go unnoticed by Ohio Attorney General Dave Yost. In a Twitter message Wednesday afternoon, Yost confirmed he had sent a cease and desist letter demanding the locations once again close their doors.
The order gave Hobby Lobby 24 hours to respond, and they have apparently done just that: Just before 6:30 p.m., Yost announced that he had spoken with the chain's general counsel and that all stores in the state will now shut down tonight.
The news that Hobby Lobby had originally reopened also made its way to Gov. Mike DeWine in his daily COVID-19 briefing. When specifically asked, DeWine responded by saying, "This is a national emergency. What people do in their lives is normally their own business. But when what you do endangers other people, we have to take action. Local authorities do have the ability to enforce the order when a non-essential business refuses to close."
3News reached out to JoAnn Fabrics and received the following statement:
Unlike the reports of Hobby Lobby "defying" the governor's order, we are complying with the order and are operating within Ohio's definition of Essential Business. In some cases, stores have been closed to comply with varying local standards, and in some we are operating only as Curbside Pickup locations.
As you likely know, there is a severe shortage of protective equipment in our healthcare system, and we have been working closely to help local hospitals and healthcare facilities, including University Hospitals, Akron Children's, and Aultman Health to provide materials for face masks, scrubs and gowns. JOANN is directly contributing to the PPE shortage, locally and nationwide, through these partnerships and free mask-making kits. Through corporate donations and our in-store program, we've donated fabric for more than 4 million masks to-date.
JoAnn is based in Hudson and operates 850 stores in 49 states selling craft making and home decorating products.
As the statement pointed out, the company has spearheaded production of homemade safety equipment, partnering with hospitals and volunteers, to make surgical masks and other protective gear that is in short supply across the U.S.
In Fairlawn just outside of Akron, foot traffic Wednesday morning was slow but steady as Hobby Lobby shoppers made their way inside.
A similar scenario took place at a nearby JoAnn's store.
Shoppers at the Hobby Lobby store in Mentor were greeted with the following notes when they walked through the entrance.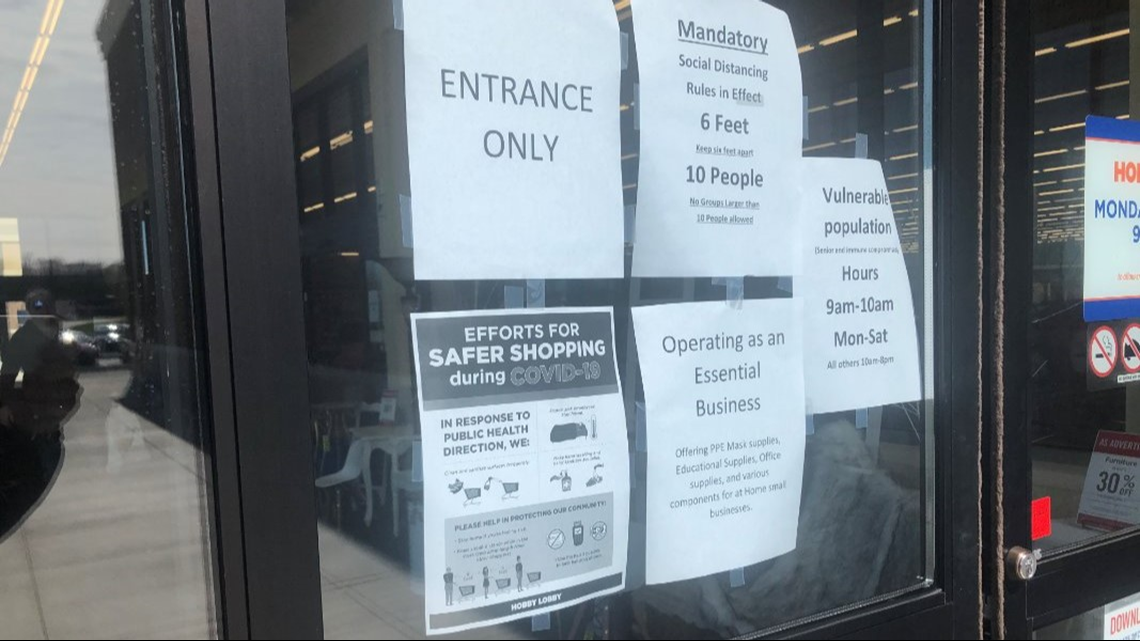 Media reports in Wisconsin and Indiana show some Hobby Lobby stores being closed again by government order. The stores closed last week amid "shelter in place " orders issued by state governors.
In Michigan, the state's attorney general denied a request from JoAnn Fabrics to be declared an essential business.
Hobby Lobby has over 900 stores nationwide and several in the Cleveland area including Fairlawn, Medina and Stow.