HUDSON, Ohio — "So for all the non believers and those who are not taking this seriously, if you need to KNOW someone who has been diagnosed with the COVID-19, well if you are reading this, you know me. I am Summit County case#2."
That's what 48-year-old Amy Driscoll posted on her Facebook page, Saturday night. Then, the shares and comments started pouring in.
Driscoll lives in Hudson in Summit County. She said she was currently self-quarantined at home.
3News Investigator Rachel Polansky went to Driscoll's home, wearing a mask, and asked if she could talk with her through a glass door – so that she could share Driscoll's message.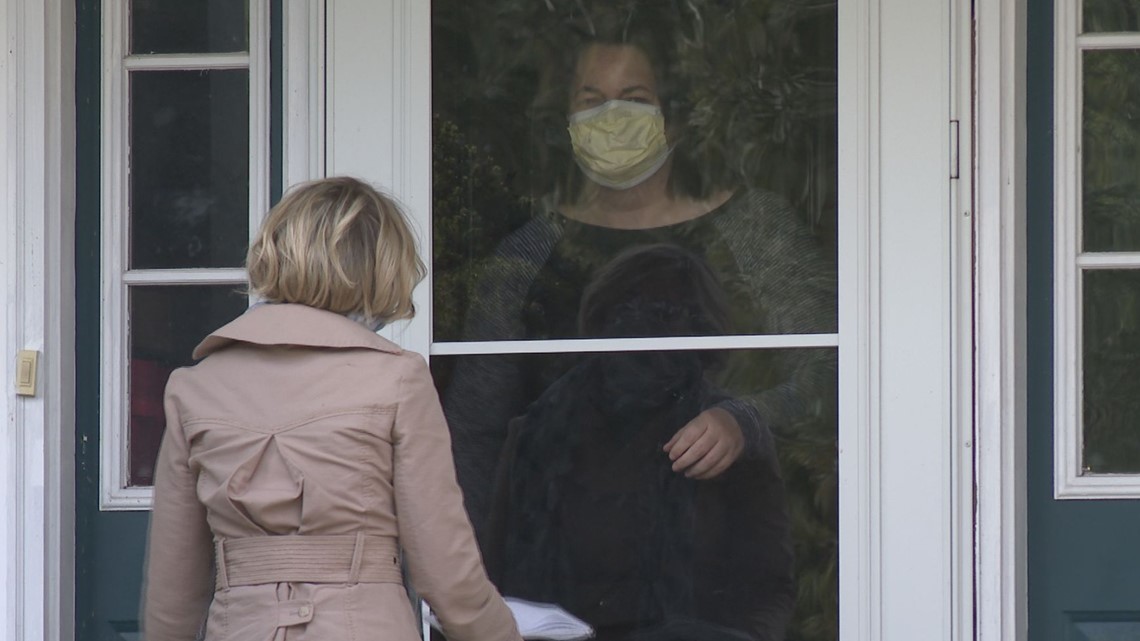 "How are you feeling?" Polansky asked.
"Really tired. Very exhausted. Going up and down the stairs is a lot. Just the small things are exhausting," said Driscoll.
Driscoll went to the hospital on Thursday. She had a fever, a cough and was having trouble breathing.
"I felt run down and feverish. I had a fever of 99.2. I was uncomfortable, headache, and a cough that was heavy but not producing anything. My heart was racing. I had trouble catching my breath and my chest felt tight every time I coughed," Driscoll said on her Facebook post.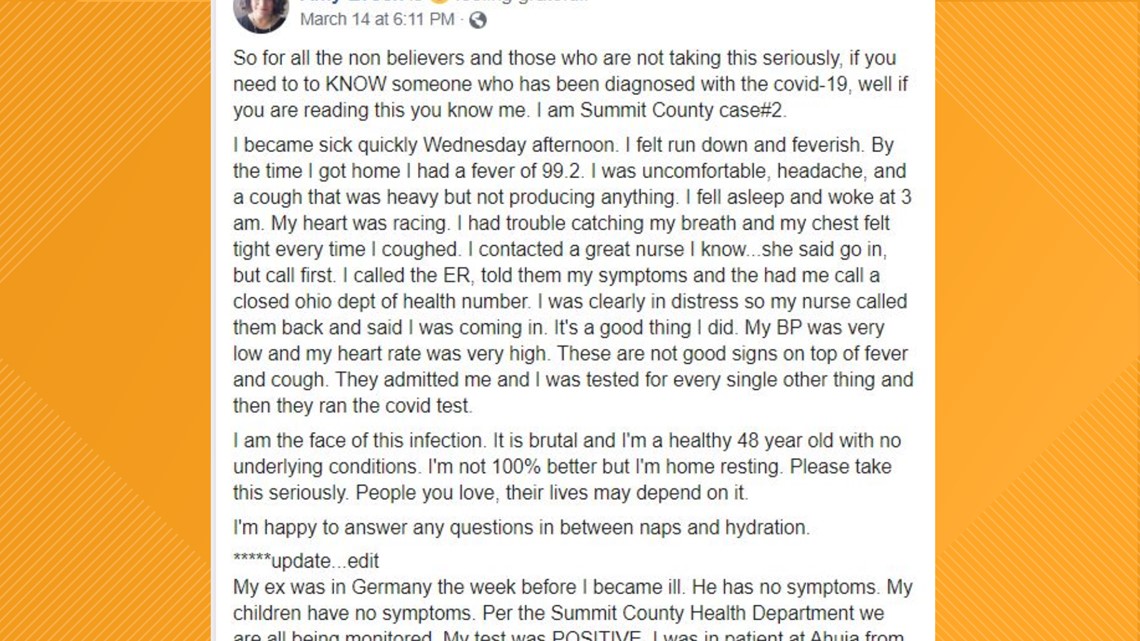 At the hospital, she says multiple tests were performed.
Flu: negative, strep: negative.
On Saturday, she says the results for COVID-19 came back: positive.
"It was pretty shocking," Driscoll said.
She says she's generally healthy and doesn't have any underlying medical conditions. On top of that, she hasn't traveled recently. She does not know how she got the virus but she believes it was community-spread.
She was at a Cleveland Cavaliers game on March 7th and her ex-husband recently traveled to Germany, but she doesn't know if that's how encountered the virus.
"I was out living my life, doing my thing, going to the grocery store, taking care of my kid, doing my everyday life and now I'm not," Driscoll said.
Since she's been at home self-quarantined, Driscoll has seen a lot of people questioning the need for closures and cancellations on Facebook. That's why she says she wanted to get her message out there: This virus is serious for the old and young alike.
"I'm grateful my immune system responded the way it did. And I'm strong enough. But I really fear for people who have a compromised immune system or people who are sick in any way," said Driscoll. "I think it's important we do what the governor and authorities are asking us to do, staying separate from other people."
"How important is it that people practice social distancing?" Polansky asked.
"I think it's really important because the amount of people who are gonna need aid is gonna get really high, and the hospitals are gonna be very overwhelmed," said Driscoll.
Driscoll's 14-year-old son is also at home self-quarantined. She says he's not sick and hasn't shown any symptoms.
"Whenever we're close or I have to do anything for him, I'm wearing the mask. We're just trying to keep as separate as possible. We're using separate bathrooms, and all that," Driscoll said.
Driscoll has been in contact with Summit County Public Health, who she says had her make a list of anyone she came in contact with in the last two weeks.
She also says employees at her office, which she didn't want to identify, are working remotely.