CLEVELAND — The number of people unemployed in Ohio has spiked to unheard of numbers as the Coronavirus pandemic continues.
The number of jobless claims filed in Ohio over the last two week stands at 468,414.
To put that in perspective, 364,603 initial jobless claims were filed in Ohio during the entire year in 2019.
3News viewers have been emailing and calling, telling us they're having issues getting on and using the unemployment website.
"I was given a mass layoff number. I put that number into the system, applied, and then early that next week I received notice it had been denied," said Chris Bennis, of Wadsworth. "When you go to click on any information, nothing loads up, the system crashes, it doesn't tell you why you're denied."
"I have gotten no where. My patience has ran out. I don't know what to do anymore," said Lora Liebenauer, of Middlefield. "It just rejects me every time I go on,"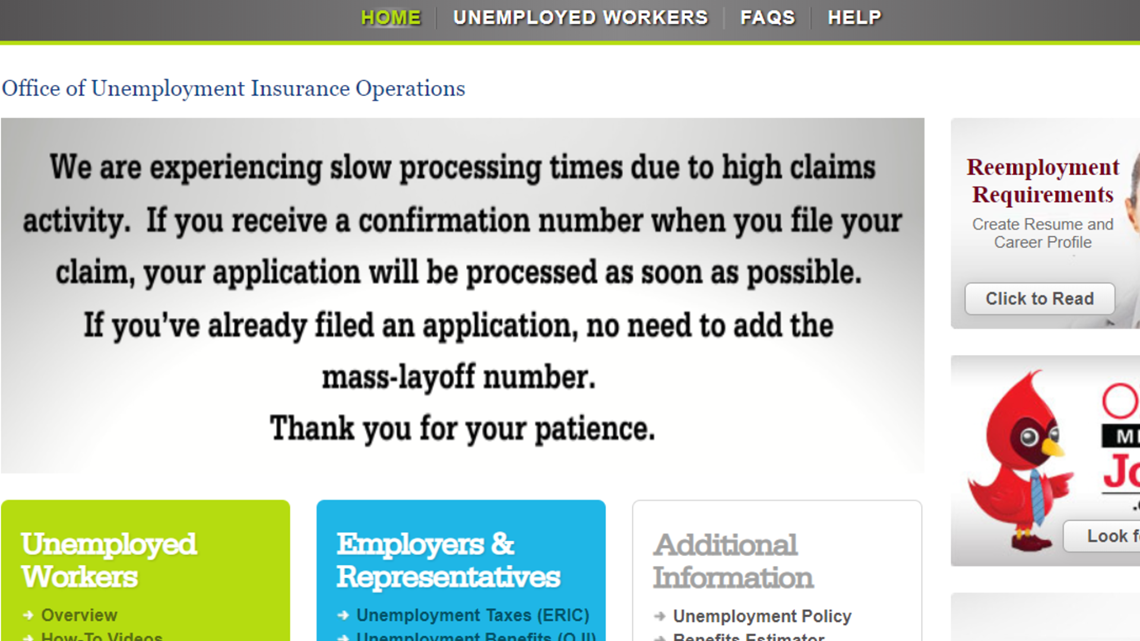 The Ohio Department of Job and Family Services has acknowledged the issues, saying it's adding more employees.
"Fairly soon we will have 600 people helping claimants over the phone. We have 459 doing that now and are training more. To put that in perspective, 600 people represent about a quarter of the employees in our entire agency whose only focus right now is assisting Ohioans with their claims," said Bret Crow, of Ohio Department of Job and Family Services.
In addition, they're increasing the capacity of the unemployment website 20-times its original capacity.
"Even if Ohioans can't consummate submitting an application right away, their filing date will be retroactive to when they first became eligible. In other words, eligible Ohioans need not worry that they will receive all the unemployment compensation benefits they are entitled to collect. The problem is that the volume of filers and callers is delaying when people can submit their application. You should also be aware that we have paid more than 118,000 claimants totaling more than $50 million," said Crow.
"The state has to do better," said Rep. Jeff Crossman (D-Parma).
After watching our report, Rep. Jeff Crossman reached out because he wants our viewers to know that lawmakers are still working.
"We're not in Columbus legislating but we are here for constituent services," said Rep. Crossman.
Rep. Crossman says if you're having problems with the unemployment website – reach out to your state representative or state senator.
"We are here to help people navigate as best we can the bureaucracy of getting through," said Rep. Crossman. "Our office is familiar with some of the issues people are having so we've been able to diagnose and help people work the website."
If you don't know who your local lawmakers are:
Despite the intermittent issues with the online claims system, going to unemployment.ohio.gov remains the best way for Ohioans to file a claims.
(877) 644-6562 (for those without computer access)
(866) 962-4064 (for PIN resets)