AKRON, Ohio — Winter weather is causing problems with the vaccine rollout.
Here in Northeast Ohio, Cuyahoga, Summit, Lorain and Geauga county health departments tell 3News Investigates they have not received vaccine shipments this week.
Meanwhile, Northeast Ohio pharmacies are also experiencing delays, which means some appointments are being cancelled and rescheduled, leading many families to grow frustrated and even angry.
Like many millennials, Marissa Little has been busy, trying to find vaccine appointments for her Summit County parents, Mark and Debbie.
"Reaching out to Rite Aid, checking all the sites like Marc's, Acme, those were the ones I was checking," said Little. "My mom is 66, my dad is 67. They both have heart situations going on, diabetes. They're in the age group and also the health concern risk."

That's why she was so excited when she got them both booked at a Rite Aid in Wadsworth.
Their appointments were scheduled to take place on Thursday. Needless to say, that didn't happen.
"My dad texted me and said we got bumped," said Little.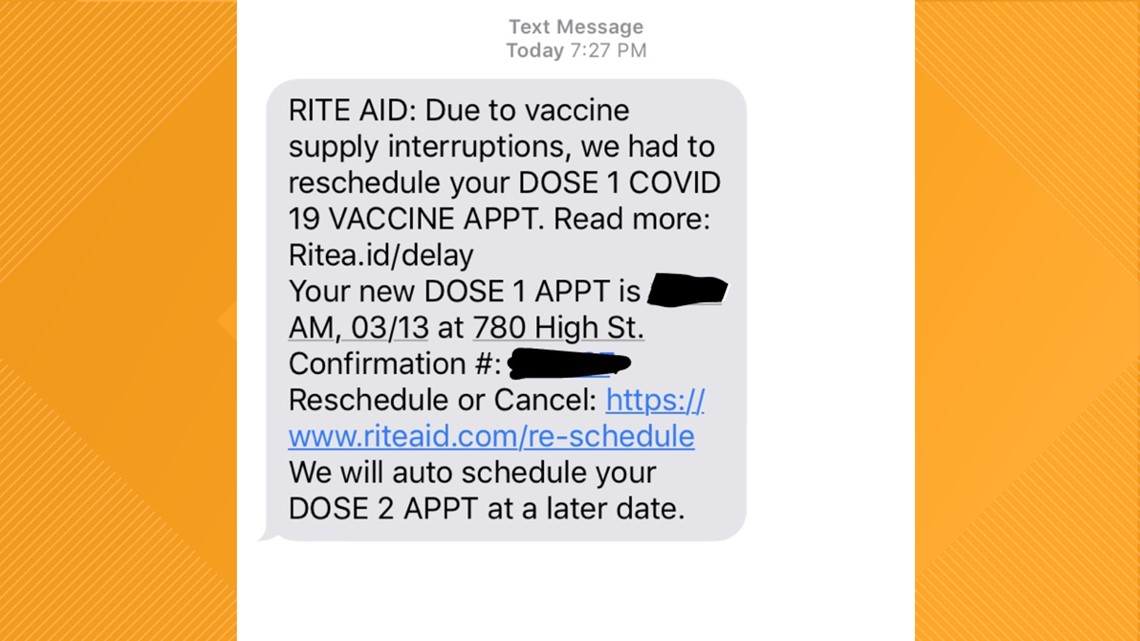 According to an automated text, both of Marissa's parents were bumped to March 13th.
While Marissa understands that Rite Aid cannot control the winter weather that has delayed vaccine shipments around the country, she doesn't understand why her parents were moved three weeks. She thinks they, along with others booked this week, were pushed to the back of the line, allowing those once behind her parents to move ahead.
"They wouldn't do that inside a Rite Aid if you're standing in line to check out with groceries. They'd say I'm sorry, everyone is gonna have to wait. I just think it should apply the same to everyone," Little said.
3News Investigates took Marissa's complaints directly to a Rite Aid spokesperson who refused to comment beyond this statement released earlier this week:
"Due to supply interruptions beyond our control, including severe winter weather impacting much of the United States this week, the U.S. government is experiencing delays in COVID-19 vaccine shipments and deliveries to participants of the Federal Retail Pharmacy Program. The supply interruption has caused us to reschedule a limited number of appointments this week at select Rite Aid locations serving as Federal Retail Pharmacy Program vaccination sites. We have already contacted affected individuals and their appointments have been automatically rescheduled for the soonest possible date.
If you were not contacted about rescheduling, then your appointment has not been affected and we encourage you to keep it as previously scheduled." -Chris Savarese, Rite Aid Public Relations
Rite Aid, along with 21 national pharmacy partners across the country, are taking part in The Federal Retail Pharmacy Partnership. It was instituted in early February, to provide direct government to pharmacy vaccinations, according to the White House.
Some good news for Marissa's parents. They were able to get another appointment scheduled through Summit County Public Health, for late next week.
Of course things continue to change and develop, so if you're struggling to find a vaccine appointment, check out our vaccine guide here.
Editor's Note: The below video aired on February 18, 2021
More from Rachel Polansky: