"We're optimistic overall about where we are, but we certainly have pockets around the state where the vaccination rate is exceedingly low -- and that is of grave concern," Gov. DeWine said.
He said his team is working to find new incentives in an effort to get more shots in arms.
"It is a continuous examination that we are doing in the governor's office and the Department of Health. What else can we do to encourage more people to get vaccination?"
"You'll see some more initiatives from us. We'll be announcing some things next week, and the week after and the week after. We're still very, very focused on this."
He also said that Vax-a-Million has been very successful, but added that Ohio still has a lot of work to do while acknowledging the state will not meet President Biden's goal of having at least 70 percent of Americans vaccinated by July 4.
"We think that's a good goal. We're certainly not going to be at that point by July 4, but we have some amazing people in our local health departments, our pharmacies, our hospitals, our public health clinics who are working at this every single day. We are not done."
Ohioans with at least one dose: 46.98 percent or 5,491,905.
Ohioans who are fully vaccinated: 42.87 percent or 5,011,700.
As of 11 a.m. Friday, Holmes County currently has the lowest vaccination rate with 15.1 percent.
The map below shows the vaccination rates in Ohio based on county. The darker the shade of blue reflects higher vaccination numbers: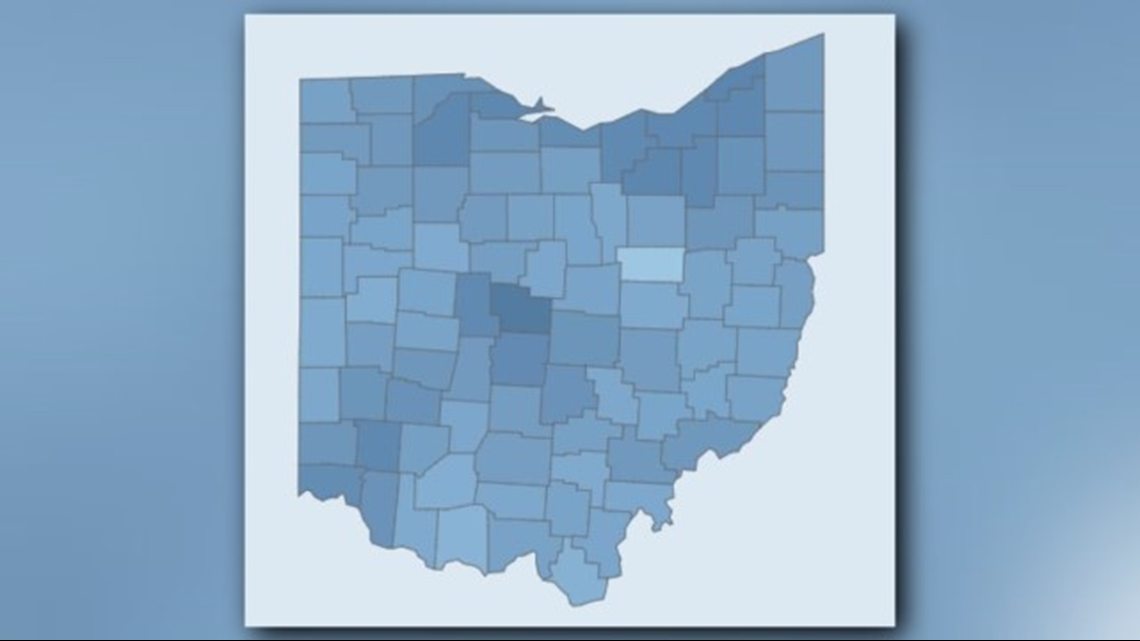 Here are the vaccination rates based on age group as of 11 a.m. Friday:
Ages 0-19: 9.27 percent
Ages 20-29: 33.96 percent
Ages 30-39: 40.97 percent
Ages 40-49: 47.31 percent
Ages 50-59: 55.80 percent
Ages 60-64: 66.44 percent
Ages 65-69: 75.13 percent
Ages 70-74: 80.01 percent
Ages 75-79: 76.63 percent
Ages 80+: 74.6 percent
The map below shows the vaccination rates in each state. The darker green colors indicate the states with the highest vaccination rates.