AKRON, Ohio — The Ohio Hospital Assocation is recommending that medical centers across the state mandate that their staffs are vaccinated for COVID-19.
Summa Health is the first in Northeast Ohio to do it, but likely others will follow, especially after Pfizer gets full FDA approval.
But as of now, Kim Drillien is not going to get her shots. She's been a surgical nurse for 37 years and works at Summa's Barberton campus. She has no problem with the vaccine if anyone else wants it, she just doesn't think it's right that she should be forced to get it to keep her job. Drillien feels there isn't enough research into it.
"I can't say that I won't change my mind," Drillien told 3News' Monica Robins. "What I can say is that right now there have been many drugs that have been FDA approved. I have taken medications myself that have been FDA approved and removed because they pose a danger or harm to people."
3News reached out to Summa and their corporate communications director replied to us with this statement: "We understand there are varying feelings about the COVID vaccine and we respect the right of people to peacefully share their perspective. Ultimately, our COVID vaccination policy is based on science and supports our mission and promise as a healthcare organization to care for our community."
So the policy will stay in place and employees have until October to get their shots. Kim says the hospital did have town meetings about the mandate but she wasn't able to attend them, she plans on talking to a doctor about her concerns next week. But for now, she's ready to walk away from a career in nursing over this.
Summa Health nurses held a protest on Monday in Akron against the vaccine mandate.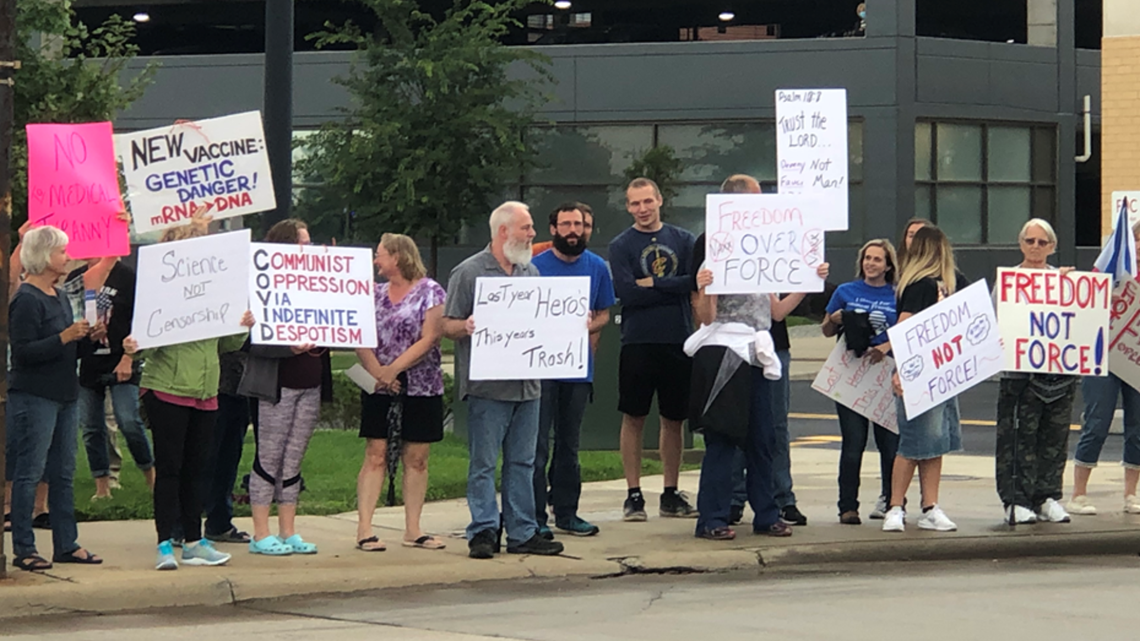 A survey by the American Nurses Association of 22,000 nurses indicate 70% are vaccinated. They reported that a quarter of those who are hesitant say their fearful of short or long term side effects and feel they don't have enough information.
It's also been reported that many aides in nursing homes are still hesitant about getting it as well.
According to a survey by the American Medical Association, 96% of doctors have agreed to get vaccinated.