CLEVELAND — General Electric Healthcare has partnered with UH's Cleveland Medical Center to evaluate the world's first on-device AI tool that is designed to identify collapsed lungs, a crucial need since intensive care units have seen an increase in patients during the ongoing COVID-19 pandemic.
A collapsed lung fails to bring oxygen into the blood stream or remove carbon dioxide from the body. People suffering from a collapsed lung may experience shortness of breath, discomfort when breathing, or chest pain on one side. Severe cases may cause a patient to go into shock, which can be life-threatening
Katelyn Nye, general manager of Global Mobile Radiography & Artificial Intelligence at GE Healthcare, said:
"Today there are a multitude of AI algorithms beings developed, but very few solutions seamlessly integrate into actual clinical workflow. GEHC selected UH to be the first USA pilot site because of the extensive research relationship, progressive IT and Radiology teams looking to integrate AI to improve workflow, and the center of excellence for cardiothoracic care."
The imaging system enabled with Critical Care Suite software acts as AI on board the OptimaXR240amx mobile x-ray unit. Following a chest x-ray, the system will recognize if a patient's lung has collapsed, and flags the image for immediate reading.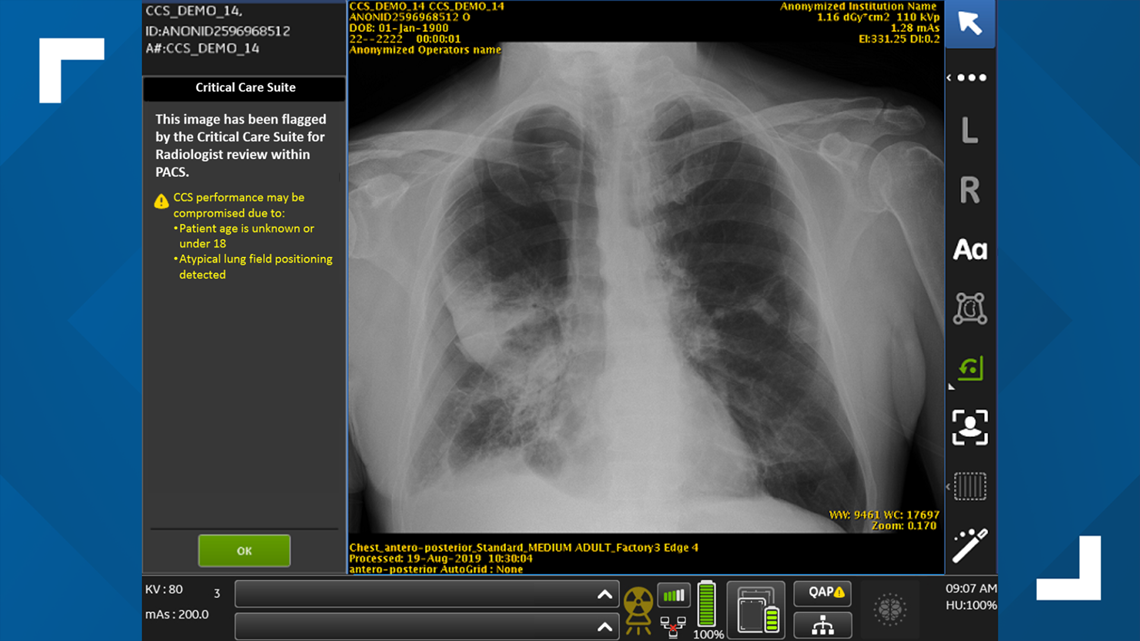 "The Critical Care suite is an exciting innovation in cardiothoracic imaging," said Robert "Chip" Gilkeson, MD, Director, Cardiovascular Imaging Center and Vice Chairman of Research. "It represents a close clinical and research partnership between GEHC and University Hospitals that spans almost 20 years."
The technology is now in daily practice and flags up to 15 collapsed lungs per day within the hospital. The existence of this technology could not have come at a more crucial time with the COVID-19 pandemic.