CLEVELAND — A plan to transform the St. Vincent Charity Medical Center on East 22nd Street in Cleveland was revealed in an announcement Wednesday morning – including the end to inpatient care by mid November.
Officials said this transition from acute care to ambulatory care is "part of adaptive reuse of the campus that will also bring new partners to meet community-identified needs through holistic care."
So what does this mean for your family?
"Today, in concert with the vision for the health campus, St. Vincent Charity Medical Center will begin its next evolution, as it transitions from a traditional acute care hospital into an ambulatory health services provider," according to a press release.
St. Vincent Charity Medical Center will provide ambulatory care as follows:
Outpatient mental health services
High-quality provision of addiction medicine services through Rosary Hall
Primary care, internal medicine and specialty clinics
Urgent care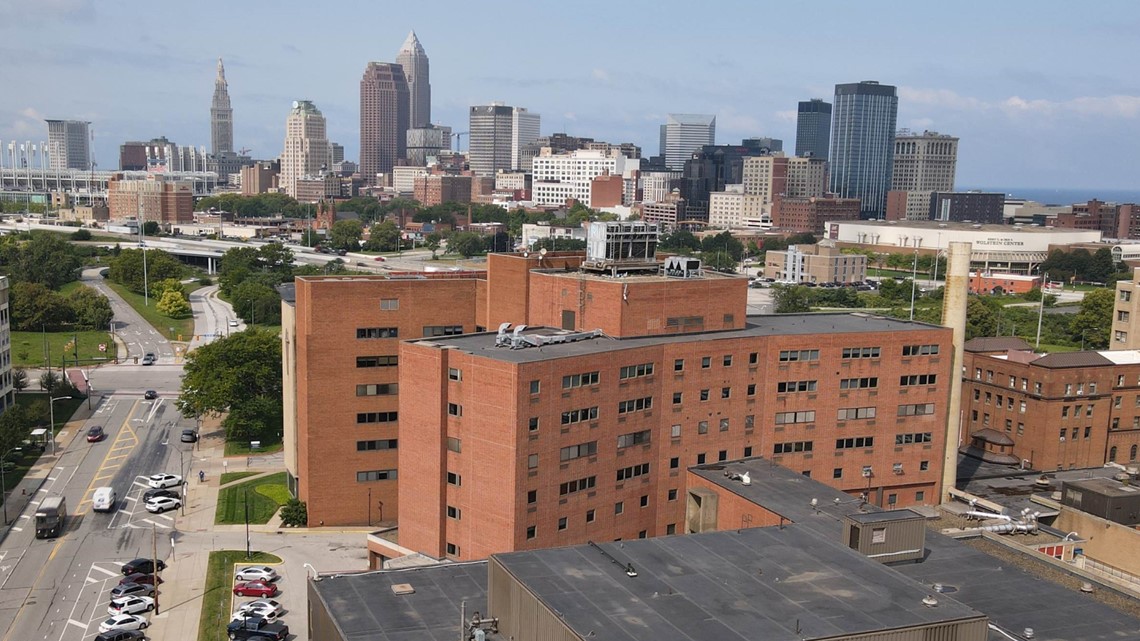 "Since 1865, St. Vincent Charity Medical Center has weathered challenges, including the pandemic through which our caregivers served our patients and community with courage and grace. This deep commitment to serving our community through Catholic health care will continue as we transition to high-quality ambulatory care," said Janice G. Murphy, MSN, FACHE, president and CEO of the Sisters of Charity Health System. "This transition puts the hospital on a financially sustainable path forward despite the rapid, significant and ongoing changes in health care today."
Murphy addressed the announcement during a brief press conference at noon Wednesday.
"Before the pandemic, we had a certain level of patients every day," Murphy said regarding their decision. "Then after the pandemic, patients started to get care in different areas – more outpatient care, more telehealth care."
You can watch the full press conference live in the player below:
Murphy also gave a brief explanation regarding the difference between "acute" and "outpatient" care as follows:
Acute: "It's really when a patient comes into a hospital. They're admitted and they're in hospital bed. They're there for a series of a days."
Outpatient: "We're able to take care of them rather in minutes and hours – not days. We do believe that if we can keep people out of the acute care hospital, the outcomes are much better."
Officials say St. Vincent Charity Medical Center will retain approximately 100 caregivers – including clinical and non-clinical staff.
"As part of this transformation, medical residents at St. Vincent Charity Medical Center are invited to move to University Hospitals, which will also be conducting job fairs targeting clinical and non-clinical staff at St. Vincent Charity Medical Center," according to a press release.
This transition is expected to be completed on Nov. 15.
"At that time, St. Vincent Charity Medical Center will no longer provide inpatient care," officials noted. "Over the next eight weeks, patients are encouraged to check the St. Vincent Charity Medical Center website for additional information about the transition of services."
Editor's note: Video in the player above was originally published in an unrelated story on Sept. 12, 2022.
University Hospitals released a statement to 3News' Monica Robbins regarding the changes.
"University Hospitals was honored when St. Vincent Medical Center came to us about their desire to assure that their current residents have the opportunity to continue learning in Northeast Ohio. UH has a place for every St. Vincent resident either at our nationally renowned academic medical center or UH St. John or UH Geauga medical centers. We have worked closely with St. Vincent, accrediting bodies and our faculty to make the transition as seamless as possible for these residents."
MetroHealth CEO Dr. Akram Boutros released this statement about the St. Vincent news.
"I am saddened by St. Vincent's decision to curtail its services. Its mission-focused health care has been an important part of Cleveland for more than 150 years, and I know this could not have been an easy decision for the Sisters of Charity Health System. Their commitment to the city's disadvantaged, especially in the Central neighborhood, is inspiring, and I am pleased that they will continue to serve those struggling with addiction through the work of Rosary Hall. MetroHealth, as always, stands ready to provide exceptional health care to everyone in our community, regardless of their ability to pay. That is our mission."
Cleveland Clinic also provided the following statement to 3News' Monica Robins:
"St. Vincent Charity Medical Center has an enduring legacy of honoring its mission and serving the healthcare needs of our Northeast Ohio community, even as the hospital transitions into a new care model. We understand this is a difficult time for many of their caregivers. We welcome those in clinical roles to consider joining Cleveland Clinic, current openings are now available at jobs.clevelandclinic.org. Cleveland Clinic is proud to lead the market in robust benefit offerings and competitive pay."
St. Vincent Charity's ambulatory health services are part of the new St. Vincent Charity Health Campus, which will officials say include services meeting a wide range of community-identified needs, which include:
Behavioral health
Youth and families
Food and nutrition
Workforce development
Physical activity
Transportation
Housing
Learning and education
Arts and culture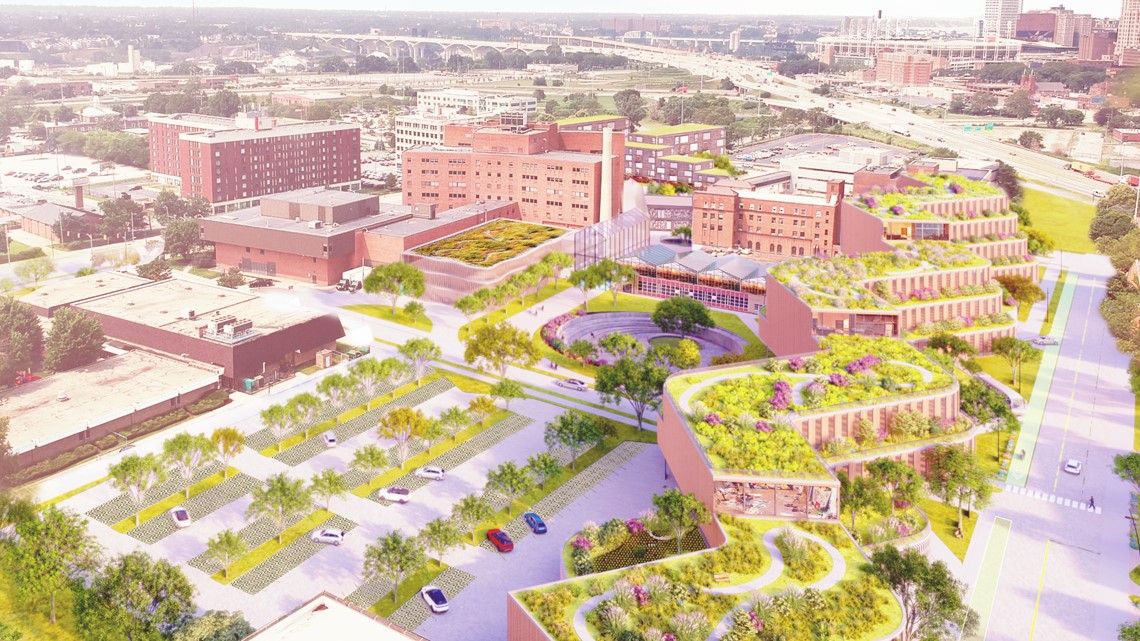 "We listened to the lived experiences of neighbors and learned that in order to lead healthier lives, our community deserves spaces that nourish mind, body and spirit," said Christopher Kroner, MASS Design Group lead principal. "For St. Vincent Charity Health Campus to be truly unifying, each space needs to establish an experience of radical welcome."
Officials say the vision for the Health Campus was co-created by the Sisters of Charity, residents of Central Neighborhood and Cleveland-area institutions following a year-long community voice and planning process that started in June of 2021.
"Residents and representatives of health and social service organizations, primary care providers, youth development organizations, food security organizations and champions, community gardeners, workforce development organizations, higher education leaders, foundation leaders, real estate developers, public libraries, artists, cultivators and public officials all provided input to help shape the vision for the Health Campus through more than 30 focus groups, 25 partner meetings, 15 guided tours and five special events," officials noted.
Their press release describes the changing health care landscape in connection with the transformation plan as follows:
The impetus for the St. Vincent Charity Health Campus is twofold. First and foremost is the Sisters of Charity of St. Augustine's commitment to meeting the unmet needs of the community, which started when they became Cleveland's first home health nurses in 1851 and grew with the founding of St. Vincent Charity Medical Center in 1865. Over the last 171 years, the Sisters of Charity and their caregivers have continued to adapt and bring innovations in health care to life, including Sister Ignatia's work to found the first department in a hospital to care for individuals suffering from alcohol dependence. This brand of courageous leadership has helped the Sisters of Charity evolve and sustain their healing ministry through significant changes in the health care landscape.
Second, the seismic shifts in health care over the last decade have created a challenging environment for St. Vincent Charity Medical Center to continue as a traditional acute care hospital. The rise in demand for outpatient care, declining inpatient volume and the growth of telehealth, all of which were accelerated by the Covid-19 pandemic, have placed additional financial pressure on the hospital.
City of Cleveland Councilman Richard Starr and Council President Blaine Griffin released a statement regarding the decision to end inpatient and emergency services:
"Earlier today, the Sisters of Charity Health System and St. Vincent Charity Medical Center announced their intention to suspend emergency and inpatient procedures at the hospital, leaving only behavioral health, primary care, and urgent care services for the community. The Sisters of Charity's decision to end emergency and inpatient services will have an immediate and drastic impact on the health of Central and Ward 5, predominantly African American communities. The two zip codes surrounding St. Vincent Charity – zip codes 44103 and 44115 - have the lowest life expectancies of any zip code in Cleveland. This decision also impacts St. Vincent Charity hospital workers.
We are disappointed by this decision. However, as leaders, we will take every step possible to right this wrong. Cleveland is known for our world-class health institutions. We have engaged and active community health centers. We will work with these organizations to ensure there is no health care void in Ward 5. We urge the Sisters of Charity Medical Center to partner with our healthcare institutions to assist any potentially displaced workers."