CLEVELAND — Editor's Note: The above video is from previous reporting on the dispute between UH and the city of Bedford
A hearing on the future of inpatient care and emergency room services at University Hospitals' Bedford Medical Center took place on Tuesday in Cleveland.
Cuyahoga County Common Pleas Court Judge Steven Gall met with attorneys from both UH and the city of Bedford for more than an hour and announced that the hearing has been stayed until September 20.
"This is an important issue. We have had some preliminary discussions and it is our hope that the parties can come to an amicable solution," Judge Gall told those in attendance. Gall added that he will mediate discussions between the two sides as needed.
Last Friday marked the final day of hospital operations for both the UH Bedford and Richmond medical centers. As 3News' Monica Robins first reported, University Hospitals Health System announced on July 14 that it would be ending emergency room and inpatient service at both facilities due to an unprecedented staffing shortage.
The city of Bedford says its leaders had been working with UH since July 14 to come up with a solution. They say talks between the two sides ended on August 8, "when UH officials abruptly pulled the plug and said there was no room for compromise and that the hospital and emergency room closing was imminent."
The city of Bedford filed a restraining order and a complaint for money damages in Cuyahoga County Common Pleas Court seeking to prevent the closing of UH Bedford Hospital last Thursday. Although the request for the restraining order was rejected, Judge Gall granted Tuesday's hearing.
The city of Bedford has also filed formal federal complaints with the U.S. Department of Health and Human Services Centers for Medicare and Medicaid, alleging that UH's decision is racial discrimination and a breach of civil rights.
"We're very pleased with today's outcome and look forward to having genuine, substantive discussions with University Hospitals' leadership about providing necessary medical services to the residents of Bedford and our neighboring communities,'' Bedford City Manager Mike Mallis said in a statement. "Judge Gall understands is a very important issue. We are grateful he scheduled this hearing so quickly and for his desire to help us find resolution.''
University Hospitals gave the following statement to 3News on Tuesday evening: "The decision to deny the preliminary injunction and stay this matter for 30 days is correct and ensures that these claims will be litigated fully, fairly, and efficiently in accordance with Ohio law. Our top priority as a health system is to provide the safest, highest quality care for our patients, and the service changes at Bedford are consistent with that goal. We remain committed to the Bedford community and its health and well-being, and remind patients in the area that they are still able to see their physicians for appointments at the medical office buildings on-site."
With the closing of hospital operations at UH Bedford, patients can use UH's Ahuja Medical Center, which is six miles away in Beachwood. Cleveland Clinic's Marymount Hospital is four-and-a-half miles up the road in Garfield Heights. Also, Cleveland Clinic's South Pointe Hospital is just under four miles away in Warrensville Heights.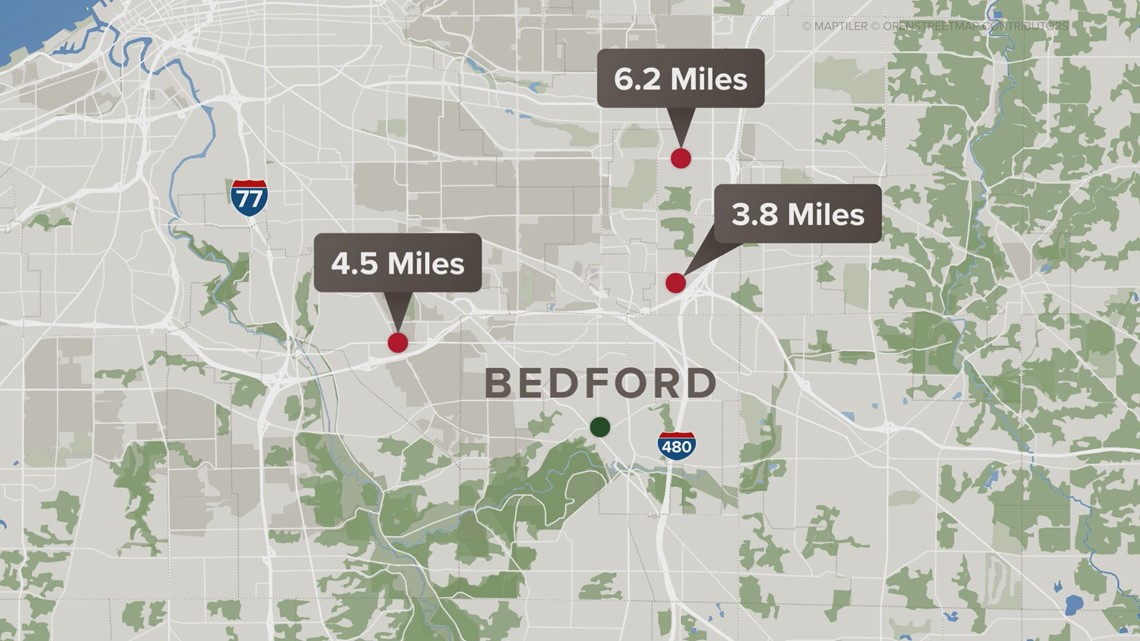 However, Bedford Mayor Stanley Koci thinks that distance is still too far for some residents. "We can be at that hospital (UH Bedford) in three minutes," Koci told Robins. "Now, it's going to take much longer to go to another hospital. And they're going to be busier. It's just going to snowball and be a detriment to our citizens.
The city says UH Bedford is its largest employer, providing almost 1,000 jobs for local residents. The filing also notes that closing UH Bedford would cause the city to lose almost $1 million in annual tax revenue, "creating further financial constraints" on the community's already compressed budget.
More than 600 employees will be impacted, including 337 at Richmond and 280 at Bedford, but there will be no layoffs and all employees will be absorbed into other UH facilities.
UH notes that its Richmond and Bedford hospitals were among the smallest and least-utilized within their system. Since October, each hospital dropped from 50 to 14 inpatient beds. The hospital system says the two centers are also the oldest — Bedford opened in 1928, Richmond in 1961. But because of the staffing shortage, they had decreased capacity significantly.
3News' Monica Robins contributed to this story.