CLEVELAND — At age 19, Adam Gorlitsky was on his way home from college when he fell asleep at the wheel. He wasn't wearing a seatbelt, and the ensuing accident left him paralyzed from the waist down.
Seventeen years later, he's ready to tackle his third marathon, this time in the city where he was born: Cleveland.
Gorlitsky, of Charleston, South Carolina, completes marathons using an exoskeleton, or robotic legs.
"My current world record is 33 hours, 16 minutes, 28 seconds," he said. It's listed in the Guinness Book of World Records. After he accomplished the feat in 2020, walking 26.2 miles with the 55 pound exoskeleton.
He kept training and tweaked the device, and now he's plans to set another world record, this time at the Cleveland Marathon. He'll start at noon Saturday, and hopes to complete the marathon between 24 and 27 hours.
Gorlitsky's dad drives a support van behind him, and is in charge of switching out the batteries on the exoskeleton and recharging them. He also has a "pit" crew of friends who will be with him the whole way, and needs to stop every 30 minutes or so for breaks and to eat and drink something.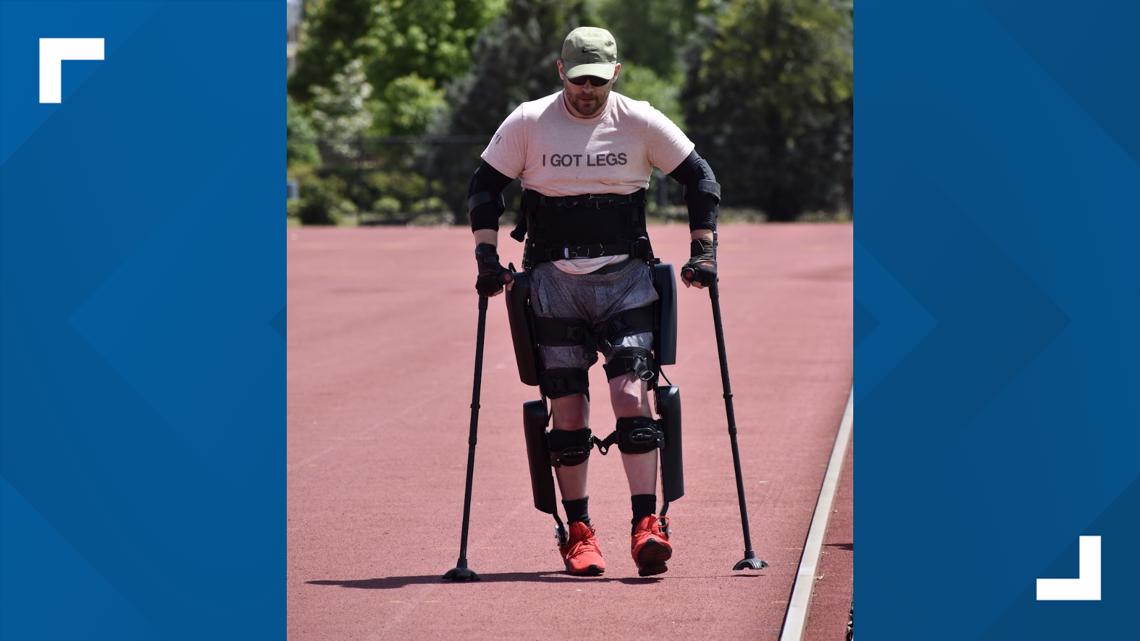 Another reason Gorlitsky chose Cleveland is because of the MetroHealth Rehabilitation Institute, where groundbreaking research is taking place. Fifteen years ago he went to MetroHealth to have the Vocare device implanted. It uses Functional Electrical Stimulation (FES) to deliver low-level electrical pulses to the central or peripheral nervous systems to work in place of the damaged neurons of patients with paralysis.
These pulses can activate elements of the nervous system to perform functions that otherwise would be impossible, including regaining bladder control and — for men — restoring the ability to obtain an erection.
For Gorlitsky, it also meant not needing a catheter, which put him at risk for UTIs and kidney infection. He could also finally wear shorts again.
While being able to walk with robotic legs is incredible, he'll tell you restoring bodily function control meant more.
"This implant and a few of the other things going on here at MetroHealth easily way more life changing and it's totally changed my life," he told us, "because it's a lot more normal."
Gorlitsky came back to MetroHealth because now they're working to improve the device, making it faster and more efficient.
"For example, if you apply lidocaine at the dentist that could last hours, we think we have a way to do it electrically that could last just as long as the stimulation is supplied, like seconds to minutes," Dr. Dennis Bourbeau, staff scientist and assistant professor for the Department of Physical Medicine and Rehabilitation theat Case Western Reserve School of Medicine, said.

Bourbeau believes the new way would also not have to cut nerve endings. Gorlitsky is part of this clinical trial, too, because it meshes with his I Got Legs foundation goals.
"Our mission is to reenable paralyzed athletes to walk again with exoskeletons and breakthrough paralysis research," Gorlitsky explained.
He wants exoskeleton racing to be a Paralympic sport, and he's ready to inspire everyone on Cleveland's course.
"You definitely feel everybody's energy going toward the finish line," he said. "It's the best feeling in the world," he said.
And by participating in research, it may also help him reach another finish line.
"The goal is to increase dignity, to increase independence, and to see these successes puts a wind in our sails," Bourbeau noted. "It's what gets me out of bed in the morning."
Bourbeau's study and other research aimed at bladder function for people with paralysis are still recruiting subjects. For more information about how to participate in this study or research related to paralysis, contact Senior Research Coordinator Kimberly Schach at (216) 778-7992 or kschach@metrohealth.org.