GREEN, Ohio — When the nation came to a standstill in the days after 9/11, some brave Ohioans didn't run from the tragedy -- they went toward it.
The Ohio Crisis Response Team (OCRT) deployed to Ground Zero shortly after 9/11.
Lori Morgan is a member. She now spends her days as a school counselor at Green Intermediate School in Summit County, alongside her trained facility dog, Shakespeare.
Back in 2001, though, it was Kayla the dog who was with Morgan as she traveled to New York in the wake of the attacks, as part of the OCRT.
OCRT was formed in 1996 and is a statewide group of volunteer responders -- including counselors, law enforcement, firefighters, advocates, clergy and others, also trained by the National Organization for Victim Assistance (NOVA).
Morgan was one-half of the first therapy dog-handler team trained and deployed by NOVA. As they watched the nation react to the events of Sept. 11, 2001, they knew the call would be coming.
"Everybody wanted to help. So having the ability to do something and being able to take my therapy dog at the time, I knew that she would be able to help in ways that some of us as, as human beings wouldn't be able to," said Morgan. "It's hard to believe that it's been 20 years."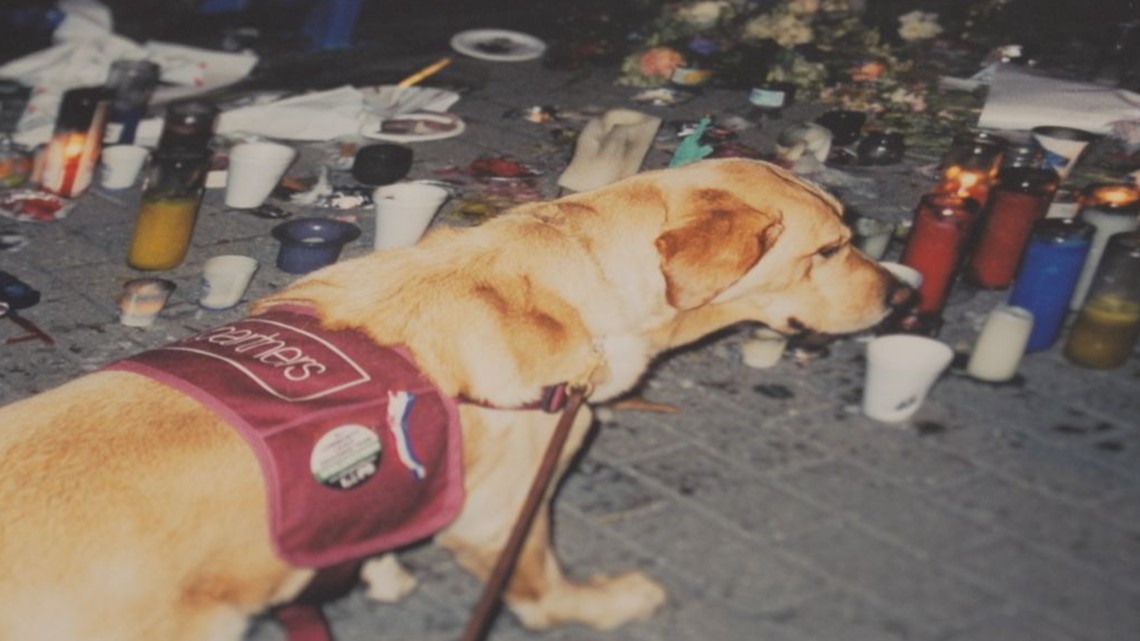 So Morgan, Kayla, and a group of ten other responders drove to New York. Cindy Kohr was one of them, and a one of the co-founders of OCRT.
"It was such an honor to serve there, but it was, when I look back. It's quite surreal to think about the things that we were experiencing at the time," said Kohr.
They worked with other first responders from across the country to establish the Family Assistance Center in New Jersey, across the Hudson River from the smoldering towers.
"Family members, they would tell them, look for the blue shirts," said Kohr. "And when they found the blue shirts, we were able to assist them and companion them through, through the areas, wherever it was, they might've needed.
"The one thing that so many of them, as you and I would need walking in that door, was hope. Hope if there had not been any answer about their loved one yet. So they were bringing everything they could to try to find where their loved one was, or if they had survived," said Kohr.
For six months, members of the Ohio Crisis Response Team took weekly shifts, making the trip to work long days as companions to these families, through shock and grief.
"Dogs promote that safety and security, just sitting next to you, touching you, their warmth, their connection," said Morgan. "And that bond is so strong. I remember her (Kayla) walking up to a National Guardsman and just putting, sitting right down at his feet. And he leaned over and started petting her and started talking to me about how 'I had worked on the pile that day had found body parts, had to tag them personal clothing items' and how deeply it affected him."
At night, they'd debrief together after dealing with so much emotion.
"Every single family or victim that we worked with during that experience of being 9/11, you take part of their experiences, part of their heartbreak with you, and it changes you," said Morgan. "It makes you a better counselor. It makes you a better crisis responder, but it also makes you a better human being to be able to share and their loss and their tragedy and share that burden with them."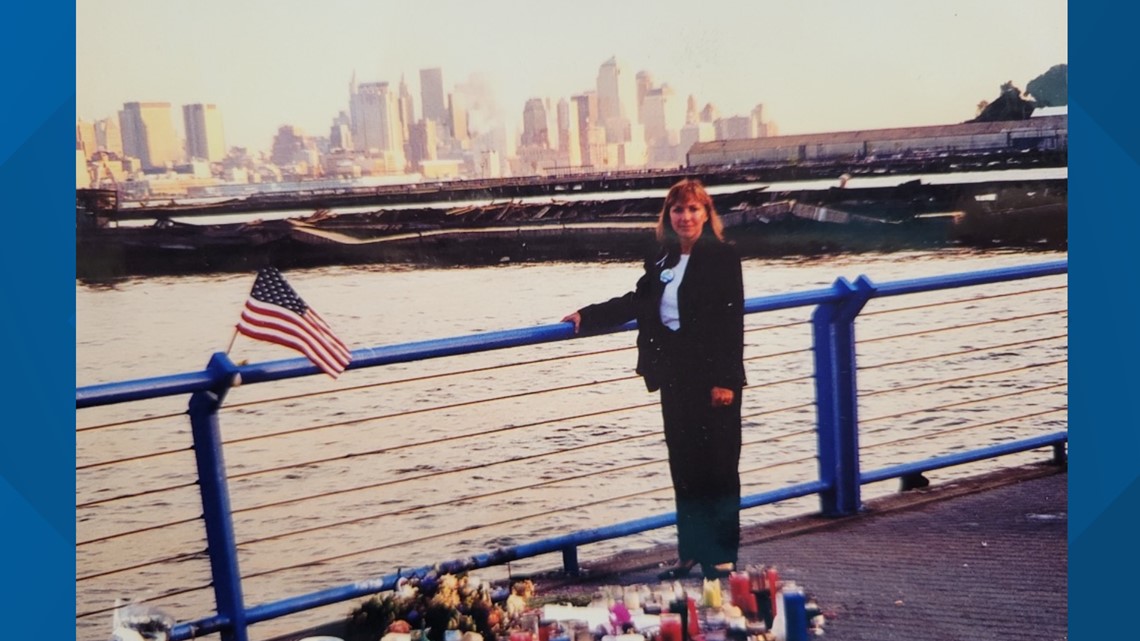 This Patriot Day, Kohr is one of 25 speakers from around the country who will be reading the names of the victims virtually, as NOVA begins its annual conference in Orlando.
"Just remembering how standing there, looking at the spot, seeing the smolder instill, how, what a horrible, just horrible, tragic tragically, and that, that was that impacted," Kohr said. "So many people impacted, of course the families, but really the entire world, we were all so impacted. Even as I said aloud to you that we'll be reading those names, I got goosebumps. So I really have an emotional response to that."
Morgan says its the power of patriotism she still carries with her.
"We learn about the goodness of people. We learn about the ability to come together after 9/11. One of the things that so many of us won't forget is the way that country felt, the way that people all wanted to help and do something," she said.
And Morgan says, those experiences with the Ohio Crisis Response Team has impacted her approach with middle schoolers she works with every day.
"I think every time you work with a family or a victim, you take something away from that experience," she said.
EDITOR'S NOTE: The video in the player below is from a previous story.