He was a World War II and Korea veteran, a test pilot, the first American to orbit the Earth, a senator, a husband, a father, a grandfather, and on and on.....
We chronicle some of the key moments of the life of John Glenn, who passed away on Thursday at the age of 95.
July 18, 1921--John H. Glenn, Jr. is born in Cambridge, Ohio. He would be raised in New Concord and graduate from New Concord High School in 1939.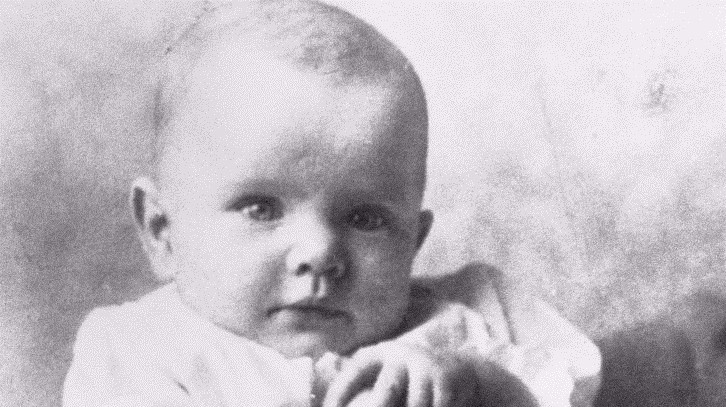 March 1942--Glenn entered the Naval Aviation Cadet Program. He graduated and was commissioned in the Marine Corps in 1943. After advanced training, he joined Marine Fighter Squadron 155 and spent a year flying F-4U fighters in the Marshall Islands. He flew 59 combat missions during World War II.
April 16, 1943--Glenn married his high school sweetheart, Anna Margaret Castor Together, they had two children, John David and Carolyn Ann, and two grandchildren. They remained married until his death.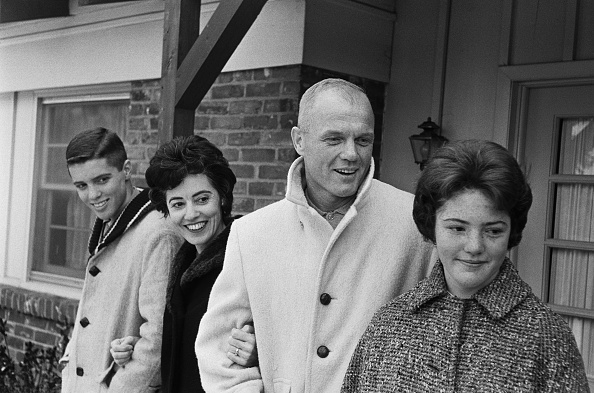 1951-1953--John Glenn flew 63 missions with Marine Fighter Squadron 311 in the Korean War. As an exchange pilot with the Air Force, Glenn flew 27 missions in the F-86 Sabre. In the last nine days of fighting in Korea, Glenn shot down three MiGs in combat along the Yalu River.
November 1956-April 1959--Glenn works as a test pilot for the Fighter Design Branch of the Navy Bureau of Aeronautics (now Bureau of Naval Weapons). He flies Navy and Marine Corps jet fighters in Washington, D.C.,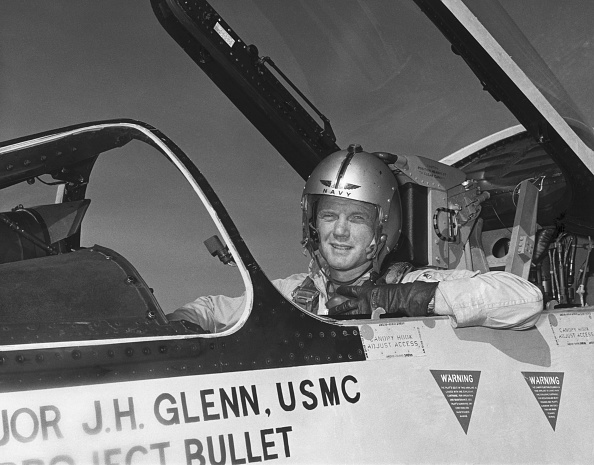 July 16, 1957--Glenn completed the first supersonic transcontinental flight in a Vought F8U-3P Crusader. The flight from Los Alamitos, California, to Floyd Bennett Field, New York, took 3 hours, 23 minutes and 8.3 seconds. Glenn gains national notoriety due to the flight and will appear on CBS' "Name That Tune" in September.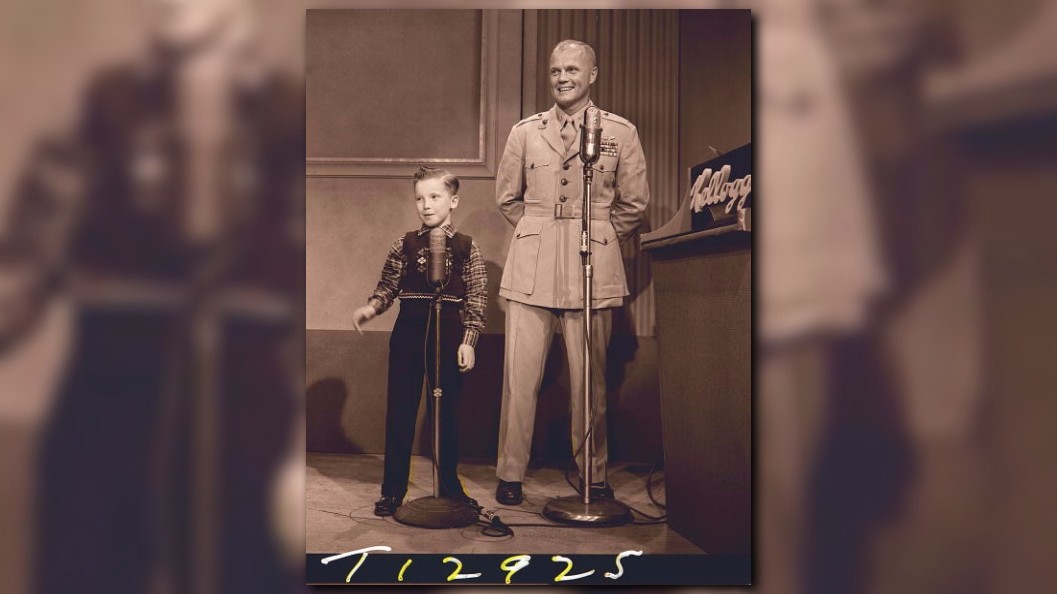 October 7, 1958--The new National Aeronautics and Space Administration (NASA) announced Project Mercury, its first major undertaking. Glenn is one of 508 to be considered for the program. He'll survive the cutdowns to 110 and then 32 candidates.
April 9, 1959--NASA introduced the Mercury Seven to the public. Joining Glenn are Scott Carpenter, L. Gordon Cooper, Jr., Virgil I. "Gus" Grissom, Walter M. Schirra, Jr., Alan B. Shepard, Jr., and Donald K. "Deke" Slayton.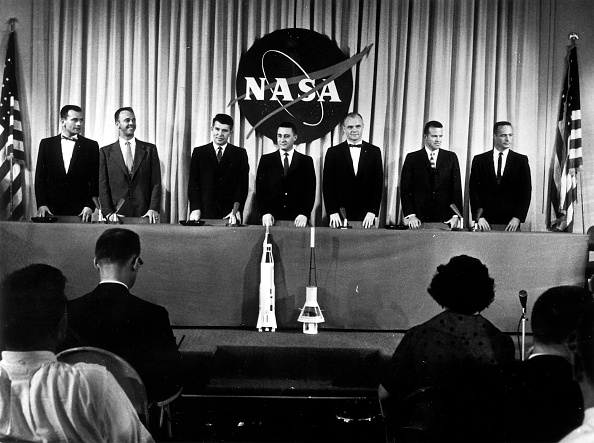 February 20, 1962--After serving as the backup to Shepard and Grissom's sub-orbital flights, Glenn becomes the first American to orbit the Earth.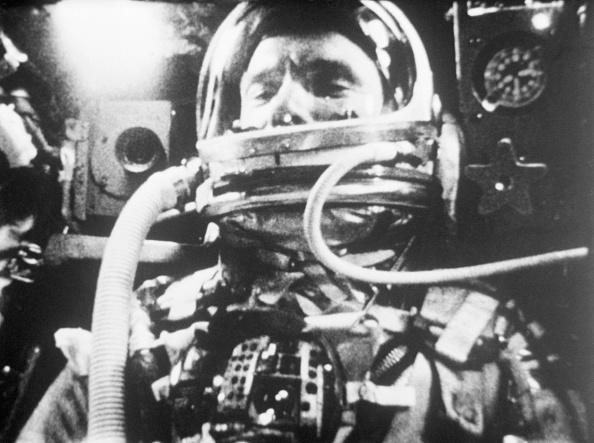 March 2, 1962--Glenn is greeted by thousands in New York City in a ticker-tape parade. Glenn is accompanied by his wife Annie, and Vice-President Lyndon Johnson.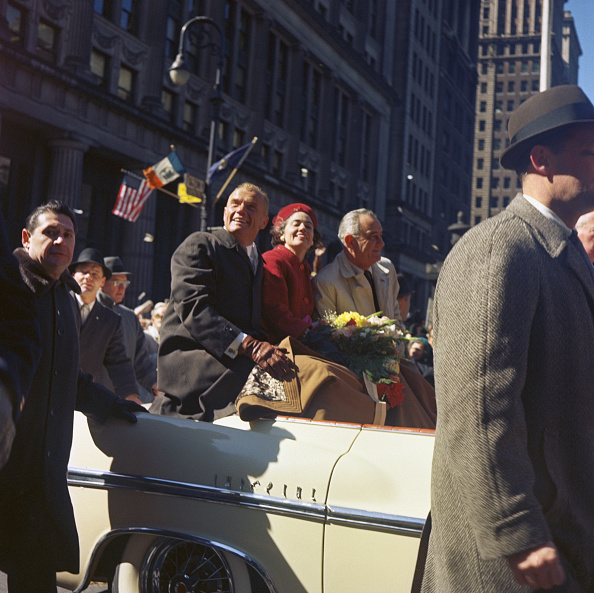 January 16, 1964--Glenn resigned from NASA and announces his candidacy for the U.S. Senate from Ohio. He will withdraw his candidacy after a fall at home causes him to sustain a concussion.
Spring 1970--Glenn loses to Howard Metzenbaum in the Democratic primary for the U.S. Senate.
November 1974--After defeating Metzenbaum in a rematch for the Democratic nomination, John Glenn becomes a U.S. Senator from Ohio after beating Cleveland mayor Ralph Perk in the general election. Glenn would be re-elected in 1980, 1986, and 1992.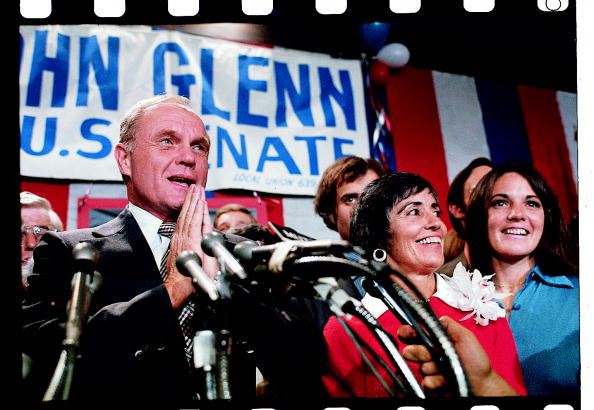 April 21, 1983--in a speech delivered at his hometown of New Concord, Ohio, Glenn formally announced his intention to seek the Democratic Party's nomination in the upcoming presidential election. Glenn hoped to build on the momentum from the recent movie, "The Right Stuff," chronicling the story of the Mercury Seven. His campaign never gained steam and he withdrew in March, 1984 after several primary defeats to Walter Mondale.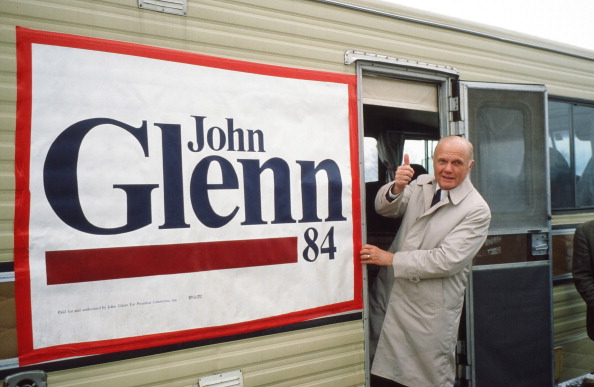 October 29, 1998--Glenn returned to space on the Space Shuttle Discovery as a Payload Specialist. At age 77, he became the oldest person to go into space.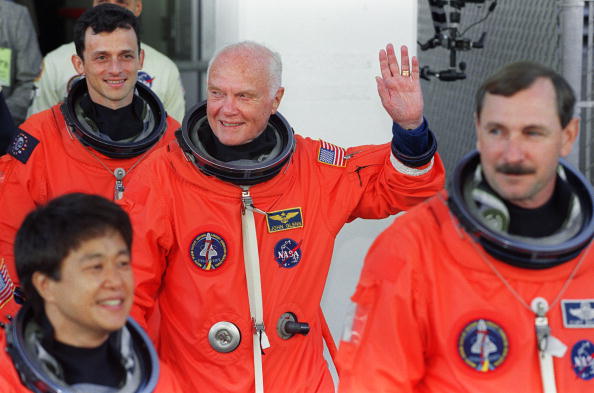 January 1999--Glenn retires from the U.S. Senate
February 20, 2012--to commemorate the 50th anniversary of the Friendship 7 flight, Glenn was surprised with the opportunity to speak with the orbiting crew of the International Space Station while Glenn was on-stage with NASA Administrator Charlie Bolden at The Ohio State University, where the public affairs school is named for him.
May 29, 2012--Glenn receives the Presidential Medal of Freedom from U.S. President Barack Obama at the White House. The Medal of Freedom is the nation's highest civilian honor.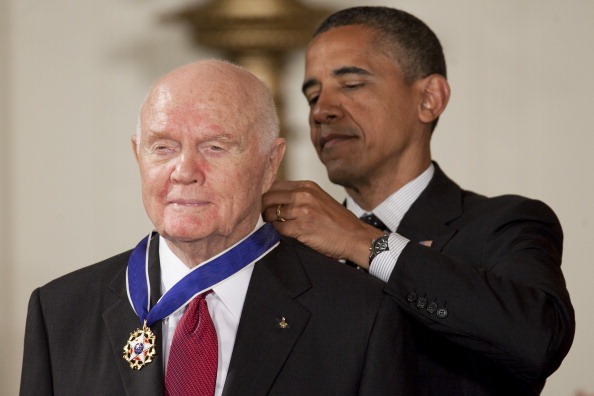 December 8, 2016--Glenn died at the Ohio State University Wexner Medical Center in Columbus, Ohio. He will be buried at Arlington National Cemetery after lying in state at the Ohio Statehouse and a memorial service at Mershon Auditorium at The Ohio State University.