SANDUSKY, Ohio — Email 3News Investigates reporters directly at: investigate@wkyc.com
Their stories take root inside the Cedar Point employee dorms.
One by one, they recall the night they say a co-worker sexual assaulted them.
Young women, each of college age, most away from home for the first time.
The women paint a portrait of Cedar Point housing as a place of unregulated mayhem, crowded rooms and hallways. Underage drinking and drug abuse.
All leading to nights these women cannot forget.
"I woke up to him inside of me and I pushed him away," Kacie Wilson, 19, said fighting back tears. "I didn't know what to do."
The Caro, Michigan woman is one of the 27 survivors of sexual assault in the Cedar Point dorms the past five summers.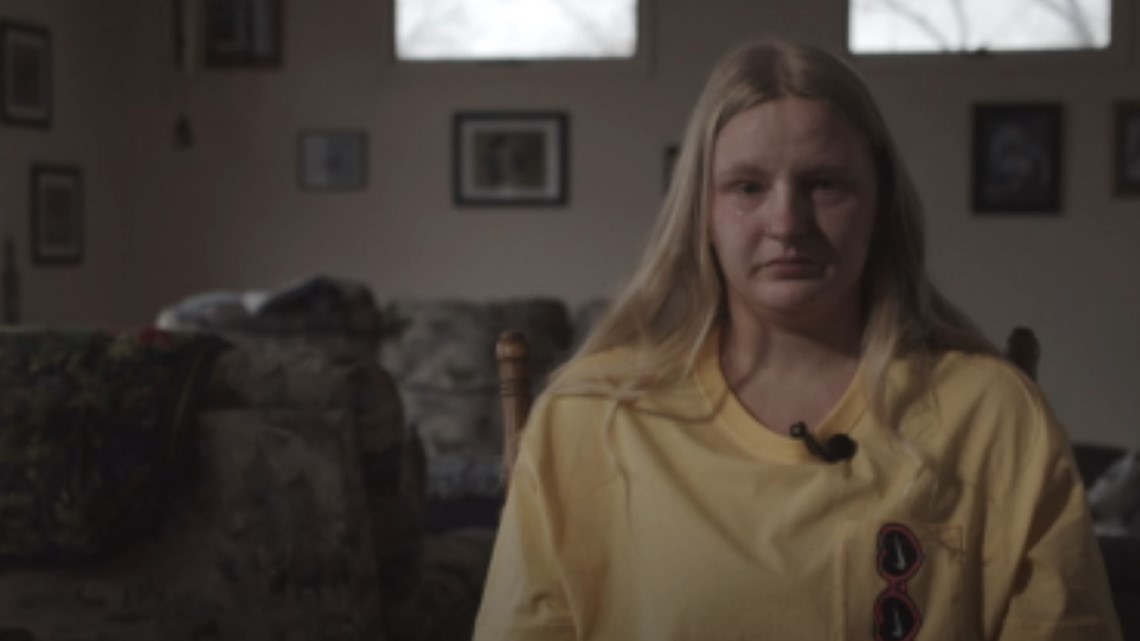 Another woman told of finding a coworker inside her dorm room at 3:30 a.m. the morning of Aug. 13, 2020.
"He just walked in unannounced and, like, he grabbed me and pushed me up against the bed," a Toledo area woman told 3News Investigates. "He just kind of aggressively held me, like, I had bruises everywhere."
3News Investigates obtained 27 reports of sexual assaults filed with Sandusky police. Those cases have resulted in just three arrests.
The survivors all believe there are more victims who chose not to pursue charges.
Cedar Point employs its own separate police force. Their officers are all state certified to carry a firearm and are given full arrest powers. However, Cedar Point has so far refused to release any reports it may have taken.
Cedar Point police often work closely with Sandusky officers. They reached an agreement years ago that calls for park police to transfer more serious crimes to Sandusky police for investigation.
"Any felony offense, whether it's a sexual offense or a felony theft, what happens is the Cedar Point police department are on scene," Sandusky Police Jared Oliver, told 3News Investigates. "Cedar Point police then contacts a member of our agency."
A Cedar Point spokesman has declined repeated requests to discuss the sexual assault reports. They have instead issued a statement:
"The safety of our guests and associates is always our top priority. Through a variety of methods, our on-site housing is monitored 24/7. In addition, our team is available to assist associates at any time with multiple resources, including on-site security, an emergency texting program, a dedicated and confidential associate "Speak-Up Hotline" and access to mental health programs. Associates are made aware of these resources during their onboarding process.
Cedar Point takes these matters very seriously. All reports of associate misconduct are immediately responded to, reviewed, and if appropriate, escalated to local law enforcement for further investigation."
Oliver, who became chief in 2020, went through the 27 cases one-by-one with 3News Investigates.
He said six cases remain open. Eighteen are closed, including 15 at the request of the accusers and three by the decision of Erie County Prosecutor Kevin Baxter.
"A lot of times, there's two sides to every story. And a lot of times, we don't receive enough information or evidence to make a determine that there's charges that are warranted," Oliver said.
Baxter has refused multiple requests to speak about his office's handling of the cases.
For Wilson, her attacker was charged but her questions of why bury deeper than the night she was assaulted in 2019. Hers is just one of the few cases that ended with an arrest.
"It just makes me think, like, how come? What was my proof of why he was in prison," she said. "Why him? Why me? Why aren't there other girls? It just makes me wonder."
Wilson's attacker, fellow Cedar Point employee Donelle Fowlkes, was previously accused of sexually abusing a woman inside a Cedar Point dorm in 2018. That report did not stop Cedar Point from rehiring the following summer.
That's when Wilson said she awoke to find Fowlkes committing a sex act against her.
DNA testing later led to Fowlkes being named a suspect in a Toledo sex offense in 2017.
"I just don't think that Cedar Point does a good job," Wilson said. "Like, yes they do a background check but I feel like they just need the workers so they will hire anybody."
Since 3News launched the investigation, Sandusky police has released all documents from the 18 closed cases. On nine of the initial police reports, Sandusky officers noted that the sexual assaults would be investigated "as time permits."
"I wasn't the one who set the way the reports were written previous," Oliver said. "'As time permits' basically should say, "This matter is under investigation," is how I would like to see that said."
"Some of these reports have come out since you've taken over as chief, why not just go ahead and change the policy now?" 3News Investigates' Marisa Saenz asked.
"I guess I didn't see the perception that, that shows, and I've already changed the policy since previous to you calling," Oliver said.
The Toledo area accuser has filed a lawsuit in U.S. District Court accusing Cedar Point of negligence and lax security that led to her attack.
The suit claims Cedar Point operated the dorms with "diminished security" in the summer of 2020 by reducing the number of security guards and police officers stationed outside.
The move "increased the likelihood of the sexual assault and harassment," the suit alleges.
The suit was filed against Cedar Fair, the corporate owner of Cedar Point and other amusement parks across the country, including King's Island in southern Ohio. Their lawyers deny any breach of security.
Cedar Fair attorneys filed a motion to dismiss the lawsuit saying the sexual assault "was a single, isolated incident for which [Cedar Point] did not and could not have foreseen."
They say the woman had spent part of the night with coworkers, including the suspect, who she provided with her room number.
"In fact, [the woman] herself, who had spent hours outside of work socializing with [the suspect], must have felt comfortable enough with him to provide her contact information and room number when they returned to their residence.
The suspect, a native of Turkey, fled the U.S. shortly after the incident.
You can watch the two videos that make up Part 1 of our Cedar Point investigation in the players below:
More from 3News Investigates:
At 3News, we are committed to sharing the stories that matter most to you. That means recognizing real problems and offering real solutions. Is there an issue in your community that you feel we need to be aware of? Share it with our 3Investigates team via the form below.
We'll work to find answers to your questions, verify the truth, help you make informed decisions because what's important to you, matters to us.