CLEVELAND — The final unemployment numbers for March will be released on Thursday, and they're expected to shatter the all-time record of 200,000 claims.
As a result, 3News Investigator Rachel Polansky discovered the system is flooded with waves of frustrated Ohioans, bogged down by widespread confusion.
"I was laid off as part of the COVID-19 downsizing," said Chris Bennis, of Wadsworth. "I worked in recruiting and obviously there's not a need for recruiters at the moment."
It's been 11 days since this Wadsworth man filed for unemployment benefits.
"I was given a mass layoff number," said Bennis.
Chris Bennis applied online, entered the mass-layoff number 2000180 as the unemployment site requests, and still he was denied.
"When you go to click on any information, nothing loads up, the system crashes, it doesn't tell you why you're denied," said Bennis.

But he's gotten further than Lora Liebenauer has gotten.
"I have gotten nowhere. It just rejects me every time I go on," said Lora Liebenauer, of Middlefield.
Liebenauer filed for unemployment after the restaurant she works at, closed under Governor DeWine's orders.
"I watch you all the time on Channel 3. I don't know what to do Rachel. I need your help," said Liebenauer.
After they encountered issues online, both Lora and Chris tried calling 1-877-644-6562 (OHIO-JOB).
"No matter if you call first thing in the morning, 70 times throughout the day, last thing in the evening, you can't get through,"
3News Investigates tried too. We got this automated response: "We are currently experiencing exceptionally high call volume, please try again at another time."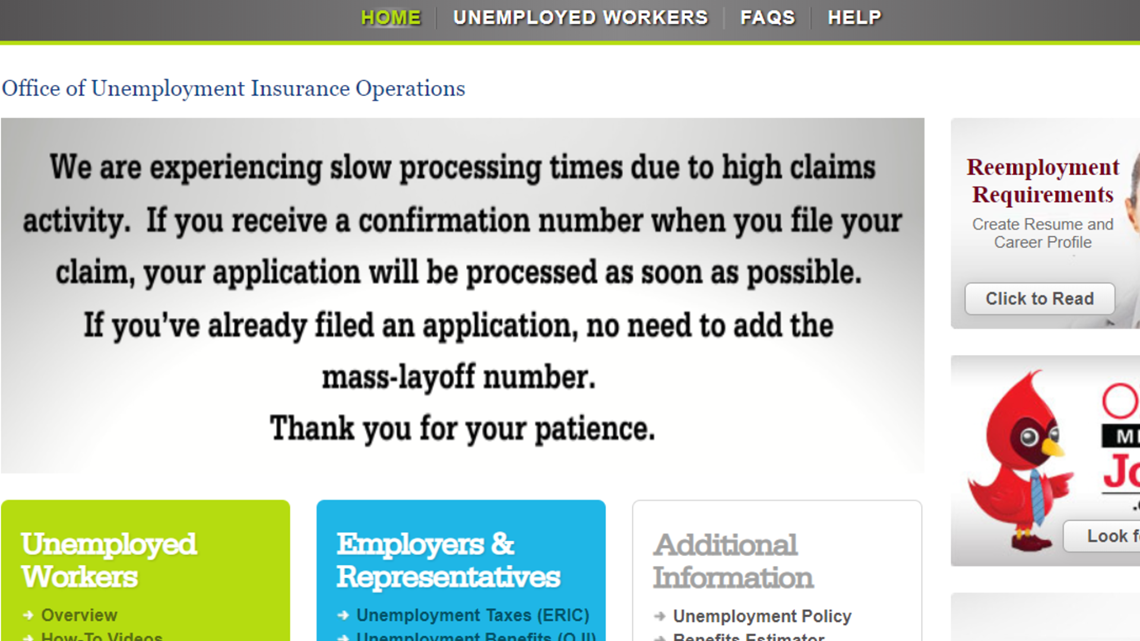 During Tuesday's press conference, Lieutenant Governor John Husted acknowledged the problem, and said the state has increased the capacity of its unemployment website 20-times its original capacity.
"For all of you who have had challenges, I want you to know your voices are being heard and they're being acted upon," said Ohio Lieutenant Governor John Husted.
Lt. Gov. Husted said the state is also working to double the number of workers in call centers.
Meanwhile, Liebenauer and Bennis are hoping the unemployment website will work soon – or better yet – maybe they'll be able to get back to work.
"It's frustrating. I'm sure it's frustrating for millions of others having the same problem," said Bennis.
For the week ending in March 21, Ohio reported 187,780 jobless claims to U.S. Dept. of Labor. The week earlier, the Ohio Department of Job and Family Services reported 7,042 claims.
The number of claims was only second to December 1981 when claims reached 205,259.

A spokesperson for the Ohio Department of Job and Family Services sent 3News the following statement:
"Ohioans are experiencing a slow system trying to keep up with the historic demand, just like every other online claims system across the country, so we are asking filers and callers to be patient. With that said, please note that each claim is important to us, and we recognize the hardship that the COVID-19 pandemic has placed on many Ohio families. Despite the intermittent issues with the online claims system, going to unemployment.ohio.gov remains the best way for Ohioans to file a claims. Your viewers should know that even if they can't consummate submitting an application right away, their filing date will be retroactive to when they first tried to apply. In other words, eligible Ohioans need not worry that they will receive all the unemployment compensation benefits they are entitled to collect.
Ohioans should also be aware that the requirement for people to be "actively seeking work" has been waived for the duration of the pandemic. The problem is that the volume of filers and callers is delaying when people can submit their application. We have begun issuing payments, however, and so far we have paid more than 95,000 claimants totaling nearly $40 million.
We have been working nonstop to streamline system performance and boost capacity by adding servers and hardware so the online claims system can handle the unprecedented influx of claims. Our system, previously configured for a typical maximum of 1,200 connections at one time, has now been enhanced to accommodate up to 24,000 simultaneous connections. We've even brought back retirees who were subject matter experts during the 2008 recession when we had an uptick in the number of claims -- although far, far below our current number of claims -- to offer any tips that worked back then to speed up processing times of the 16-year-old system.
Taking an all-hands-on-deck approach, we have reassigned more than 300 ODJFS employees to assist with call volume to 1-877-644-6562 (OHIO-JOB) (for those without computer access) and PIN resets (1-866-962-4064) to increase our service capabilities. It's worth pointing out that we also have been inundated with Ohioans seeking help over the phone. To put that in perspective, we received more than 1.7 million calls in March. In February we received just over 112,000 calls."